Màiri

Màiri lives somewhere outside linear historical time.
Project type: Narrative Short
Project status: Post Production
Writer/Director/Producer: Brenda Davis
Actress/Co-Producer: Emily Allan
Cinematographer/Co-Producer: Alexandra Swati Guild

Help independent filmmakers tell their stories.
Make a donation to Màiri today.
Film Independent's Fiscal Sponsorship program opens the door to nonprofit funding for independent filmmakers and media artists. Donate today and help bring Màiri to life.
Logline
Màiri lives on a remote Scottish island, somewhere outside linear historical time. Her world is stitched together from myth and fantasy, and she walks among seals and sheep, roaming through a wordless dream state of sea, land and sky.
Synopsis
Màiri lives on a remote Scottish island, somewhere outside linear historical time. Her world is stitched together from myth and fantasy, and she walks among seals and sheep, roaming through a wordless dream state of sea, land and sky. Our first hint at a disturbance comes when she discovers strange objects in the sea, anachronistic messages from the future that wash up on shore and fill her with mysterious longing and a vague sense of foreboding. When Màiri rejects a marriage proposal, her idyllic reality is ruptured by brutal, patriarchal violence and she is forced to use all her powers of imagination to conjure an escape from the only home she has ever known.
This film is the first fiction project from researcher and documentary filmmaker Brenda Davis. Inspired by unearthed family secrets, Gaelic folklore, and a years-long collaboration with the actress and cinematographer, Màiri tells the story of nineteenth century forced migration from Scotland to North America through the story of one woman. In Màiri, an ancestral matriarch's eviction from her home is reimagined as a powerful act of escapist magic. The film utilizes tropes from Gaelic myths, magical realism, and vérité cinematography to rewrite a piece of buried family history. Shot on location on the Isle of Canna, the film is haunted by Mairi's future descendant in New York City, and her attempt to reach out through time and space, and imagine what kind of life her ancestor could have led.

Meet the Filmmakers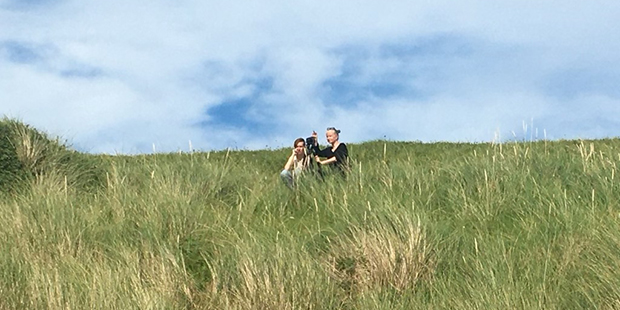 Brenda Davis – Writer/Director/ Producer
Brenda Davis (She/Her) is a New York based filmmaker. She bypassed film school and started out as a script supervisor and assistant editing trainee, imagining that working close to the director, director of photography and editor would be a place she could work, observe and learn. Brenda has worked extensively as a researcher for filmmakers collaboratively on films ranging from Hollywood blockbusters to independent documentaries.
Brenda's first feature documentary Sister follows local health workers in Ethiopia, Cambodia and Haiti. Sister screened at film festivals around the globe. Sister is available on digital platforms such as iTunes and Amazon. Sister participated in Season Two of the ITVS Women and Girls Lead Global Program.
Brenda recently completed a short documentary, Dissent Poem, in which an anonymous young protester recounts the protest and trials of their arrest on January 20, 2017, which will be distributed by Collective Eye Films.
Brenda is an alumnus of the 2011 IFP Documentary Lab, the 2011 Independent Film Week Spotlight on Docs and the 2013 RIFF Reykjavik Film Festival Summer Institute.
Emily Allan – Actress/Co-Producer
Emily Allan (She/Her) is a writer and performer from the Lower East Side. Her two woman play Slash, written and performed with Leah Hennessey, ran for four months at MX gallery and was called "fast and campy, and as clever as anything the New York stage has seen in some time (Vogue)" and deemed the "ultimate fanfiction play (Syfy)." Allan's last play with Hennessey, Star Odyssey, a commissioned piece by MoMA PS1, continued their exploration of homoerotic fanfiction and sci-fi eschatology. In 2020, they released three short films on DIS.art, which imagine Slash-inspired dialogues between feuding academics. Emily is a co-creator of the cult webseries, Zhe Zhe, and one of the songwriters for the fictional band Zhe Zhe. She has worked collaboratively with collectives Brujas and The Icarus Project. Most recently, Leah and Emily collaborated on Byron and Shelley: Illuminati Detectives, for the Biennale de l'image en Mouvement 2021 at the Centre d'Art Contemporain Genève.
Alexandra Swati Guild – Cinematographer/Co-Producer
Alexandra Swati Guild (They/Them) is an artist and filmmaker whose projects span numerous media including documentary film, experimental video, and photography. Raised in the Santa Monica Mountains, Swati spent their childhood wandering coastal canyons mesmerized by the dappled light that crashed through the oak branches. Their mother was an amateur photographer and not surprisingly, Swati was attracted to the art of capturing light from an early age. Swati received an MFA from Stanford in Documentary Film and their BA from the University of Pennsylvania in Sociology and Women􏰄s Studies.
Swati􏰄s previous film projects have taken them around the world, where they worked as a cinematographer, producer, and editor in collaboration with artists and activists on topics ranging from maternal health to community agro-forestry. Swati􏰄s work has been broadcast on Al Jazeera and Record TV Africa, featured in film festivals and used by community groups to empower, inform, and agitate. Swati was the cinematographer on Davis􏰄 feature documentary Sister.
Contact
For inquiries, please contact fiscalsponsorship@filmindependent.org.