Mary Woronov Cult Queen

Fame is Fleeting but Obscurity is Forever
Project type: Documentary Feature
Project status: Post-Production
Director/Producer/Editor: Francesca Di Amico
Producer/Cinematographer: Claudia Unger

Website: minxfilms.tv
Facebook: facebook.com/cultqueendoc

Help independent filmmakers tell their stories.
Make a donation to Mary Woronov Cult Queen today.
Film Independent's Fiscal Sponsorship program opens the door to nonprofit funding for independent filmmakers and media artists. Donate today and help bring Mary Woronov Cult Queen to life.
Logline
Mary Woronov chronicles her colorful career spanning from her work with Andy Warhol to Roger Corman that sealed her reputation as a "Cult Queen".
Synopsis
Mary Woronov's iconic work in Andy Warhol 's underground films and playful B-movie portrayals in Roger Corman movies has deemed her a queen of cult cinema, but this documentary portrait showcases an enigmatic, intelligent and funny multi-faceted pioneer. Woronov honed a one-of-a-kind transgressive persona in films when, time after time, she discovered she could not adapt to the constraints of mainstream women's roles offered in film. Never more so is this clear, as it is shown in her role as Mary Bland, in the beloved 1981 Paul Bartel film, "Eating Raoul". This supercharged, camp performance style endeared her to a unique fan base around the world, but less so, in her personal relationships. Woronov has starred in over 100 films and in countless TV appearances. The documentary links a trajectory of over than forty years of seminal American art and film to Woronov. To this day, she is admired by a new generation of fans for her enviable power and fearlessness in film. Woronov is seen as electric as Iggy Pop, and as compelling as James Dean, for which there is no female equivalent.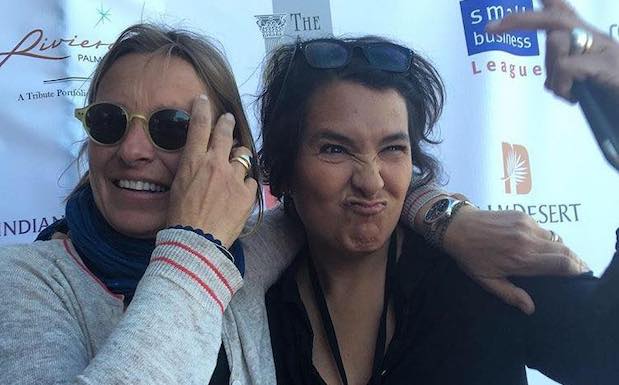 Meet the Filmmakers
Francesca Di Amico – Director/Editor/Producer
Born in Palm Springs, California, she was named a fellow from Film Independent after participating in the documentary lab for the Mary Woronov feature
documentary project. As a writer-director of independent films, she has taken the helm on 41 film projects. She is the recipient of 29 Film Awards including Humanitarian Awards from The Anti Defamation League, recognition from and the Smithsonian Institute in Washington D.C. The Los Angeles County Museum of Art honored Francesca as an up & coming director. She graduated from Art Center College of Design, breeding ground to filmmakers like Michael Bay, Sofia Coppola, and Zack Snyder. Journalist Whitney Phaneuf wrote of her film "Silence Living in Houses", "…the emotions penetrate the screen through exquisite directing and realistic dialogue…the result is powerful…"
Claudia Unger – Producer/Cinematographer
Claudia Unger is a commercial and fine art photographer. Born in Germany, Unger moved to California to study photography at Art Center College of Design. In 1994 she was recruited by UPI to shoot celebrity editorial spreads for "Premiere Magazine", and "Entertainment Weekly". Thereafter she was employed as an ongoing fashion fashion photographer for Guess clothing. For two consecutive years, she was recognized by internationally prestigious Lucie Awards and
honored at the Lincoln Center. Women in Photography awarded her "Outstanding Achievement in Fine Art Photography". Her exhibition, "The Name of the Land"
sold in its entirety. Unger became a director-cinematographer when co-founded MinxFilms, a boutique production firm that produces films and photo campaigns
for luxury brands, and nonprofit organizations, with her partner Francesca Di Amico. Today Unger enjoys the hard work of producing new films and looking after her two year old son, Noah. Clients include: Sony, The United Nations, National Geographic, Brown Jordan,
Equality California,
Contact
For inquiries, please contact fiscalsponsorship@filmindependent.org.