MascLooking

You thought your Grindr experience was a nightmare...
Project type: Fiction Short
Project status: Development
Writer/Director: Jonathan Hammond
Producer: Regina Pigsley
Director of Photography: John Barrett
Actor: Patrick Mayuyu

Email: jonbhamm@gmail.com
Website: jonathanhammond.org
Facebook: @masclooking

Help independent filmmakers tell their stories.
Make a donation to MascLooking today.
Film Independent's Fiscal Sponsorship program opens the door to nonprofit funding for independent filmmakers and media artists. Donate today and help bring MascLooking to life.

Logline
A young blind man goes on the hunt for a man on a dating app – but it appears something might be hunting him.
Synopsis
Our story involves Luke, a young man who uses a dating app on his phone in search of an evening of romance. Instead of Mr. Right, however, Luke connects with someone… or something more sinister…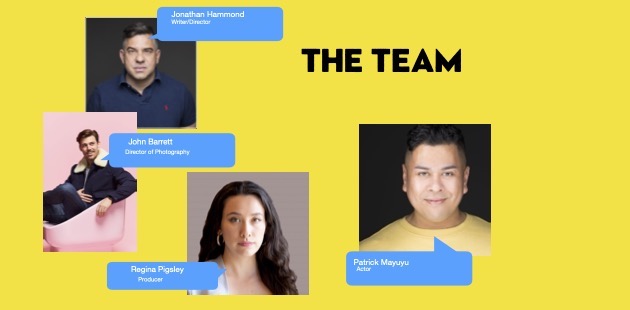 Meet the Filmmakers
Jonathan Hammond – Writer/Director
My name is Jonathan Hammond, and I am a two-time Emmy-nominated writer/director. As a documentarian, I am the co-recipient of grants from the National Endowment for the Arts and the Joan B. Kroc Institute for Peace and Justice and a two-time recipient of the KPBS Explorer Program. As a narrative filmmaker, I am the two-time consecutive winner of the Film Con Challenge, as well as the winner of the San Diego Film Award for Best Writing and the WOMAS prize for Best Screenplay. I have won dozens of awards for my short films, and my most recent short film, We All Die Alone, has played over 30 film festivals and has won three. In 2016, I won the Best Writing Award at the San Diego Fringe Festival, and in 2020, my work was selected for the New Playwrights Festival at the world-famous The Old Globe Theater in San Diego. I was a producer and teaching artist for the storytelling collective, So Say We All, with whom I helped found the queer storytelling performance series and subsequent published anthology, The Whole Alphabet.
I was born in Decatur, Illinois, and graduated from the University of Illinois before moving to San Diego. In addition to being a documentarian in San Diego, I have made grant and marketing videos in the non-profit sector. On occasion, I have worked as an actor and theater director. I recently moved to Los Angeles with my dog, Dashiell Hammond, to pursue a career in film and television.
Contact
For inquiries, please contact fiscalsponsorship@filmindependent.org.