Moxie

Giant maxi pads, Phil Donahue, and one girl's battle to choose...
Project type: Narrative Feature
Project status: Development
Director: Marya Mazor
Producers: Christina Sibul, Karen Tenkoff

Help independent filmmakers tell their stories.
Make a donation to Moxie today.
Film Independent's Fiscal Sponsorship program opens the door to nonprofit funding for independent filmmakers and media artists. Donate today and help bring Moxie to life.
Logline
In an era of giant Maxi Pads and Phil Donahue, misfit teen Moxie finds her fit with a group of college political activists. But when she becomes pregnant by the rebel leader, she faces her own fight — arguing for her abortion at a time when women's liberation is coming into its own.
Synopsis
In a Peacenik tee and sandals with socks, 14-year-old Moxie is an outcast in a high school of preppies and rockers. In a chain reaction of events her dad leaves for Europe, her mom finds religion and moves in with her born-again boyfriend and her self-absorbed brother Zak bails. Moxie Minsky is alone.
Moxie seeks an alternative family, joining a radical activist group on the local college campus. There she meets charismatic activist leader, Jos, and his circle of friends. Moxie gets arrested with them at an anti-Nuclear protest, joins them at political gatherings and develops a crush on Jos. It seems she's found her tribe at last.
But Moxie's new friendships don't last. As Jos flakes out, Moxie clings on, losing her virginity and spiraling down into the college party scene. She returns to her empty home more alone than ever and avoiding the occasional phone calls from her well-meaning but distant dad.
To make matters worse, Moxie discovers that she's pregnant – a consequence of her only encounter with Jos – and she needs parental consent for an abortion. When Moxie seeks help, her newly Christian mom refuses her daughter's pleas, forcing her to go to court to argue for an abortion.
Despite her impressive performance it appears all is lost until she accepts the hand of the one person she has kept at arm's length: her dad. It's the hardest thing she's ever done. Ironically, it is that choice that changes her life and she finds her fit in an unexpected place.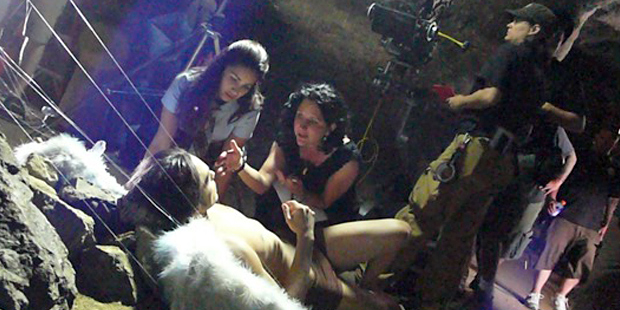 Meet the Filmmakers
Marya Mazor — Director
Marya is an award-winning director who most recently directed Donald Margulies' The Model Apartment for The Geffen Playhouse and Pure Confidence for Lower Depth Theatre Ensemble. Marya was one of eight women chosen for the AFI Directing Workshop for Women, where she directed the short film The Winged Man, featuring Ana Ortiz, written by playwright and Academy Award Nominee Jose Rivera (Motorcycle Diaries). She is now developing her feature film Moxie. She also recently directed Ivy & Bean at South Coast Repertory, Out of Our Father's House for the Edinburgh Fringe Festival, That Pretty Pretty… or the Rape Play at Son of Semele, The English Bride at the Road Theatre, and Dragon Play and Time Stands Still at The Chance, as well as Aladdin for Walt Disney Imagineering. Other recent productions include the world premiere of Brian Nelson's Overlooked at The Chance and Churchill's Mad Forest at the Open Fist. Her hit production of Albee's The Goat was named Best Play of 2011 by OC Weekly and an LA Times Critic's Pick.
Marya has also directed at The Long Wharf, Pasadena Playhouse, New York Stage & Film, Nada, Dixon Place, Main Street Theatre, Circle X, The Boston Court, Berkeley Repertory (with Asian American Theatre Co.), among others. Marya founded Voice & Vision, a professional theater in New York City, and served as its Artistic Director for ten years. She received the NEA/TCG Directing Fellowship and holds an MFA from the Yale School of Drama.
Christina Sibul — Producer
Christina has worked with many talented filmmakers as a producer, development and production executive. She consults for Codeblack Films based at Lionsgate where she's currently working with Effie Brown on the adaptation of Omar Tyree's Flyy Girl. During her tenure at Codeblack, she's worked on upcoming releases Superstition and Traffik. As an executive for Producer Michael London, her previous credits include Sideways, Thirteen, House of Sand and Fog, 40 Days and 40 Nights,  among others. She has worked with filmmakers and talent such as Alexander Payne, Catherine Hardwicke, Tom McCarthy, Sanaa Lathan, and the films she's developed and worked on have many Academy Award, Indie Spirit Nominations including wins for Best Adapted Screenplay Oscar and BAFTA Best Screenplay.
A graduate of the Yale School of Drama, her translation of Carlo Goldoni's 18th-century play A Servant of Two Masters has been performed around the country, including a recent run off Broadway by Theater for a New Audience.
Karen Tentkoff — Producer
Karen is a film producer and executive with numerous feature credits to her name in both live action and animation. She served for over a decade as senior executive and producing partner to Academy Award-winning director Robert Redford at his company, Wildwood. Among her many credits, she was a producer on The Motorcycle Diaries, which received a Golden Globe Nomination for Best Foreign Film and won the British Academy Award for Best Foreign Film; as executive producer on The Clearing and The Legend of Bagger Vance and associate producer on The Horse Whisperer which received a Golden Globe Nomination for Best Picture.
Pixar co-founders John Lasseter and Ed Catmull turned to her storytelling expertise to help them build Disney Feature Animation's development slate. She served as the senior development executive on Winnie the Pooh, Tangled, the Academy Award-nominated Wreck-It Ralph, the Academy Award-winning hit Frozen and the Academy-Award winning Big Hero 6.
Contact
For inquiries, please contact fiscalsponsorship@filmindependent.org.