NECESSITY: a documentary in two parts

In a climate emergency, is civil disobedience a necessity?
Film Independent's Fiscal Sponsorship program opens the door to nonprofit funding for independent filmmakers and media artists. Donate today and help bring NECESSITY: a documentary in two parts to life.
Logline
Comprised of Necessity Part I: Oil, Water and Climate Resistance and Necessity Part II: Rivers, Resistance and Oil by Rail, NECESSITY traces the fight in Minnesota against the expansion of pipelines carrying toxic tar sands oil through North America. Home to much of the world's precious freshwater resources, the state is also the site of expanding oil industry infrastructure. The film follows indigenous activists and non-indigenous allies in their resistance to the pipelines traversing native lands and essential waterways.
Synopsis
Grounded in people and places at the heart of the climate crisis, Necessity: Oil, Water and Climate Resistance traces the fight in Minnesota against the expansion of pipelines carrying toxic tar sands oil through North America. The story unfolds in a setting where activists make a moral case for acts of civil disobedience using the necessity defense. Movement lawyers defending activists in court must prove that the threat of the climate emergency justified acts of civil disobedience and that there were no legal alternatives. Indigenous leaders and white allies carry into this site of struggle their knowledge of resistance strategies, as well as their experiences of loss and trauma, as they work to defend the sacred and demand justice. The film calls into question whether legal strategies are sufficient in responding to the scale of the global climate crisis.
In the course of screening Necessity Part I: Oil, Water and Climate Resistance at schools, activist events, and festivals, the team began production on a Part II, provisionally titled Necessity: Rivers, Resistance, and Oil-by-Rail. Also feature-length, the film is set along the rivers of Oregon and follows activists as they enlist the necessity defense in a jury trial after being arrested for a direct action at Zenith Energy in Portland. This story of climate resistance in the Pacific Northwest brings into view a historical landscape of tribal leaders, Indigenous activists and white allies as they resist oil trains and trucks carrying these highly inflammable products through treaty lands. In following the path of oil-by-rail and oil resistance along the Columbia, we revisit lessons of the New Deal era of building massive dams and what climate activists take from that era in thinking about a Green New Deal.
Help the team continue with this inspiring ongoing story of alllyship and Indigenous-led resistance in the fight to save the planet. As Tara Houska proclaims in Necessity Part I, "there is beauty and purpose in struggle."
Please join us in completing Necessity II: Rivers, Resistance and Oil by Rail!
Make a donation to NECESSITY: a documentary in two parts.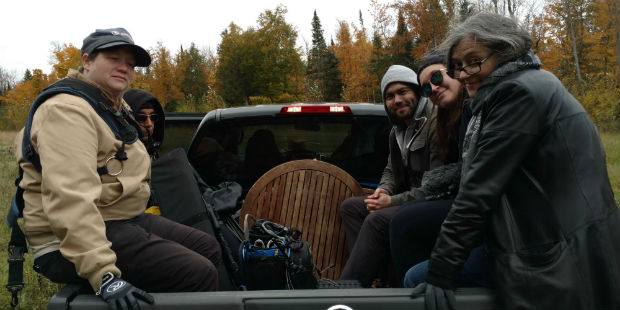 Meet the Filmmakers
Jan Haaken — Director/Producer
Jan Haaken is professor emeritus of psychology at Portland State University, a clinical and community psychologist, and documentary filmmaker. From refugee camps, war zones, abortion clinics, and mental hospitals to drag bars, hip-hop clubs and dairy farms, Haaken's documentary films focus on stressful jobs carried out on social borders and liminal spaces. As a psychologist and documentarian, Haaken weaves research and historical analyses into rich and vividly drawn landscapes that represent the perspectives of her subjects.
Haaken has directed and/or produced six feature-length films, including Diamonds, Guns, and Rice, Moving to the Beat, Guilty Except for Insanity, Mind Zone: Therapists Behind the Front Lines, Milk Men: The Life and Times of Dairy Farmers, and Our Bodies Our Doctors. She has directed five short films, including two recent documentaries on abortion providers produced by a team at the University of Michigan Ann Arbor that carries out anti-stigma research.
Samantha Praus — Co-Director
Sam is a queer, latinx independent filmmaker & researcher based in Portland, OR. With a background in Cultural Anthropology, she also works with local and national government agencies on public health research projects and as a Media Consultant with KGW Media Group. Her most recent projects include feature-length documentaries, Necessity (Co-director), Our Bodies Our Doctors (Assistant Director).
David Cress — Producer
David Cress is an independent producer. His feature film experience includes the Independent Spirit nominated best feature Paranoid Park. As a founding partner of Foodchain Films, Cress envisioned and established the commercial production company as a home for talented people. Awards bestowed include a host of stand-out work recognized by Cannes, Clio, CA, and One Show. Cress is currently Producer of Our Bodies, Our Doctors and Producer of the TV series, Documentary Now!
Morgan Robinson — Director of Photography
Morgan is an award-winning Brooklyn-based filmmaker with fifteen years of professional experience. His passion is telling stories that build empathy and incite action towards a healthier and more just planet Earth. Morgan's documentary work has aired on PBS, MTV and Viceland. He also produces videos for non-profits and corporations and stays busy as a traditional and aerial cinematographer.
Emily von W. Gilbert — Editor
Emily started editing ten years ago in a documentary production class for George Stoney at NYU. From there, she moved to Portland, Oregon where for the past ten years she's edited experimental projects, fundraisers, documentaries, language lessons, corporate presentations, TV shows.
Make a donation to NECESSITY: a documentary in two parts.
Contact
For inquiries, please contact fiscalsponsorship@filmindependent.org.