Norita

An icon 90 years in the making
Project type: Nonfiction Feature
Project status: Post-Production
Director: Jayson McNamara
Producer: Daniel Joyce
Producer: Rebecca Bennett

Facebook: facebook.com/norita.film
Instagram: @noritafilm
Help independent filmmakers tell their stories.
Make a donation to Norita today.
Film Independent's Fiscal Sponsorship program opens the door to nonprofit funding for independent filmmakers and media artists. Donate today and help bring Norita to life.
Logline
The kidnapping of her son by Argentina's dictatorship, and her forty-year search for him, transforms Nora Cortiñas from conservative 'housewife' into a trailblazing social activist, inspiring a new generation to take hold of their future and seek justice for the past.
Synopsis
Norita follows 90 year old Nora Cortiñas in the present day as she takes up the fight for women's reproductive rights in Argentina. Intercut with her campaign is the story of her journey from joining the iconic 'Mothers of Plaza de Mayo' movement in 1977 to becoming a symbol of protest and democracy in Latin America today. Illustrated with stunning B&W photography and chilling archival footage from the time, Nora recollects the search for her kidnapped son and her battle with the Argentine dictatorship. In Nora's pursuit of justice she meets Ana – a younger woman who, like Nora's son, was 'disappeared' by the military. The two become surrogate family members for each other as they seek to uncover the dark truth about the fate of their missing loved ones.
Featuring entirely women participants, the film is a sweeping intergenerational story about the bonds of motherhood and the strength found in joining forces young and old. It provides a surprising and deeply moving defense of women's right to reproductive freedoms, while the backdrop of Argentina's dictatorship reminds Western audiences about the fragility of our own democratic rights and systems. Through the resilience of Nora and the women around her, we see that rebellion and protest are not only a human reaction to adversity but often a necessary one. We need Nora's story today more than ever.
The team behind the film have created feature films screened with Netflix and at festivals such as Tribeca and SXSW. The film is currently in post-production, supported so far by organizations such as Ni Una Menos (the Argentine equivalent of Times Up) and the California-based Schoellkopf Family Foundation.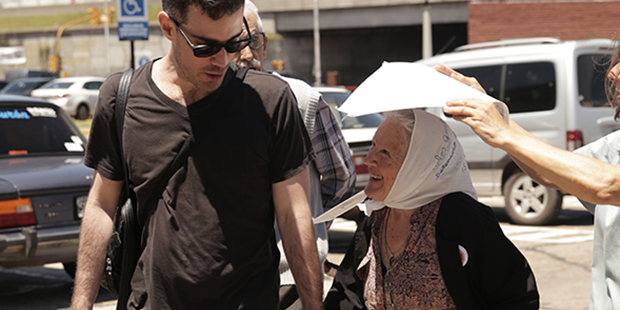 Meet the Filmmakers
Jayson McNamara — Director
Jayson McNamara is a journalist and filmmaker working between Australia and Latin America, whose feature and short film work has screened at the festivals Full Frame, BAFICI and LASA, as well as on French and Argentine television networks. Since his debut film Messenger on a White Horse screened on Nat Geo Mundo in 2018, he has been documenting the life of 90-year-old Argentine activist Nora Cortiñas. The two share a unique friendship that has developed from their initial encounters at local demonstrations, which Jayson covered as a reporter at the Buenos Aires Herald.
Daniel Joyce — Producer
Daniel Joyce is a leading Australian producer of international documentaries. His most recent film Martha: A Picture Story premiered at Tribeca Film Festival 2019 and screened on Sky Arts, Arte France and cinemas. His previous film Barbecue launched at SXSW before being released globally by Netflix, and over the last ten years, his work has explored topics of social change and personal ethics in documentaries for ABC Australia. He has elevated numerous emerging directors to their first film and television successes and is a sponsor of AIDC's Leading Lights program for new filmmakers.
Rebecca Bennett — Producer
Rebecca Bennett is an award winning documentary producer based in Australia. Her most recent film Ghosthunter premiered at Sheffield DocFest 2018, and won the Sydney Film Festival Documentary Australia award, AACTA for best editing and AWGIE for best writing. Developed through the Goodpitch Australia initiative, Ghosthunter continues to have impact in training and awareness around the effects of childhood trauma. Rebecca recently executive produced the Audible original podcast of Ghosthunter. Rebecca is passionate about telling women's stories of struggle and change.
Contact
For inquiries, please contact fiscalsponsorship@filmindependent.org.