Not Far From Here

Is speaking out against injustice worth the price you might pay?
Project type: Narrative Short
Project status: Development
Producer/Co-Writer/"Renzo": Will Graziano
Director: Aqsa Altaf
Producer: Jenna Lex
Producer: Isabel Moretti
Producer: Tomasso Pizzamiglio
Co-Writer: Daphne Di Cinto
Co-Writer: Alanna Bennett
Script Consultant: Angelica Pesarini

Email: notfarfilm@gmail.com
Facebook: https://www.facebook.com/NotFarFromHereFilm

Help independent filmmakers tell their stories.
Make a donation to Not Far From Here today.
Film Independent's Fiscal Sponsorship program opens the door to nonprofit funding for independent filmmakers and media artists. Donate today and help bring Not Far From Here to life.
Logline
A Nigerian-Italian girl secretly witnesses a white Italian boy she grew up with commit a hate crime, and wrestles with whether to speak up or not when the boy shows up to her home the next day.
Synopsis
With her parents away in Southern Italy for an extended period, 12-year-old Leola Taiwo lives in her hometown of Milan with Taiwo family friend and American expatriate Renzo. One night, Leola secretly witnesses two white Italians — a man she doesn't recognize, and Ettore, a boy she grew up with — throw glass bottles at a Senegalese gelato shop owner. Leola struggles with what to do, conflicted between fearing for her own safety as a young Black woman and wanting to steer Ettore away from this dangerous path. She decides to keep quiet, instead telling the police she didn't recognize either of the attackers.
The next day, Ettore's mother Nora drags the boy to Renzo and Leola's apartment for an English lesson. Unaware of her son's actions but concerned over his recent rebellious behavior, Nora hopes that spending time with Renzo and Leola again will have a positive impact on Ettore. The boy is overjoyed to see Leola, and behaves as if nothing happened the night before. However, he quickly and unapologetically spouts xenophobic rhetoric about immigrants in Italy. With this, Leola decides to act.
She tells Renzo what really happened, and asks if they can sit down and talk to Ettore. Renzo, wanting only to keep Leola safe, tells the girl to go up to her room and stay there until Ettore has gone. Leola, sensing this isn't the right solution, decides to talk to Ettore herself. But while Leola tries to challenge Ettore and his actions, a looming threat of violence hurtles towards their doorstep.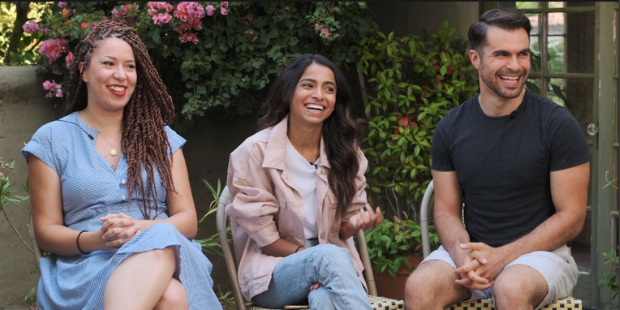 Meet the Filmmakers
Aqsa Altaf – Director
Having been raised in Kuwait by Muslim Pakistani and Sri Lankan parents, Aqsa is fascinated with telling stories that are diverse in nature and reflect on universal subjects. Her short film One Small Step played at the American Pavilion at the Cannes Film Festival 2019, and was shortlisted for BAFTA Film Awards. She was also nominated for the Young Director Award 2019 at Cannes Lions. Aqsa was selected as one of the directors for Disney Launchpad: Season 1 under which she wrote and directed her short film American Eid, which is now streaming on Disney+.
Daphne Di Cinto – Co-Writer
Of mixed Italian background, Daphne definitely brings multicultural wealth to her work. Born and raised in Italy and now based in London, Daphne received her MFA from the Actors Studio Drama School in New York, after which she took her first steps as a writer. Daphne recently wrote and directed the short film Il Moro, based on the true story of the first Duke of Florence and Black member of the Medici family, Alessandro de' Medici. Her acting credits include Netflix's Bridgerton and Sky Atlantic's Diavoli, as well as film and theatre in both Europe and in the US.
Will Graziano – Co-Writer/Producer/"Renzo"
Will has starred in several videos for life coach and motivational speaker Jay Shetty, which have collectively garnered more than 100 million views on social media. He's also written for and appeared in numerous independent films, regional theater productions and web series, including the upcoming short film Honeywell. Will holds a BFA in Acting from the University of Connecticut.
Alanna Bennett – Co-Writer
Alanna is a screenwriter and culture writer whose works have appeared on BuzzFeed News, Vulture, TV Guide, Eater, and The CW's Roswell, New Mexico. Born in Hollywood and raised in Portland, Alanna studied Cinema Studies at Oberlin College and seeks to tell stories that move conversations forward while providing a balm to the daily stresses of human existence. She believes that the personal, the political, and the pop cultural are all deeply connected, and that we should all try to be a little more like Nora Ephron and Ava DuVernay.
Jenna Lex – Producer
Originally from Connecticut, Jenna made her off-Broadway debut at the Abington Stage and the Long Wharf Theatre before heading to Los Angeles. Jenna has trained at UCB and IO West, finding enjoyment in improv as well as finding homes at both Stan Kirsch Studios and AFA Studios. Her first short Film Elephante debuted at the San Jose International Festival and her second, Spectrophobia (created during quarantine) was just accepted to Short of the Week's "Shelter Shorts".
T2 Films – Producers
Brescia, Italy natives Tommaso Pizzamiglio and Isabel Moretti make up the producing duo at T2 Films. Together with the entire T2 Films team, Tommaso and Isabel have produced independent films as well as commercial spots in the Italian market for major brands such as Mercedes-Benz, Johnny Rockets, Bulgari, and Bardahl, among others.
Angelica Pesarini – Script Consultant
Angelica Pesarini, Ph.D. is a Lecturer in Social and Cultural Analysis at NYU Florence where she teaches Black Italia, a course dedicated to the intersectional analysis of racial identity in Italy. She previously worked at Lancaster University as a Lecturer in Gender, Race and Sexuality. Her current work investigates dynamics of race performativity with a focus on colonial and postcolonial Italy and she also examines the racialization of the Italian political discourse on immigration. Dr. Pesarini is currently writing a monograph on the negotiations of race, gender and identity in colonial and postcolonial Italy.
Contact
For inquiries, please contact fiscalsponsorship@filmindependent.org.