October Mourning

A Black man grieving the unexpected loss of his father, finds himself with an opportunity for them to talk one final time.
Project type: Narrative Short
Project status: Production
Director/Writer: Frederick Thornton
Producer: Gia Rigoli
Producer: Sean Hackett
Executive Producer: Fanshen Cox

Email: fultonhenry@gmail.com
Twitter: @realfthornton

Help independent filmmakers tell their stories.
Make a donation to October Mourning today.
Film Independent's Fiscal Sponsorship program opens the door to nonprofit funding for independent filmmakers and media artists. Donate today and help bring October Mourning to life.
Logline
Henry, a Black man grieving the unexpected loss of his father, finds himself regretting all the conversations they never had, when an opportunity arises for them to talk one final time.
Synopsis
During the reception following his father's funeral, Henry Sims– feeling suffocated by grief, family, and well-wishers, retreats to the safe isolation of his bedroom only to himself face to face with his father, Charles Sims. Confronted with the opportunity of spending one more moment with his dad, he must decide to either succumb to fear, or conquer generations of emotional unavailability and have their first honest conversation. After seizing this brief fleeting moment, father and son come to understand each other for the first time, and outwardly profess their love and appreciation for one another, only for their moment to be ripped away unexpectedly with the arrival of Henry's own son, Duane. Knowing he cannot interact or see his grandson, Charles says his final goodbyes to Henry, and the two share one final loving embrace and moment of honesty with each other before saying goodbye–for now.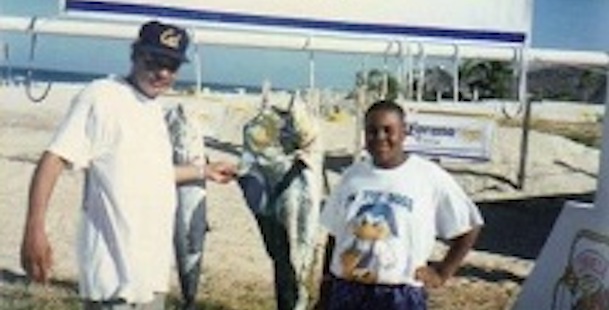 Meet the Filmmakers
Frederick Thornton – Director/Writer
Frederick Thornton is a Spirit Award nominated and Gotham Award-winning African American filmmaker. Originally from Cleveland, Ohio — Frederick cites growing up watching his father make home videos and his mother writing short stories as his inspiration for wanting to be a filmmaker. Thornton is a fellow of IFP Film Week, as well as Project Involve and the Producing Lab for Film Independent. Frederick is a graduate of Chapman University, where he completed a BA in Psychology. His latest produced film, Go Back To China, premiered at SxSw in 2019 and features Anna Akana in the lead role. In the summer of 2020, Frederick was selected amongst four other black filmmakers to participate in a short film production grant program by Netflix. He used this opportunity to make his directorial debut film, Injustice System — a film which follows a Black mother who struggles to deal with the unknown condition of her incarcerated son during the worst pandemic in over 100 years. Frederick is currently in pre-production on his narrative directorial debut short film, October Mourning.
Gia Rigoli – Producer
Gia Rigoli is a Mexican-American producer currently based in Los Angeles, CA and Nogales, AZ. At 20 years old she produced her first feature film, Rock Steady Row, which world premiered at the Slamdance Film Festival where it took home the Narrative Grand Jury Prize and Audience Award for Best Narrative Film, Gia graduated with a BFA in Creative Producing from Chapman University where her senior thesis film, Pasajeros en Trance, was a Student Academy Award Finalist. Gia was selected as a Berlinale Talents participant and a Project Involve Producing fellow where she was awarded the Sony Pictures Entertainment Fellowship. Gia works as a freelance producer in Los Angeles and has produced dozens of short films, music videos, and commercials including branded content with Gucci, Garage Magazine, and VICE. Gia recently founded a production company, Discordia Cine, with her frequent collaborators. They are in development on three feature films that have been supported by the Sundance Institute, Film Independent, The Gotham/IFP, Berlinale, and the SFFilm Westridge Grant.
Sean Hackett – Producer
Born an orphan, Sean Hackett now writes screenplays by hand and on various computers in Kansas City. His career started as the research intern for David Fincher's ZODIAC. Shortly after working on The Amazing Race (as a guinea pig), he became the assistant to directors Jay and Mark Duplass. His first feature, HOMECOMING, received multiple ****/**** star reviews and played in over 25 Film Festivals around the country. His follow up feature, FAREWELL TOUR, was recently part of the 2016 IFP & Film Independent Labs
Fanshen Cox – Executive Producer
Award-winning playwright, actor, producer and educator, Fanshen Cox toured her one-woman show: One Drop of Love across the country for 7 years. Fanshen is also a Producer and Development Executive at Matt Damon and Ben Affleck's Pearl Street Films. She served as a Peace Corps Volunteer in Cape Verde, West Africa, and holds a BA in Spanish & Education, an MA in TESOL, and an MFA in TV, Film & Theatre. She has been honored with Distinguished Alumni Awards from CSULA and from Teachers College, Columbia University. Fanshen is also a co-author of the Inclusion Rider which was announced at the 2018 Oscar awards by Frances McDormand and the co-creator and co-host of the Webby nominated podcast Sista Brunch -highlighting Black womxn striving in entertainment and media.
Contact
For inquiries, please contact fiscalsponsorship@filmindependent.org.