One Magenta Afternoon

For all the loving spirits around you...
Project type: Narrative Short
Project status: Production
Producer: Vernon Jordan III
Cinematographer: Brian Emilio Rojas
Producers: Cynthia Francillon and Matthew Keene Smith
Executive Producers: Jamal Parker and Tarell Alvin McCraney

Website: One Magenta Afternoon

Help independent filmmakers tell their stories.
Make a donation to One Magenta Afternoon today.
Film Independent's Fiscal Sponsorship program opens the door to nonprofit funding for independent filmmakers and media artists. Donate today and help bring One Magenta Afternoon to life.
Logline
The lesson is love: when Pop Pop and his grandson, Les, play jazz, they summon six queer spirits and tumble through their memories.
Synopsis
One Magenta Afternoon is a picture about a young African American boy, Les, and his Pop Pop, who use jazz music as a bridge into the world of the dead. Les tumbles through the visions and memories of 5 queer spirits from different times.
This film is for African American magic: for Hoodoo, Rootwork. This film is about the love between a Black grandson and a Black grandfather — for my own grandfather, a jazz musician and artist — this film is about a black youth's connection to analog technology, the love for ingenuity & practical divinity. This work is for the child I never got to fully be and yet the child i was unashamed to be in the presence of my Pop Pop: the soft boy, the lavender boy.
One Magenta Afternoon is a short narrative afroqueer jazz fashion film, and proof of concept film for my original feature film script Lavender Boy.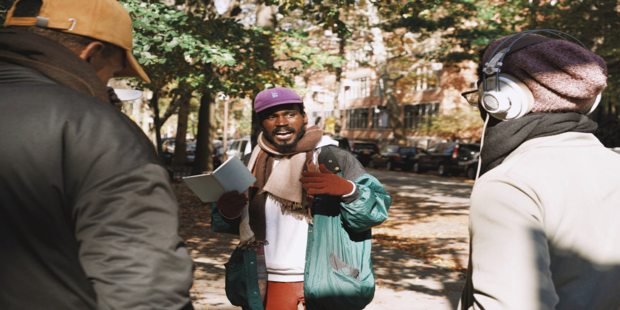 Meet the Filmmakers
Vernon Jordan, III – Director, Writer, Producer
I'm a Philly born and raised artist/storyteller. My priority is to merge the visual and them poetic/lyrical, i'm a Visual Lyricist. Philadelphia is everything to me, where i cut my artistic teeth, training at the historic New Freedom Theatre and Jared Martin's Big Picture Alliance. As a director, writer, and artist who is black, bisexual, and gender variant, i see the world with afrofuturist eyes: i hope my films leave a kind of blueprint to remember the pasts and build the futures. In all of my films, I aim to tell the intimate stories of Black Philadelphia across the times. This time, it's a ghost story. And I've long had a fascination with the dark, with hauntings, and with the spooky and funky collision of past and present. In 2019, I was shortlisted at a Sundance Episodic TV Lab; in 2020 my original feature films script Igbo Landing advanced to the finalist round at Screencraft Screenplay Competition, and caught the attention of one of my favorite actors; i was also accepted as a grant recipient and fellow at the Birmingham Black Repertory Theatre Company's Winter Artistic Fellowship.
Brian Emilio Rojas — Cinematographer
Brian is a Chicago based and New York raised cinematographer and storyteller. He was first involved in film when his parents gifted him a handycam to document the birth of his younger sister and nothing has been the same since. His passions include works around social justice and the amplifying of Black and Brown experiences. He seeks to tell stories of ancestral honoring, liberation, divestment from generational curses and the joys of his community.
Cynthia Francillon — Producer
Cynthia is a storyteller who writes/produces/directs/performs through pages, stages, and screens. Born and raised in Brooklyn, NY to Haitian immigrant parents, her journey of expression has seen many lives. With a BA in Journalism, an MFA in Screenwriting, a newsletter, a storytelling podcast in pre-production, and a short film in post-production, Cynthia continues to use numerous forms of media to tell her stories.
Matthew Keene Smith — Producer
Matt is based in LA and known for festival favorites, 9 Rides, Namour, and Big Words. Currently, Matthew is working with Fillipino filmmakers like Marie Jamora on short films like Flip The Record and Harana. He runs A Twice Told Films production company.
Jamal Parker – Executive Producer
Jamal Parker is an international poetry slam champion, award winning author, teaching artist, and copywriter. Jamal received his BA in Africology & African American Studies from Temple University. His poetry explores race, masculinity, mental health, spirituality, hip hop, incarceration and police brutality while also platforming Black resilience and joy. He also secretly raps once a month, and you can find him playing Super Smash Bros Ultimate on any given weekend. He currently is a Creative at Translation LLC & United Masters.
Tarell Alvin McCraney — Executive Producer
Tarell Alvin McCraney is an acclaimed writer. His script In Moonlight Black Boys Look Blue is the basis for the Oscar-winning film Moonlight directed by Barry Jenkins, for which McCraney and Jenkins won an Oscar for Best Adapted Screenplay. He wrote the film High Flying Bird which premiered on Netflix directed by Steven Soderbergh. McCraney's plays include Ms. Blakk For President (co-written with Tina Landau), The Brother/Sister Plays trilogy, Head of Passes, Wig Out!, and Choir Boy which was nominated for four Tony Awards. McCraney is the recipient of a MacArthur "Genius" Grant, the Whiting Award, Steinberg Playwright Award, the Evening Standard Award, the New York Times Outstanding Playwright Award, the Paula Vogel Playwriting Award, the Windham Campbell Award, and a USA Artist Award. He is currently Chair of Playwriting at Yale School of Drama; an ensemble member at Steppenwolf Theatre Chicago; and a member of Teo Castellanos/D-Projects. McCraney is currently working on an original scripted TV series, David Makes Man, for Oprah Winfrey's OWN Network, produced by Michael B Jordan and Page Fright Productions.
Contact
For inquiries, please contact fiscalsponsorship@filmindependent.org.