Please Hold

What if you fall through a crack in the system?
Project type: Narrative Short
Project status: Production
Director: K.D. Davila
Co-Writer/Co-Producer: Levin Meneske
Producers: Diego Najera, Marc Mounier
Cinematographer: Farhad Ahmed Dehlvi

Facebook: facebook.com/pleaseholdshortfilm
Instagram: @pleaseholdshortfilm

Help independent filmmakers tell their stories.
Make a donation to Please Hold today.
Film Independent's Fiscal Sponsorship program opens the door to nonprofit funding for independent filmmakers and media artists. Donate today and help bring Please Hold to life.
Logline
In the near future, a young working-class Latino is thrust into a fully automated and privatized jail after being arrested by mistake.
Synopsis
MATEO (20s, Latino) is arrested by a police drone without explanation. Finding himself locked in a fully automated jail with no means of recourse, Mateo realizes he's fallen through some kind of crack in the system. To get out alive, he'll have to go head to head with the labyrinthine, computerized bureaucracy of the privatized American justice system, in search of an actual human being who can set things right. This biting social satire examines the increasingly profit-driven and dehumanizing penal system where marginalized communities are left to shoulder the costs.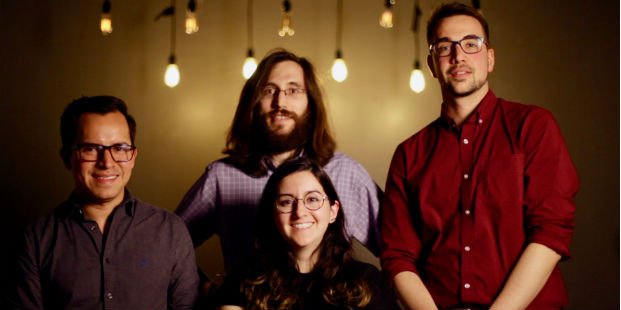 Meet the Filmmakers
K.D. Davila — Director
K.D. Dávila is a Chicana screenwriter from Los Angeles. After earning her BA in Near Eastern Studies from Princeton University and MFA in screenwriting from USC, she went on to be a 2016 Universal Pictures Emerging Writers Fellow and a 2017 Film Independent Project Involve Fellow. She wrote the short film Emergency, which won Best Narrative Short at SXSW 2018, and the Special Jury Award at the 2018 Sundance Film Festival. She was recently a staff writer on CBS summer sci-fi show Salvation and is currently hard at work on an upcoming television series. Please Hold is her directorial debut.
Levin Meneske — Co-Writer/Co-Producer
Born in Istanbul to a Muslim mother and a Jewish father, Omer Levin Menekse has always felt like somewhat of a cosmological joke. He attended USC's School of Cinematic Arts, where he was awarded the Annenberg Fellowship. Since graduating, he has worked as a freelance story consultant and as a script analyst for various companies. He is currently co-producing Please Hold, which he co-wrote with Sundance Special Jury Award winning writer/director K.D. Davila. He is currently a Film Independent Project Involve Fellow. Levin is represented by Parker Davis, Jenna Block and Pamela Goldstein at Verve.
Diego Nájera — Producer
Diego Nájera is an LA-based Mexican producer. He is a USC International Artist Fellow (2014-2016), a recipient of the Producers Guild of America Debra Hill Fellowship (2016), and a Film Independent Project Involve Fellow (2018). Diego began his career at the Guadalajara International Film Festival (FICG) where he worked for six editions as Producer and Film Programmer. He holds an MFA from USC's Peter Stark Producing Program. His short film, Spark, was nominated for a BAFTA U.S. Student Film Award and was distributed by HBO. His latest short Liberty won the Jury Prize at Berlinale Generation and SXSW. He is currently producing the feature film Bolichicos by Juan Avella with the support of the Tribeca Film Institute and the Alfred P. Sloan Foundation.
Marc Mounier — Producer
Marc Mounier is a Los Angeles based producer. His project WYRM screened in the shorts competition at Sundance in 2018. The Finding Home series screened at the US' top documentary film festivals including the Hot Springs Documentary Film Festival, DOC:NYC and earned the production team a certificate of recognition from the City of Los Angeles. Goodbye Blue Sky has accrued over 6 million views on Youtube. Marc holds an MFA in Producing from USC's Peter Stark Producing Program and currently works for one of Hollywood's major management companies. Prior to this, he was a Production Coordinator for Switzerland's largest broadcasting network SRF.
Farhad Ahmed Dehlvi — Cinematographer
Farhad was born and raised in New Delhi, India. A photography class at school introduced him to the magical world of telling stories with images. In 2012, he moved to Los Angeles as a Cinematography fellow at the American Film Institute, and now lives and works in LA. He has served as Director of Photography on a number of short and feature films including Prism, Rene, The Wild, the Child, and the Miracle and The Last Marble, gathering critical acclaim at festivals across the globe. Farhad believes in the affirmative power of the narrative film form, and through his work, strives to connect the personal with the universal. His latest short film, Green won the Jury Award at Sundance 2019.
Contact
For inquiries, please contact fiscalsponsorship@filmindependent.org.