Portrait of a Young Man

The Delicate Resilience of Life
Project type: Narrative Feature
Project status: Post-Production
Director/Writer: Brandon Shenk
Producer/Editor: Yining Xu
Executive Producer: Iman Zawahry
Co-Producer: Yu Ying Chien
Cinematographer: Vanon Li
Production Designer: Yudi Zhang
Director of Graphics: Yizhou He

Email: sirinfilms@gmail.com

Help independent filmmakers tell their stories.
Make a donation to Portrait of a Young Man today.
Film Independent's Fiscal Sponsorship program opens the door to nonprofit funding for independent filmmakers and media artists. Donate today and help bring Portrait of a Young Man to life.
Logline
A high school boy's struggle with identity and an eating disorder, as his family attempts to heal past wounds and nurture future hope.
Synopsis
While Grayson Johnson is struggling with identity, descending into mental sickness, his parents, Trisha and James, attempt to revive their marriage. They do everything in their power to keep the family afloat and instill Christian values in their boys. But, at the crossroads of parental, peer and spiritual influences, Gray has to learn to navigate his own life-path.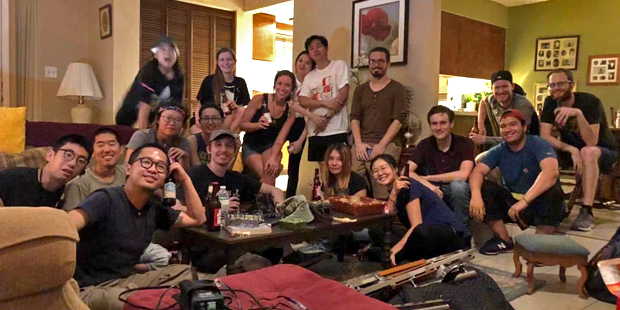 Meet the Filmmakers
Brandon Shenk — Director/Writer
Brandon Shenk received his Master's in Film Production from Florida State University, and his Bachelor's from University of Florida, graduating Summa Cum Laude in English and Mass Communications. He wants to explore and develop narrative stories that push the boundaries of contemporary cinema and challenge audience members to wrestle with tough multi-layered dilemmas and questions. His short films have screened at Beverly Hills Film Festival, Hill Country Film Festival, TERMINUS Conference Festival, International Changing Perspectives Short Film Festival, Miami Independent Film Festival, Flamingo Film Festival, Tampa Bay Underground Film Festival, HorrorQuest Film Festival, Morbido Merida, etc.
Yining Xu — Producer/Editor
Yining Xu is an America-China based producer and director. She received her Master's in Film Production from Florida State University, and her Bachelor's from Fudan University (top ranked) in China. Her past works have won or been selected by Beverly Hills Film Festival, Cannes Film Festival Short Film Corner, Beijing International Short Film Festival, European Cinematography Awards, Hua International Short Film Festival, etc. She intends to make slice-of-life movies about regular people.
Iman Zawahry — Executive Producer
Iman Zawahry is a producer/writer/director who has worked on numerous films that have played at over 100 venues worldwide. She recently worked with Oscar winning Moonlight producer, Adele Romanski, on producing a feature with Sundance Alum, Adam Bowers. Her film Tough Crowd won a Student Emmy Award and qualified as a finalist in the NBC Comedy Short Cuts to pitch a sitcom with NBC executives. She is currently in post-production of her feature film which stars George Wendt, Shenaz Treasury (The Big Sick), Lilette Dubey (Best Exotic Marigold Hotel), Mo Amer (Netflix "Vagabond" and Ajay Naidu (Office Space). She is faculty of film production at the University of Florida.
Yu Ying Chien — Co-Producer
Yu Ying Chien is a producer/director with a trilingual background and a nerd of foreign literature and film, especially coming-of-age stories. Most of her characters are versions of her former self. She enjoys putting them in fantasy worlds where they struggle, weep, grow, or maybe… just sit around daydreaming with cups of cappuccino. She has been producing TV segments and web series for HunanTV (cable tv in China), MangoTV, Youku, and Space Center Houston. Last year she finished a feature with the award winning director, Amir Naderi for his Venice International Film Festival screening, Magic Lantern.
Vanon Li — Cinematographer
Vanon Li was born and raised in Hangzhou, China, Vanon Li started his path as a filmmaker by making several award-winning documentaries in Zhejiang University where he got his BA in Landscape Design. After a year working as a commercial director, he enrolled to get his MFA at USC School Of Cinematic Arts in LA, where he's currently on cinematography scholarship. He enjoys in equal parts directing, production design and cinematography, and he feels this gives him a unique eye for frame and composition.
Yudi Zhang — Production Designer
Yudi Zhang received her BA in Television and Broadcasting at Fudan University, and is currently getting her MFA in Film Production from the University of Southern California. She has production designed for several USC and UCLA films. She specializes at transforming ideas into color and set dressing. As a fan of realism, her greatest priority is to always try and create a believable world for the characters.
Yizhou He — Director of Graphics
Yizhou He currently studies and works in Italy, getting his MFA in Graphic Design from the Academy of Fine arts and Florence, where he also received his Bachelors in Decoration Design. His past works have won or been selected by Communication Arts Illustration Competition, Paris Baguette, China International Radio Press, Koolearn and Visual China Group, etc. To him graphic design is a kind of diary for taking note of our normal lives and inner feelings. Linear elements and color are the most primal and natural way to record our thoughts and feelings since the birth of mankind.
Contact
For inquiries, please contact fiscalsponsorship@filmindependent.org.