Project Mujeres

A documentary on the lives of women in Mexico
Film Independent's Fiscal Sponsorship program opens the door to nonprofit funding for independent filmmakers and media artists. Donate today and help bring Project Mujeres to life.
Logline
Project Mujeres" shines light on the pain of the women of Mexico, who actively fight to change machismo culture and its deadly toxicity.
Synopsis
This is a documentary about the pain of the women of Mexico who actively fight to change the machismo culture and its deadly toxicity. In conducted interviews for the film, drug trafficking and related violence was a consistent theme having a devastating impact on families and the community. "Project Mujeres" showcases women who have been assaulted sexually and/or physically and how they cope, move forward and heal. Our documentary poses the question "If women are raising the men of the next generation, why is there continued abuse?". Project Mujeres brings awareness to the topic of sexual violence that continues to prevail globally and bring hope to those currently struggling from abuse to seek support.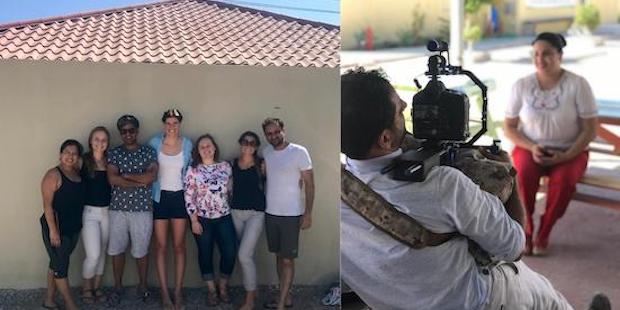 Meet the Filmmakers
Natasha MacLeay – Producer
Having intensively worked with women suffering from sexual trauma, sexual oppression, and suppressed emotional agony, Natasha has witnessed an impactful communal imbalance which society has channeled towards the women historically. This inspired her to take up the naturopathic doctor program so that she could raise a voice and struggle on behalf of women who needs representation. Mariposa Sisters is an initiative in that realm, which identifies the status of women in an unequal and gender-biased community. As a healer, she has encouraged and promoted mind-body wellness practices and in identifying leadership to inspire other women striving for an empowered change. As a founder of Mariposa Sisters, she seeks to highlight women's stories of strength and perseverance to globally inspire in leading women to happier, healthier, and more successful lives.
Mayur Agrawal – Co-Producer
Mayur is amongst the most passionate people who not only raise their voice against women suppression and their equal rights but also ensures of addressing as well as implementing the strong social changes his initiative requires. A soft-spoken Mayur has been an ardent believer of how suppression of women could hinder the mighty progression of the development our world requires today. He is a Silicon Valley-based serial investor whose portfolio ranges from technology startup companies, hospitality industry and many socio-communal rural upliftment programs with a focus of helping people from the remotest places in the world. His flagship project in Rajasthan, India is an inspiration where his team has been diligently working in providing quality educations to children, creating jobs and initiating health camps for people of these underprivileged community.
Anuj Rawra – Director
Actively involved with theatre since the age of 13, Anuj has directed and acted in several National and International theatre productions. His first directed play Kamra Khula was a part of Old World Theatre Festival, Atelier Festival, and 2nd India-Pak Inter-Varsity Drama Festival putting him amongst the best theater director's in the world. After finishing a part of Channel V India's first fiction show Roomies Anuj directed and produced one of his most critically acclaimed theatre production, Holi, which got selected for Thespo at Prithvi Theatre, which is one of the most prestigious theatres to perform at, in the world. Apart from this Anuj, has also worked as an Assistant Director on a commercial Bollywood film Hindi Medium and recently directed his another independent short film "Doorbeen" which is doing its festival round as we speak it has been selected for the best short film category in a couple of festivals worldwide.
Ashish Dawar – Editor/Director of Photography
Raised in India, Ashish started his career in Mumbai developing unique techniques to craft exclusive Diamonds. He soon made a career change to pursue his long-standing dreams in creating imagery & telling stories. The first narrative feature he shot, Under the Same Sun, had a world premiere at the 2015 Mill Valley Film Festival in San Francisco and won the silver Audience Choice Award. He moved to LA for MFA cinematography at the American Film Institute (AFI). He is currently a practicing cinematographer in LA. He was also recently picked for the prestigious BAFTA Talents program. Traveling, observing & being curious; he is in a constant forage to lens stories that entertain & inspire.
Merari Enriquez – Community Outreach Coordinator
Born in the city of Nogales, Sonora Mexico, she is originally from Santa Ana Sonora, and to this day resides in the city of Puerto Peñasco, Sonora. Merari has studied teaching and specializes in social sciences. She is passionate about offering resources to communities focusing on Mexican women. She has closely worked with Naturopaths Without Borders to provide free medical services to those unable to afford it. She is currently working on offering marriage and youth counseling. Merari is dedicated to providing care to those who need it most in her community.
Contact
For inquiries, please contact fiscalsponsorship@filmindependent.org.