Red

The tragedy of the closet in small-town America...
Project type: Fiction Short
Project status: Post-production
Writer/Director/Producer: Scott Sullivan
Producerr: Annalea Fiachi
Director of Photography/Producer: Ryan Palmer
Producer: Christian Para

Instagram: @redtheshortfilm
Email: scottsullivanproducer@gmail.com

Help independent filmmakers tell their stories.
Make a donation to Red today.
Film Independent's Fiscal Sponsorship program opens the door to nonprofit funding for independent filmmakers and media artists. Donate today and help bring Red to life.
Logline
In rural Pennsylvania, a teenage couple's — James and Lizzy — relationship is interrupted by Aaron, the guy James almost hooked up with four months ago. Red explores being queer in conservative towns during hard times with empathy rather than disdain.
Synopsis
This story is loosely based on my life growing up in the closet in rural Western Pennsylvania. Red centers on three teenagers around 2006: James, Aaron, and Lizzy. After a party, James stumbles away after a fight with his girlfriend Lizzy. Aaron heads after him in his truck. Their conversation gets personal and then intimate. Until a cop shows up, catching them in the act, which dramatically upends their entire lives.
After James and Aaron tried to hook up, Aaron falls deep into despair, but James retreats into himself. Lizzy is stuck having to figure everything out. All caught in the middle of society's caustic slow moving progress to accept sexual identity.
This story takes place deep in rural America. For Aaron and James, much like myself, there was no such thing as coming out of a closet, this was an impossibility. Thus, the greatest of tragedies.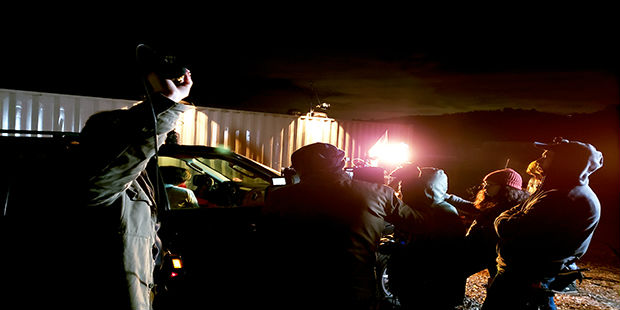 Meet the Filmmakers
Scott Sullivan — Writer/Director/Producer
Scott is a producer, writer, and director— and former actor. He started his career in acting doing short films and starring in a few feature films, and then transitioned into writing, producing, and directing. Scott produced a short film that screened at the Cannes Short Film Corner and a feature length doc that premiered at the Carnegie Museum and screened at numerous festivals. Scott has been in Los Angeles for many years producing and developing. He was at Bohemia Group Originals pitching tv and feature scripts to every major network and studio. He also spent a year running the business for acting coach John Homa. Red has been the centerpiece of Scott's past year —the writing, producing, and eventual shooting in Feb. 2019 has redefined his relationship with his past and blazed a path for future creativity.
Annalea Fiachi — Producer
Annalea is an Actress, Writer, and Producer who graduated Summa Cum Laude with a degree in Film and Television Studies. Annalea has had the pleasure of traveling all over the world, working both on and off the screen. Her work spans across everything from Feature Films, an NBC Sitcom, Reality Television, Short Films that toured and won Festivals, Web series, Commercials, and Documentaries. At the age of 18, Annalea, with her business partner, Ryan, created their own production company Hoovaloo Films which produces commercials for hire and creates personal content.
Ryan Palmer — Director of Photography/Producer
A Director, Writer and Cinematographer who graduated from California State University, Northridge with a Bachelor's Degree in Film Production, with an emphasis in Cinematography. During his education, Ryan was chosen as one of only four students to be the Director of Photography of a student thesis film, where upon completion the film was chosen and accepted into the annual Thesis Showcase at the Motion Picture Academy of Arts and Sciences. Ryan also founded and runs a production company with friend, business partner and film cohort Annalea Fiachi. Hoovaloo Films has had success in helping small businesses and non-profit companies find their voice in the form of online marketing and television commercials. Together, and with Hoovaloo's dedicated team of creators, Ryan and Annalea have planned and executed several shorts, web series', sketches and films.
Christian Para — Producer
Christian was born in the Suburbs of Pennsylvania— just outside of Philadelphia. He graduated from The California University of Pennsylvania in 2015 and moved to Pittsburgh to pursue a career in production. A year later he moved to Los Angeles. Christian has worked on shows such as CBS's LA > Vegas. He has also worked on various films, short film, live television, and commercial productions from all angles such as Production Assistant, Assistant Camera, and Grip. Currently he is working on the agency side of the business. Para worked for Torque Entertainment and Artist and Brand Management. Christian is currently employed at McDonald Selznick Associates as the Talent department coordinator. He and Scott met four years ago when working on Scott's documentary Tracing Outlines.
Meet the Cast
Parker Queenan — James
Parker Queenan cannonballs your heart when he brings the complexities of James to screen. Parker is not only an actor but a writer, a director, and just an all around creative. His passion and depth in person will sweep you up, and his talent on screen will knock you down. He is know for playing Reed in the Disney comedy series Andi Mack and directing short films such as Business as Usual, Beyond Conscious, and Desolate (2016).
Ally Ioannides — Lizzy
Ally Ioannides creates a robust and interesting Lizzy that made the character come to life in the movie. She is best known for playing Dylan Jones in the NBC drama series Parenthood, and Tilda in the AMC martial arts drama series Into the Badlands.
Jance Enslin — Aaron
Jance Enslin is an actor, known for Good Boy (2016), The Mental State and Untitled Kansas Bowling Film (2019).
Jade Harlow — May
Jade Harlow was born in Las Vegas, Nevada, USA. She is an Emmy winning actress and producer, known for The Bay (2010), Passions (1999) and Agents of S.H.I.E.L.D. (2013).
Contact
For inquiries, please contact fiscalsponsorship@filmindependent.org.