Restarting The Motor City

Who will define Detroit's future?
Project type: Documentary Feature
Project status: Post-Production
Director/Producer/Cinematographer: Melissa Dowler
Producer/DP/Editor: Tom Dowler
Cinematographer: Megan Lovallo
Executive Producer: Shane Kelly
Executive Producer: Ted Serbinski

Website: restartingthemotorcity.com
Email: melissa@longhaulfilms.com

Help independent filmmakers tell their stories.
Make a donation to Restarting The Motor City today.
Film Independent's Fiscal Sponsorship program opens the door to nonprofit funding for independent filmmakers and media artists. Donate today and help bring Restarting The Motor City to life.
Restarting The Motor City – Teaser from Long Haul Films on Vimeo.
Logline
Restarting The Motor City is a documentary about how post-bankruptcy Detroit is transforming,the innovators and creators who are making it happen, and the obstacles they must overcome to free themselves from the shackles of 20th-century thinking and work together to create a city of the future.
Synopsis
Detroit was the definitive American city, yet the very elements that raised it to ascendency also precipitated its demise. The Detroit of yesterday is gone, but a stronghold of citizens remain. Their backgrounds are different, but they share a dream of Detroit's rebirth. Using new technology, wild creativity and fearless disruption, they're rebuilding on new principles of innovation, human-centered design, and community engagement.
But these citizens face enormous challenges from aging infrastructure, outdated political models and forces that want to maintain the status quo. Can these entrepreneurs, artists and activists work together to achieve the dream of a new Detroit? If not, what does it mean not only for the city, but for America?
Restarting the Motor City follows the journeys and struggles of real innovators making change in Detroit; including Detroit Soup founder Amy Kaherl, native Detroiter and founder of Kidz Kingdom Danielle North, physician and healthcare disrupter Dr. Paul Thomas and Downtown Boxing Gym founder Coach Khali Sweeney.
These people are daring to challenge every aspect of how a city works, from transportation to education to arts and culture, to collaboration across races, religions and political ideologies.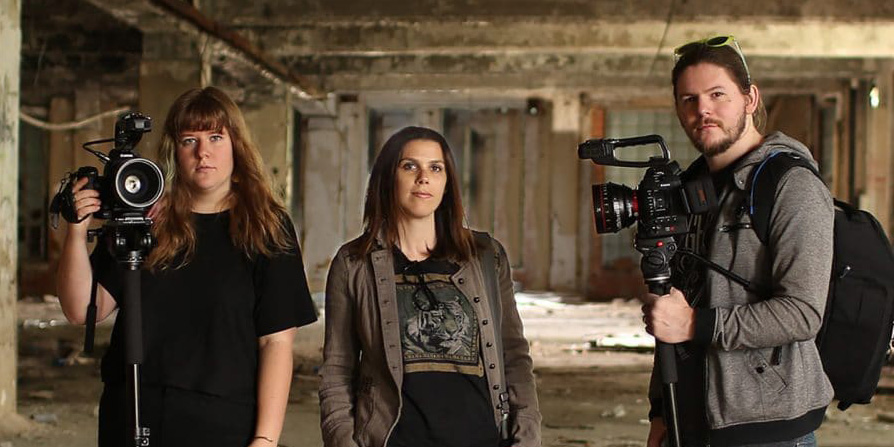 Meet the Filmmakers
Melissa Dowler — Director/Producer/Cinematographer
Melissa Dowler is an award-winning film director and co-founder of production company Long Haul Films. Adele and Everything After, Melissa's debut feature documentary, tells the emotional story of a woman with an untreatable heart condition and the service dog who saves her life. The film premiered at the Cleveland International Film Festival and went on to garner multiple awards and was picked up for a release by Gravitas Ventures in early 2018.
Tom Dowler — Producer/DP/Editor
Tom is an ex-pat Brit who started making films at the University of York, where he founded the University Cinematography Society and went on to a Masters in Feature Film Development at Goldsmith's College in London. He has worked on narrative and documentary projects, including the award-winning Adele And Everything After, and The Brownlist which took home the jury prize for best short at Geena Davis' Bentonville Film Festival.
Megan Lovallo — Cinematographer
Megan is a product of Boston University's film program and two-time winner of the prestigious Redstone Film Festival for her short film, Off To The Races. Megan's current work as a Director includes music videos, commercial and short narrative films.
Shane Kelly — Executive Producer
Shane leads Wolverine Angel Network where he connects entrepreneurs with capital, resources, and relationships. Previously, he held leadership roles at venture capital funds Detroit Venture Partners and Wolverine Venture Fund.
Prior to that, Shane was Vice President of Finance for GreeneStreet Films during rapid growth and several rounds of venture funding of up to $20 million each. While there, he built and led teams responsible for customer service, finance, and sales operations. His film credits include Movie 43, Awake, and Slow Burn.
Ted Serbinski — Executive Producer
Ted is the Managing Director of Techstars Mobility, driven by Detroit. He invests in next-generation automotive, transportation, and mobility startups across the globe and he left Silicon Valley to lead the entrepreneurial gold rush in Detroit and create a legacy. A member of the board of the Michigan Film Commission, Ted has worked closely with Long Haul Films to bring the story of entrepreneurship in Detroit to life.
Contact
For inquiries, please contact fiscalsponsorship@filmindependent.org.