Shangri_LA

Project type: Narrative Series
Project status: Post-production
Director/Co-creator: Drew Rosas
Actor/Co-creator: Nick Sommer
Lead Actor: Jessie Kahnweiler
Actor: Mark Borchardt

Website: shangri-lashow.com
Email: drewrosas@gmail.com
Facebook: facebook.com/shangrilashow

This project is no longer soliciting donations.
Logline
An episodic comedy about a group of lovable idiots trying to make it in Hollywood while surviving on the streets of L.A.
Synopsis
After a nervous breakdown causes Nicky Kaplow to run away from his former life of excess as an infomercial personality, he has finally found his place of solace as a homeless homesteader. Nicky has disavowed the material world of his former life to live "off the land." He needs to be resourceful to create a life of comfort in the streets, alleyways and hidden wilds of Los Angeles. When Nicky is not finding inventive and quirky ways to survive off the grid he is battling his inner demons and trying to win back his estranged girlfriend. In the process, Nicky meets a cast of characters who have sacrificed everything to chase after their dreams of fame and fortune.
In the Tibetan realm, Shangri-LA is a mythical paradise, a hidden utopia that may or may not exist. In the context of LA, Shangri-LA uses comedy to explore the hilarious absurdity of the Hollywood struggle, a paradise to some, an unobtainable goal to others. The show highlights the bizarre contrast that arises when one of the wealthiest cities in the world is also home to a poverty epidemic of drastic proportions.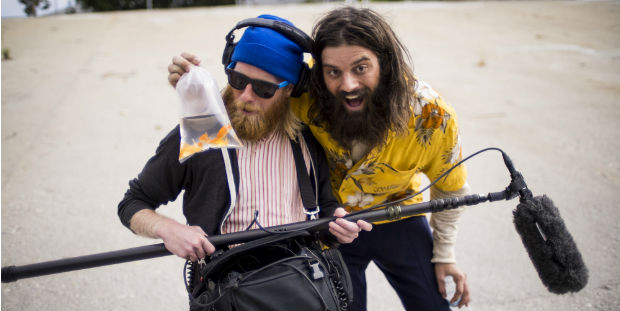 Meet the Filmmakers
Drew Rosas — Director/Co-creator
As an aspiring storyteller, Drew Rosas began making films on his dad's VHS camcorder when he was 12 years old. His childhood pastime would become a lifelong craft that has driven Rosas for over two decades and through four independently produced feature-length projects. After receiving a BFA in Film Production from UW Milwaukee in 2005, Rosas spent several years working in the Milwaukee/Chicago commercial industry. Longing to create original content, Rosas would launch into his filmmaking career in 2010, self-financing and producing three indie features over the next several years. Both Blood Junkie (2010) and Billy Club (2013) would find distribution and become instant cult classics receiving several awards and critical acclaim from within the indie horror/comedy film scene. For his next project, Rosas premiered the pilot episode for the digital comedy series Shangri-LA at the 2016 LA Film Festival. Using LAFF as a launch pad, Rosas would go on to develop Shangri-LA into the 13 episode 1st season slated to launch in 2019. In additions, Rosas' debut feature documentary project, The Settlement, premiered at the 2018 Raindance Film Festival in London.
Nick Sommer — Actor/Co-creator
At a young age, Nick Sommer was fascinated with movies. His passion would eventually blossom into a career of directing, acting and producing several feature films. Sommer graduated with a BFA in Film from UW Milwaukee and began to work in the commercial production industry. After several short films Nick teamed up with Drew Rosas, fellow UW Milwaukee alumni, to help create the feature film Blood Junkie (2010) in which he also starred as the lead role. They would later go on to co-create another feature Billy Club (2013) both of which were picked up for distribution and received several awards and critical acclaim. Sommer and co-creator Rosas are currently in post production on a 13 episode digital comedy series Shangri-LA slated to release in 2018. The pilot of which premiered in 2016 at the LA Film Festival. Nick has also acted and done production design on several other Milwaukee based feature films where he resides. Sommer is also in the process of trying to get another comedy feature film Wedlocked N' Loaded off the ground.
Jessie Kahnweiler​ — Lead Actor
Jessie ​can't afford therapy so she makes films. Her work has been featured on New York Times​,​ The Guardian​,​ ​TMZ​, ​Cosmo, ​People​,​ ​The Hollywood Reporter​,​ ​New York Magazine​,​ ​Mashable​, ​Buzzfeed​,​ ​Elle​,​ ​The Daily Beast​,​ ​Jezebel​, ​IndieWIRE​,​ ​LA Weekly​ ​The Huffington Post​, and​ ​The Independent​. At the University of Redlands, Jessie quickly began ditching class in order to make documentaries. Jessie was selected for the 6 Points Artist Fellowship which inspired her comedic web series entitled​ ​Dude, Where's my Chutzpah?​ Her short​ ​Meet my Rapist​, a dark comedy about running into her rapist at the farmers market, debuted at the 2014 ​Slamdance Film Festival​ and inspired her live show​ ​The Rape Girl. Jessie's dark comedy about bulimia ​The Skinny​, which she writes, directs, and stars in premiered at the Sundance Film Festival, Cannes Film Festival, and won a ​Webby​ for best dramatic series. Jessie wrote a series for ABC about surrogacy and is currently adapting the book The Viagra Diaries for the CW. She lives in LA with her plants.

Contact
For inquiries, please contact fiscalsponsorship@filmindependent.org.