Someone You Know

Three women break the silence & stigma surrounding later abortion by sharing their complex stories.
Project type: Documentary Short
Project status: Post-Production
Director/Producer: Asha Dahya
Co-Producer: Sarah Moshman
Editor: Prakshi Malik
Animator: Marcita
Illustrator: Nan Cao

Email: ashadwork@gmail.com

Help independent filmmakers tell their stories.
Make a donation to Someone You Know today.
Film Independent's Fiscal Sponsorship program opens the door to nonprofit funding for independent filmmakers and media artists. Donate today and help bring Someone You Know to life.
Logline
As America sinks into a future without Roe v Wade, 3 women rise above the stigma and noise by sharing their intimate, heartbreaking, and complex later abortion stories.
Synopsis
Today in America, 1 in 4 women will have an abortion before the age of 45. Less than 2% of overall abortions are performed at or after 20 weeks. Yet this demographic of pregnant people seeking abortions later in their pregnancy has become the target of political misinformation and attacks, and in a world where Roe v Wade no longer exists, abortion access is going to become even more difficult. In Someone You Know, we meet 3 women, Mindy Swank, Valerie Peterson and Sharon Lagos, who have had later abortions. Bravely stepping out of the shadows to use their real names and faces, each of the women share their experiences of having to overcome numerous barriers to get the care they needed in a landscape rife with stigma, harassment and misinformation.
To learn more about later abortion visit www.whonotwhen.com.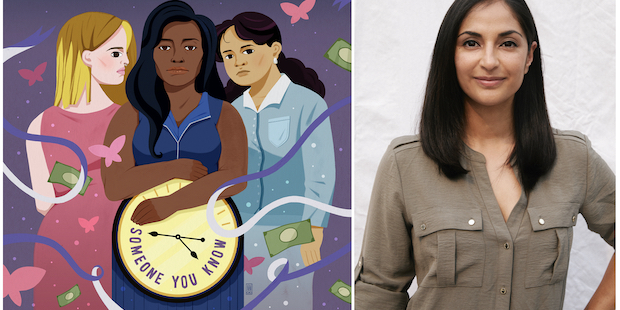 Meet the Filmmakers
Asha Dahya – Director/Producer
Asha Dahya is a producer, TEDx speaker and founder of GirlTalkHQ.com. Asha was born in the UK, raised in Australia, and now resides in Los Angeles, California. She has spent the last 16 years creating, producing and hosting content for networks such as MTV, MSN.com, Disney, ABC, Nickelodeon, Fox, Nine Network Australia and more. Considered a voice of authority in the feminist media space, she has delivered keynote addresses for organizations such as Accenture, UCLA and March for Moms. Asha has also moderated panels for UN Women, Mount Saint Mary's University, EmpowHer Institute, Women's Voices Now Film Festival, rePRO Film Fest, and Continuum Collective. Asha is a recipient of the Awesome Without Borders grant from the Harnisch Foundation, and the 2022 Creative Power Award grant.
Asha is currently in post production on a short documentary about later abortion called Someone You Know, and in development on a docu-series about global abortion laws with an award-winning UK production company. Asha hosts a monthly filmmaker interview podcast series for the rePRO Film Fest, and she is a board member of the Religious Coalition for Reproductive Choice (RCRC) since 2021. Through her work, Asha focuses on reproductive freedom, gender equality, and the representation of women. She is passionate about empowering women, girls and femmes to take up space, raise their voice and share their story with the world. Visit www.ashadahya.com to learn more about her work.
Sarah Moshman – Co-Producer
Sarah Moshman is an Emmy Award-winning documentary filmmaker and TEDx speaker whose work has been featured on Upworthy, Marie Claire, CNN, and Good Morning America. After directing two short documentaries about female empowerment in young women, (Girls Rock! Chicago (2010) and Growing up Strong: Girls on the Run (2012)) she set out to direct her first feature doc, The Empowerment Project: Ordinary Women Doing Extraordinary Things (2014), which has been screened over 700 times around the US and around the world in schools, groups, organizations and corporations starting conversations about gender equality. With Indieflix as the distributor, the film has been sponsored by major brands like Nordstrom, American Girl and Microsoft to spread this message far and wide. Sarah's second feature doc, Losing Sight of Shore follows the incredible journey of four women who rowed across the Pacific Ocean. The film was released globally in 190 countries on Netflix in May 2017. NEVERTHELESS is Sarah's third feature documentary which takes a look behind the headlines of #MeToo and Time's Up to shine a light on the sexual harassment crisis and use the power of cinema for change.
Prior to focusing on documentaries Sarah worked as a field producer on the hit ABC show Dancing with the Stars for 10 seasons as well as shows on NBC, MTV, Lifetime, Bravo and the Food Network. She also directs branded content for EllenTube, Tastemade, Mattel, AT&T and more. Visit www.sarahmoshman.com to learn more about her work.
Prakshi Malik – Editor
Prakshi Malik is an editor and director currently based in Austin, TX. She has edited award-winning narrative short films and recently, a narrative feature titled Addict Named Hal. Her editing work extends to short documentaries and experimental dance films which have screened on PBS and at various film festivals. Prakshi was recently awarded the 2020 Short Film Grant by Austin Film Society for BAAHAR, which she directed and edited. Prakshi holds a BA in Media and Cultural Studies from Macalester College and MFA in Film Production from the University of Texas at Austin. She grew up in Delhi, India and brings her background in dance and ensemble practices to her filmmaking. Visit www.prakshimalik.com to learn more about her work.
Marcita – Animator
I'm Márcia but people know me as Marcita. I have liked to tell stories since I was a kid so I decided to do it through animated videos inspired by the 90's MTV animations and traditional cinema. I have been working as a creative director for animation projects for almost 10 years now and I have a special passion for working in themes related to culture, science, human rights, gender equality, and social change. I am an art director, illustrator, and animator from São Paulo, Brazil. Some clients I had worked with: Google, Facebook, WWF, Itaú and Itaú Cultural, Natura, Repórter Brasil and TV Globo.
I am creating all the animated vignettes for Someone You Know. Visit www.marcita.com to learn more about my work.
Nan Cao – Illustrator
Nan Cao is a New York-based illustrator. Her work is inspired by surrealistic imagery and her daily life in the big city. When she is not drawing, Nan loves to hang out with the squirrels in the park, daydream under the sun or get lost in her book collection. She has worked with clients such as School of Visual Arts, Johns Hopkins Magazine, Anorak Magazine, Link NYC, Bulletin Magazine, Spectrum, Washingtonian Magazine, to name a few. Nan holds an MFA in Illustration as Visual Essay from the School of Visual Arts. Her work has been recognized by American Illustration, Society of Illustrators, Communication Arts, AOI, 3×3 and Creative Quarterly. Visit www.nancaoart.com to learn more about her work.
Contact
For inquiries, please contact fiscalsponsorship@filmindependent.org.