Stronger Than The Bullet

A TIMELESS story… happening NOW.
Film Independent's Fiscal Sponsorship program opens the door to nonprofit funding for independent filmmakers and media artists. Donate today and help bring Stronger Than The Bullet to life.
Logline
Stronger Than The Bullet is a voting rights documentary following three generations of women, from three underrepresented communities, in three states.
Each generation has a timeless tale to tell, revealing a hard truth – we have been here before.
Synopsis
"The ballot is stronger than the bullet."
-Abraham Lincoln, 1856
As we approach the 2024 presidential election, the above quote resonates profoundly. If only we can resist the pull of our social media long enough to check the headlines, we will see the news about voting rights growing ever more ominous.
Several state governments have put forth legislation giving them unconstrained power to suppress the vote and override the federal Voting Rights Act, as well as the U.S. Constitution.
And of course, those 2020 election deniers are still front and center, eroding the public's confidence in the fairness of our entire electoral process.
So, who's fighting back? The women of Stronger Than The Bullet!
Just as they did 100 years ago, when a diverse group of women achieved the passage of the 19th Amendment, these women are standing up to make sure their community's voices get counted.
Stronger Than The Bullet embeds with three generations of women challenging the status quo. Our SHEroes include:
– Lynda and Khadijah. Now grandmas, these two were part of Selma's original "foot soldiers," marching alongside John Lewis on the Edmund Pettus Bridge. Beaten and repeatedly jailed as children, nothing short of death would halt their dedication to Dr. King's movement and their parent's right to vote.
– Dolores Huerta, 93. Her fearless campaigns for social justice resulted in more equitable policies for farm workers. But, her advocacy work was not easy. Ms. Huerta also had the added burden of gender discrimination within her very own movement.
We will witness these icons pass the torch to next-generation leaders on the frontlines of an election in communities struggling for representation.
As Lynda says, "It's going to take the wisdom of the elders, and the energy and knowledge of the young." Enter Genesis Hart:
– Genesis, 26, is a multimedia artist from New York City. She's an activist for LGBTQ+ rights and has been speaking up for the marginalized since 2011. Genesis can't wait to meet and learn from our Alabama ladies, where coincidentally, her not-yet-out girlfriend hides their relationship from her family.
Make no mistake about it, in an election year where democracy itself is on the line, these activist SHEroes will be on the front lines to safeguard the vote for us all.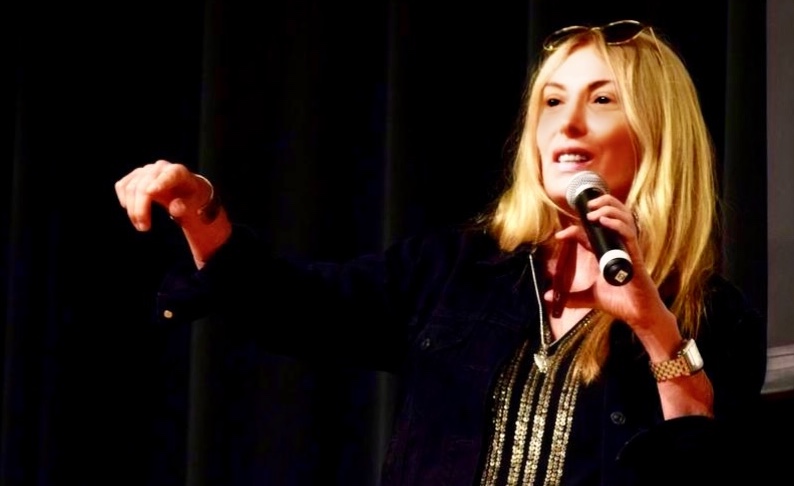 Meet the Filmmakers
Gilda Ann Brasch — Director/Producer
An award-winning producer/director, Gilda tells tales of underdog heroes.
For Oprah Winfrey's ABC primetime special, Building A Dream, Gilda led the team to produce and direct the acclaimed documentary on The Oprah Winfrey Leadership Academy in South Africa. For Oprah's OWN, Gilda co-executive produced the acclaimed doc-series, Ryan & Tatum: The O'Neals.
Most recently, Gilda was show-runner and Executive Producer of five seasons of VH1's hit docu-franchise Love & Hip Hop. The series dominated weekly cable as the #1 non-scripted program and trended on social media with #LHH.
Inspired after meeting Nelson Mandela in South Africa and filming in his prison cell of 27 years, Gilda founded VUSI Filmworks to focus on filmmaking for social change. VUSI's award-winning documentary short, Let My People Vote, was featured by the American Film Institute, NBC's Meet The Press, and has screened at Google with continued sponsorship support by the Levi Strauss Foundation.
Gilda volunteers on an Executive Committee of the Television Academy/Emmys, has served on the board of the International Documentary Association, and is a member of the Writers Guild of America.
Paula Munoz Vega – Executive Producer
Paula is a producer with a passion for innovative and inclusive storytelling combined with new technologies. For the last three and a half years at Anonymous Content, she led the development and creative production of over 20 projects across film, television, VR, and podcasts. Previously, Paula was an advisory producer at Calm.com, leading the Spanish content creation for the award-winning app. She also worked on VR gaming and content development for Hyperator VR, founded by a Walt Disney Internet Group game producer.

Proud to be a Levi Strauss Foundation "Get Out The Vote" 2020 Grantee Partner!

Contact
For inquiries, please contact fiscalsponsorship@filmindependent.org.