T

A trans story from trans creatives.
Film Independent's Fiscal Sponsorship program opens the door to nonprofit funding for independent filmmakers and media artists. Donate today and help bring T to life.
Logline
Shot over the lead actor's first year on Testosterone, T follows Em through their journey of gender discovery, and the challenges and joys they face in their romantic relationships, friendships, and family.
Synopsis
After being out as non-binary for four years, Em decides to take charge of their body and life and begin Testosterone therapy.
Their fiancé Spencer reacts badly – though he is bisexual, he can't imagine coming out to his family and publicly dating someone who isn't a woman.
Em leaves him, gets their prescription, and does their first Testosterone shot with their friend Rose, a trans woman navigating how to get back onstage after quitting music when she transitioned.
Em starts dating Ana, a non-binary performance artist who shows Em how to let loose – and inspires a kind of sexual awakening in Em.
But when Ana stops taking her bipolar medication, she starts acting erratically – and Em falls back into the comfort of their relationship with Spencer.
Throughout the film, Em grows into themself, all while balancing their romantic relationships, friendships, and how to tell their single mother who they truly are.

Meet the Filmmakers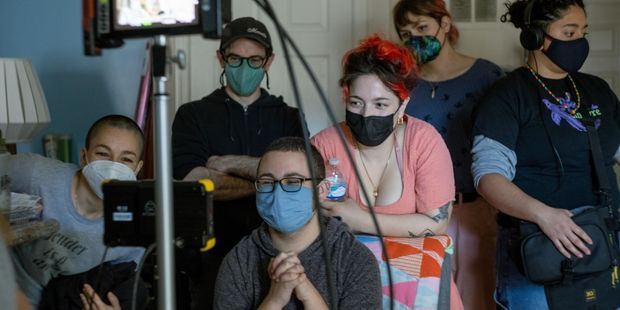 Lane Michael Stanley – Writer/Director
Lane Michael Stanley (he/they) is a transgender director, playwright, filmmaker, and producer, and the co-founder of Secretly Famous Productions, along with Lowell Blank. Their award-winning debut feature film Addict Named Hal played at festivals including Austin Film Festival, Santa Barbara International Film Festival, and Dances with Films, and is now available on all VOD platforms through the distributor Freestyle Digital Media. Their award-winning short films have played at Outfest, Toronto Short Film Festival, Seattle Queer Film Festival, San Francisco Dance Film Festival, and more, and their plays have been produced and developed by 19 theaters in 8 states and Australia. They have been a commissioned artist and/or fellow with Lambda Literary, Ground Floor Theatre, Art with Impact, and coLAB Arts and hold an MFA in Directing from the University of Texas at Austin. For more information, please visit lanemichaelstanley.com and secretlyfamousprod.com.
Lowell Blank – Producer
Lowell Blank (he/him) has over twenty-five years' experience as a producer and executive. As President of Chicago Pacific Entertainment, Blank developed and produced both studio and independent films, documentaries and commercials with companies such as Walt Disney Studios, Warner Bros., Fox, and others. Blank was a Producer on the Walt Disney Pictures hit Holes, directed by Andrew Davis, and starring Sigourney Weaver, Jon Voight, and Patricia Arquette. Blank recently produced the independent film Addict Named Hal, directed by Lane Michael Stanley, a dramatic love story set in the world of drug and alcohol recovery, which made its world premiere at the 2021 Santa Barbara International Film Festival. Blank holds an MFA in Writing and Contemporary Media from Antioch University and a BA in Film and Television from San Diego State University.
Mel Glickman – Lead Actor/Story
Mel Glickman (they/them) is an actor, stunt performer, and fight coordinator based in Los Angeles. Their work has been seen internationally at the Edinburgh Fringe Festival, and nationally at the Hollywood Fringe Festival, the Times Square Arts Center, the Rose Theater in Kansas City, Cohesion Theatre Company in Baltimore, and in empty lots and city streets along the Mid-Atlantic. They are currently a company member and fight director for award-winning theatre company MB Stage Productions in Hollywood. Mel is a graduate of New York University and holds a BFA in Drama from Tisch School of the Arts's Experimental Theatre Wing and a BA in Mathematics from the Courant Institute of Mathematical Sciences.
Contact
For inquiries, please contact fiscalsponsorship@filmindependent.org.