The Bond

Some bonds should never be broken.
Project type: Fiction Short
Project status: Post Production
Director/Writer: Jahmil Eady
Producer: Selena Leoni
Producer: Reina Higashitani
Cinematographer: Gionatan Tecle
Editor: Zheyu Liang

Website: JahmilEady.com
Facebook: facebook.com/thebond2020
Twitter: @thebond_film

Help independent filmmakers tell their stories.
Make a donation to The Bond today.
Film Independent's Fiscal Sponsorship program opens the door to nonprofit funding for independent filmmakers and media artists. Donate today and help bring The Bond to life.
Logline
When an incarcerated pregnant woman goes into labor she must fight to stay connected to her baby in a system built to keep them apart.
Synopsis
Through the window of a nursery, ARIA (27 yrs) a woman with bright hopeful eyes watches a diverse group of mothers and babies play. The women are incarcerated; dressed in matching jumpsuits with CORRECTIONS stamped across the back. Aria's own jumpsuit stretches over her large pregnant belly. Mrs. Lacey, a social worker approaches and Aria asks about the status of her application to be transferred into the prison's nursery program. Mrs. Lacey has no information but assures Aria her request has a strong chance of being approved.
Later that night in the loud and chaotic prison, Aria confronts CECE (45 yrs), her drug dealing cellmate. Aria is serving time for opioid use and is working to stay clean. She is also building a reputation as a "model prisoner" for her nursery application. Aria tells Cece if drugs are found in their cell, her ability to see her baby after it's birth will be compromised. Their argument ends in mutual threats. Later that night, Aria wakes to find that her water has broken.
At the hospital, Aria is shackled to a bed, her left wrist cuffed to the frame, her ankles attached to opposite ends of the bed. The chains jingle as Aria twists with every painful contraction. Nearby, OFFICER AMBROGI (50s), a by-the-book senior officer and his partner OFFICER MILLER (20s) chat about work. DR. SATTLER, a seasoned OBGYN with a warm manner enters. She asks Ambrogi to remove the shackles. He ignores her.
As Aria's labor progresses and inhumane conditions worsen, Aria strives to protect her connection to her unborn child. Based on a true story, this character-driven drama sheds light on a growing yet often invisible demographic; incarcerated pregnant women.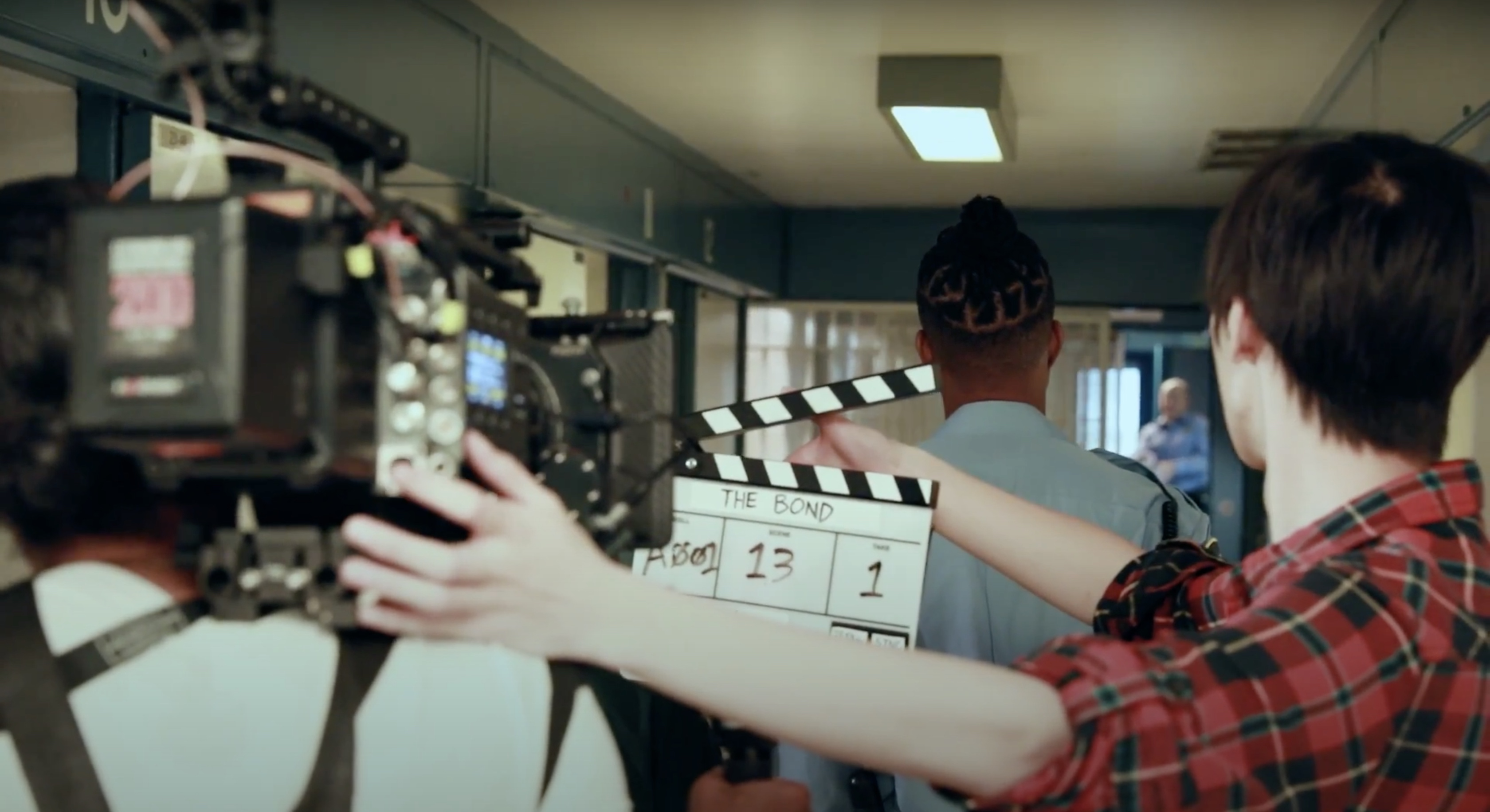 Meet the Filmmakers
Jahmil Eady — Director/Writer
Jahmil Eady earned her BA in Media Studies from Pomona College and studied film at the Prague Film School in Czech Republic. She has been a documentary associate producer on projects for Oprah Winfrey Network, Viceland, and Discovery Networks. She wrote and directed Heartland (2020) and The Bond (In Post). Jahmil's fellowships and awards include the New York Times Scholarship, Jackie Robinson Foundation Scholarship, Teri Schwartz Family and Friends Scholarship, and Four Sisters Scholarship from directors Gina Prince-Bythewood, Sara Finney Johnson, Mara Brock Akil, and Felicia D. Henderson. Jahmil is an MFA Directing candidate at UCLA.
Selena Leoni – Producer
Of mixed Italian and Chinese parentage, Selena Leoni grew up in a North Italian village and is a transnational producer. After completing her BA in New Media from the City University of Hong Kong in 2015, she spent the next three years working as a Multimedia Content Producer where she developed several Multimedia VR projects that focus on improving social inclusion in Hong Kong. Selena is a 2020 graduate of UCLA's MFA
Producers Program. She is currently developing and producing multiple projects in film and television.
Reina Higashitani – Producer
Born and raised in Japan and Spain, Reina Higashitani is a NY based producer with a passion for promoting diversity and inclusion in the arts and entertainment. She has produced and associate produced a number of independent films, TV documentaries, and commercials including Kusama-Infinity(Sundance), Academy Award-nominated documentary short Redemption(HBO), and a Tokyo Video Festival Excellence Award-winning documentary Shall We Sing?(PBS), which she also directed. Reina holds an M.A. in Cinema Studies from NYU and an M.F.A. in Film and TV Directing from UCLA.
Gionatan Tecle – Cinematographer
Gionatan Tecle is an Italian Eritrean Cinematographer with a BFA in Cinematic Arts from the University of Maryland, Baltimore and an MFA in Cinematography from UCLA's School of Theater, Film & Television. His latest works, World and Fixed Water were Official Selections at the Palm Springs International Film Festival. His awards include the Motion Picture Association of American Award, the Myrl Schreibman Fellowship, and the Steve Lawrence and Eydie Gorme Scholarship.
Zheyu Liang – Editor
Zheyu Liang is a filmmaker and editor from Shanghai. Her award-winning documentary,Transplant screened at the British Academy Film Awards (BAFTA) Student Awards, International Association of Film and Television Schools (CILECT) Prize and Tel Aviv International Student Film Festival. In 2019, she helped produce a national commercial for Coca-Cola Regal Films. An MFA Directing Candidate at UCLA, Zheyu has been awarded the 2020, 2019 and 2018 Mary Pickford Award and the 2020 Joseph W. Drown Award for Motion Picture Production Thesis Award. Zheyu's current project is a short doc titled, The Future of Hollywood, starring acclaimed director Ang Lee.
Contact
For inquiries, please contact fiscalsponsorship@filmindependent.org.