The Ice Cream Man

WINNER - Claims Conference 2022 Emerging Filmmaker's Contest
Project type: Fiction Short
Project status: Production
Writer/Director/Producer: Robert Moniot
Producer: Gregor Wilson
Visual Effects Supervisor: Todd Sheridan-Perry

Website: TheIceCreamMan.movie

Help independent filmmakers tell their stories.
Make a donation to The Ice Cream Man today.
Film Independent's Fiscal Sponsorship program opens the door to nonprofit funding for independent filmmakers and media artists. Donate today and help bring The Ice Cream Man to life.

Logline
Shortly after the Nazi invasion of the Netherlands, a popular Jewish ice cream parlor owner, Ernst Cahn, finds himself targeted by the infamous "Butcher of Lyon," Klaus Barbie. As his world crumbles, The Ice Cream Man must choose between resistance and death…a choice that will reverberate throughout the country. Based on actual events.
Synopsis
ERNST CAHN (51), the co-owner of the most popular ice cream parlor in Amsterdam, is horrified to discover he is being set up as a scapegoat by the future "Butcher of Lyon," LT. KLAUS BARBIE (28). When Ernst's desperate act of resistance leads to his arrest and torture, the public outcry sets off a chain of events that leads to the "February Strike," the largest mass resistance against the Nazis during World War II.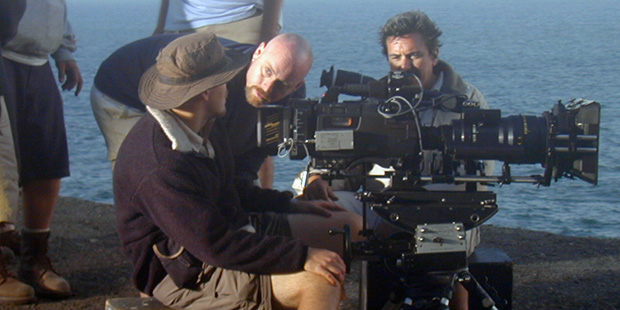 Meet the Filmmakers
Robert Moniot – Writer/Director/Producer
Robert Moniot (pronounced Mon-Yo) is a writer/director/producer based in Los Angeles but currently living abroad with his U.S. diplomat wife and three diplo-kids. His first short film, The Dancing Cow, was purchased by Steven Spielberg. Moniot's second short (and directorial debut), the satire Pearl Harbor II: Pearlmageddon, had its world premiere at the U.S. Comedy Arts Festival and was purchased by HBO. His first feature screenplay, Armageddagain, was optioned by New Line Cinema. After leaving the business for an extended stint as a stay-at-home-dad, Moniot is currently developing The Berlin Game, a WWII actioner about Bond creator Ian Fleming; Buckingham Boys, a heist comedy; and Seven Days of the Dragon, a cyber-attack thriller.
Gregor Wilson – Producer
Gregor Wilson has spent nearly thirty years working on film and television productions, initially in the art department, then finance and finally in production management and co-producing studio projects. His many credits include Denis Villeneuve's Prisoners, Quentin Tarantino's Inglorious Basterds, and Zach Snyder's Justice League. Wilson's directorial effort, the 2019 short Bewildered, won awards at film festivals around the world and is currently being developed into a feature film with The Wolper Organization.
Todd Sheridan-Perry – Visual Effects Supervisor
Todd Sheridan Perry is a classically trained artist as well as both a traditional and digital animator. His diverse background in film, television and video games has led him to play key roles in projects ranging from Lord of the Rings: The Two Towers to recent blockbusters including Avengers: Age of Ultron, Black Panther, and Doctor Strange. He is currently working on the TV hit For All Mankind. Perry won an Emmy for his work on the mini-series The Triangle, while working with Award winning supervisors Volker Engel and Marc Weigert. He was also nominated for a Visual Effects Society Award for The Kite Runner while working with CafeFX. Perry writes for both Animation Magazine and Digital Media Net, reviewing both software and hardware used in the visual effects industry. He received his BFA at Pacific Lutheran University with an emphasis in 2-dimensional media, which included illustration, painting, photography and digital media. He resides in Seattle, WA focusing on writing and developing film projects, while making frequent trips to his other residence in Venice, CA to consult on visual effects projects.
Contact
For inquiries, please contact fiscalsponsorship@filmindependent.org.