The Naked Gardener

Meditating on trust and power in an alternative agriculture non-profit
Film Independent's Fiscal Sponsorship program opens the door to nonprofit funding for independent filmmakers and media artists.
Logline
Through multiple testimonials, The Naked Gardener showcases sexual misconduct and non-profit mismanagement perpetrated at the Pepperfield Project. This film provides a platform for silenced voices and catalyzes individual and organizational accountability towards a cauterized end to patterns of injustice.
Synopsis
Deep in a futile valley of beautiful topsoil, lives some of the most alien and mesmerizing fauna in the world. Is this Heaven? No, it's Iowa. Nestled within this ecosystem is the Pepperfield Project, an educational non-profit retreat center, centered on "health and the development of body, mind, and spirit through food and gardening in harmony with nature." The Pepperfield Project was established in 2008 in Decorah, Iowa by David Cavagnaro, a prominent horticulturist, entomologist, photographer, as well as expert in seed saving and crop circles. Brought to Decorah, Iowa through a connection with Seed Savers Exchange, an international seed-preservation non-profit, David expanded from his advising and summer gardening work with SSE to create the PP. Both nonprofits share more than a commonality of location and board members, as they share a common desire to build resiliency with regards to humans, food systems and the natural world.
Inside and outside the Pepperfield Project David professes and lectures on ideas of sexual expansion, natural systems and the Laws of Manifestation – popularized at the Findhorn Community. Throughout his life David has lived his values through running biological research programs in the Galapagos – an educational research center, Pippendale Farm in Santa Rosa, California as well as conducted countless lectures, seminars and other ventures. Although David lives a relatively quiet life at the PP, tucked away on Manawa Trail Road, his prestige and repertoire are of international significance.
The film consists of interviews of past apprentices, interns and a board member of the Pepperfield Project in addition to found footage and b-roll of Iowa fauna. Citing #MeToo movement strategies, the filmmaker intentionally did not interview the Pepperfield Project's founder and Executive Director David Cavagnaro.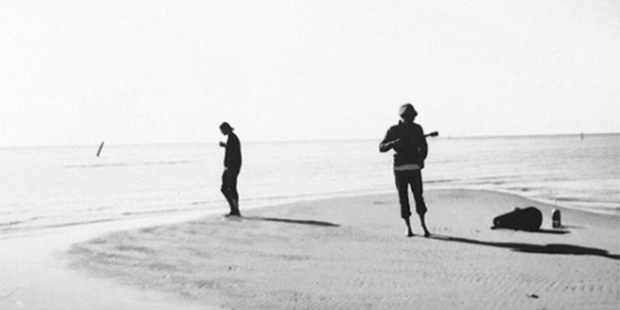 Meet the Filmmakers
Ian Carstens — Director/Producer/Editor
Born along the Mississippi River valley in eastern Iowa, Carstens uses the documentary, experimental, and curatorial modes to create both interiorly personal pieces as well as multidimensional collaborative projects.
His works have shown at the Montana Film Festival, the Oneota Film Festival, VonCommon and on Iowa Public Television. His interdisciplinary collaborative projects such as: Body of Water, Movement Fundamentals Coalescence and the National Water Dance, which have shown and traveled across the Midwest.
Ian has a BA in Art Theory and Criticism from Luther College, in Decorah IA. The Naked Gardener is his feature debut.
Jaci Wilkinson – Composer
A native of Decorah, IA, Jaci Wilkinson is a librarian currently living in Bloomington, IN.
Jaci has a BA is in English (with a minor in cello performance) from Luther College in Decorah, IA and an MSLS from the University of North Carolina, Chapel Hill.
Contact
For inquiries, please contact fiscalsponsorship@filmindependent.org.