The Yellow Wallpaper

Project type: Fiction Feature
Project status: Post-Production
Writer/Director/Producer: Kevin Pontuti
Producer/Lead Actor: Alexandra Loreth
Co-Producers: Peter Galante, Joanne Butcher, Sylvia Moore, Rob Gill, Zeb Moore
Director of Photography: Sonja Tsypin

Website: penitentproductions.com
Email: Kevin@pontuti.com
Facebook: facebook.com/YWPfilm
Twitter: @penitentprod

Help independent filmmakers tell their stories.
Make a donation to The Yellow Wallpaper today.
Film Independent's Fiscal Sponsorship program opens the door to nonprofit funding for independent filmmakers and media artists. Donate today and help bring The Yellow Wallpaper to life.
Logline
When a depressed young writer in the late 19th century is restricted by her well-intentioned physician husband to a summer of bed rest in a remote country estate, her isolation — and marriage — sets in motion her descent into madness.
Synopsis
Charlotte Perkins Gilman's haunting story, The Yellow Wallpaper, has captivated readers for over a century.
Jane, a young writer suffering from postpartum depression is prescribed a rest treatment by her physician husband, John, who takes her to a remote country estate for the summer. When they arrive, Jane is enchanted by yet leary of the old house. She becomes intrigued by the peculiar yellow wallpaper that covers the walls in the room that her husband has chosen for her. Over time, Jane's treatment proves unhelpful and instead of curing her, the bedrest and isolation and the yellow wallpaper—combined with her marriage and baby—drive her deeper into psychosis. She begins to see things in the wallpaper and gardens and becomes convinced that a woman is trapped in the patterns on the wall. As Jane spends the end of the summer trying to figure out how to save the trapped woman — and herself — John and her housekeepers become increasingly worried about her behavior and try to confine her even more. The loved, well known, and much discussed ending is still shocking and disturbing.
This canonical feminist story reminds us that many of the issues surrounding women's mental health and equality during the 1890s still persist in similar ways today.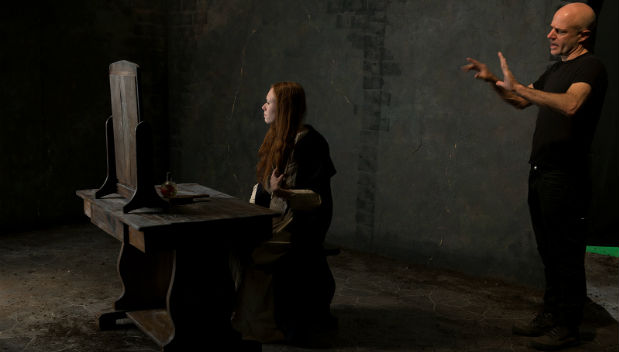 Meet the Filmmakers
Kevin Pontuti — Writer/Director/Producer
Kevin Pontuti is an artist and educator based in the USA. He received his MFA from Syracuse University in 1993 then moved to California where he founded the Los Angeles-based production company Studio P Inc. His image-making expertise and collaborative spirit attracted many top artists and designers to his studio. In 2009, Pontuti accepted a professorship at the University of Wisconsin-Stout where he served as program director for Stout's digital media program. While in Wisconsin, Pontuti founded his film production company—Penitent Productions—and directed three award-winning short films. In 2017, he returned to California to lead University of the Pacific's MEDIA X program. His teaching and creative practice include photography, cinematic arts and transmedia studies.
Alexandra Loreth — "Jane" (Lead Actor)/Producer
Alexandra Loreth is a California based producer and actress. Three of her most acclaimed projects, the trilogy of Onere, Pecscare, and Vanitá, have gone on to screen internationally — from North and South America to Europe and Asia. Her films have won awards internationally, including two for Best Lead Actress in France and Los Angeles. Alexandra is currently in post-production for her first feature film as producer and lead actress, The Yellow Wallpaper, anticipated to premiere Spring 2020.
Peter Galante — Art Director/Producer
Five decades as a maker of images, Peter Galante remains a student of art. Everything he knows has been learned from the masters. Galante employs many advanced concepts and techniques into his work, elevating it to something of pure elegance and beauty. Galante has crafted beautiful images from around the world. When not traveling, he serves as the photography and video program director at the University of Wisconsin-Stout, where he teaches photography and film. Galante has a thorough understanding of art history and vast knowledge of many art and design theories.
Joanne Butcher — Consultant/Co-Producer
Joanne Butcher is an international speaker and Filmmaker Success Mentor, with 20 years of training in film finance, fundraising, scriptwriting, distribution, and exhibition. She served as Executive Director of the Alliance Cinema on Lincoln Road, Miami Beach, IFP/Miami and as a founder of IFP/National. She collaborated for nine years with the Brazilian Film Festival and served on their Jury. Joanne served as the global marketing curator for YouTube's UK Movie Channel and has raised millions of dollars from companies such as Microsoft, Yahoo, Cisco, and foundations including the Kresge Foundation, the San Francisco Foundation and many more.
Sonja Tsypin — Director of Photography
Sonja Tsypin is a cinematographer born and raised in New York City and currently based in Los Angeles. Sonja has photographed a variety of award-winning content including narrative, music video, and commercial work on both digital and analog formats (35mm, 16mm). Many of these projects have been recognized and screened at film festivals across the country. Her cinematography work is heavily informed by her fine arts education as a painter. Sonja received her master's degree in cinematography from the American Film Institute (AFI) Conservatory, with a first-place cinematography award from the international KODAK Student Scholarships for which she was recently featured in an issue of American Cinematographer magazine.
Contact
For inquiries, please contact fiscalsponsorship@filmindependent.org.