This Beautiful and Terrible Thing

Father. Artist. Activist. Black Identity Extremist?
Project type: Documentary Feature
Project status: Production
Director/Producer: Robert T. Herrera
Producer: Aaron Bowden
Producer: Damon Davis

Help independent filmmakers tell their stories.
Make a donation to This Beautiful and Terrible Thing today.
Film Independent's Fiscal Sponsorship program opens the door to nonprofit funding for independent filmmakers and media artists. Donate today and help bring This Beautiful and Terrible Thing to life.
Logline
After being arrested in an FBI sting and labeled a domestic terrorist amidst the Ferguson protests, a once-promising student, father, artist, and activist leader comes home to his life and family after 6 years of federal incarceration. With over a decade of intimate footage, this film bears witness as Olajuwon questions the tactics and label of "Black Identity Extremist" used to put him away and learns to reconcile his tumultuous past with his hopeful future.
Synopsis
In 2020, after 6 years of federal incarceration, the first man in America to be arrested and labeled by the FBI as a "Black Identity Extremist" is released from prison. Olajuwon, a prominent figure in the 2014 Ferguson protests that made Michael Brown a household name, saw his face splashed across media reports several months later claiming that an FBI undercover investigation had foiled a plot, masterminded by Olajuwon, to plant bombs, assassinate officials, and blow up the Saint Louis's iconic Gateway Arch.
Left unsaid was the full story of how two Black Panthers became targets in a weeks-long FBI sting whose every element (including inert bombs) was meticulously arranged and largely funded by two confidential informants posing as protesters. Those close to Olajuwon maintain that their ordeal was a classic case of entrapment.
Many people knew a different Olajuwon – a handsome and magnetic young man with charm to spare. He displayed creative talents and the heart of a performer, both in music and independent film. He was politically engaged in defense of his community and his St. Louis city home but spoke with the language of peace, hope, and love. He raised a young family – a son and a biological daughter. And all through this period, from age 16 to the eve of his arrest and beyond, this Olajuwon was intimately documented on video.
Through a decade of documentary interviews and verité footage, archival video, narrative film and outtakes, vlogs, home video, and contemporary filming of his reintegrated life, This Beautiful and Terrible Thing will look to reconcile the two Olajuwon's and rigorously investigate lingering questions surrounding his life, arrest, charges, trial, and hopeful future.
Make a donation to This Beautiful and Terrible Thing.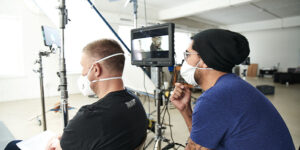 Meet the Filmmakers

Robert T. Herrera — Director/Producer
Robert Herrera is a Mexican American filmmaker raised in Corpus Christi, Texas and currently based in St. Louis, Missouri. He shot, directed, and edited the 2011 feature length documentary, The Gray Seasons. He wrote and directed the 2017 no-budget feature narrative, Palacios, starring Olajuwon Davis and distributed by Freestyle Digital Media. He also produced and directed the reality show, Hangin' With Los Henrys, which garnered over 35 million views on YouTube. Herrera is a 2020 Sundance Feature Film Fellow, grant recipient from the Will and Jada Smith Family Foundation, and SFFILM Westridge Grant winner with his latest screenplay, Pink Casa. He attended Baylor University and Washington University in St. Louis where he studied architecture, art, and literature. Herrera runs the video company, Gray Picture, where he creates a wide range of video content for commercial, entertainment, and fine art use.
Aaron Bowden — Producer
Aaron Bowden is an award-winning documentary filmmaker raised in Philadelphia, based for nearly 10 years in Los Angeles and now residing in St. Louis, Missouri. Aaron has more than 20 years of experience as a nonfiction storyteller, starting as a journalist for The Concord Monitor and continuing through writing/producing/directing documentary features and series about hard-hitting subjects like the Iran Hostage Crisis, The Vietnam War, Al Qaeda, The Taliban and the hunt for Osama Bin Laden. Recently Aaron directed, wrote and shared executive producing credit with Dwayne "The Rock" Johnson and Dream Hampton on Finding Justice, which won a Gold Telly Award and was nominated for an International Documentary Association award for its depiction of activists working to combat social injustice.
Damon Davis — Producer
Damon Davis is a post-disciplinary artist who resides in St. Louis, Missouri. Davis graduated from Saint Louis University in Communication Technology. Davis co-directed the acclaimed documentary, Whose Streets?, which premiered at the 2017 Sundance Film Festival. He also is a founder of the music and art imprint, Far Fetched. After events in Ferguson, Davis created his most identifiable work, All Hands on Deck, recently inducted into the Smithsonian African American History Museum. He helped found The Artists As Tutors program in 2014 and was named as one of The New Faces of Social Justice by Revolt Magazine. Davis is a recipient of an Emmy Award Mid America for Best Short Form Program with A Story To Tell. Filmmaker Magazine selected him for "25 New Faces of Independent Film 2016." Davis is a Firelight Media Fellow, 2016 Sundance Music and Sound Design Lab Fellow, Root100 Honoree, and The Kennedy Center.
Contact
For inquiries, please contact fiscalsponsorship@filmindependent.org.