Thus: The Conclusion

A 10-year journey begins its end...
Film Independent's Fiscal Sponsorship program opens the door to nonprofit funding for independent filmmakers and media artists. Donate today and help bring Thus: The Conclusion to life.
Logline
An experimental long-form visual poem about a solo female traveler reflecting on the principles of human existence through a woman's lens. Her fragmented memories are juxtaposed with natural imagery captured from Iceland and Africa. The two polar opposite locations visually represent the cognitive dissonance in us all.
Synopsis
Thus is a visual meditation on memory, time, and place. The story of choosing to overcome fears and defying expectations to achieve personal acceptance. A young woman on a journey of self-exploration, documents her solo travels throughout Iceland and Africa, as an existential examination of a woman's place in today's society. An intimate glance at human life expressed as vignettes of a woman's memory as she ruminates on lessons learned from a specific but never defined 'You'. The goal of the film is to inspire people to go beyond fear and love who they've become.
Thus is the final installment in an experimental essay film trilogy (known as The Sentence series) that employs tales of love, loss, regret, identity and acceptance to complete a universally relatable cinematic journey through our modern world through an African-American female lens. Inspired by Chris Marker's Sans Soleil. I assume the position of Marker's narrator, now on her own travels, retelling her story to yet another.
At its core Thus is a film about choices. The consequences of those choices are expressed in tales from my life. This visual memoir manipulates the past, present, and future to form a new version of reality based on the images and sounds presented to the viewer. The two disparate locations of Iceland and Africa represent the human condition of cognitive dissonance. These two extreme illustrate the perception of memory as it is distorted by repetition, location, and bias. Between fiction and fact, thus the nature of film.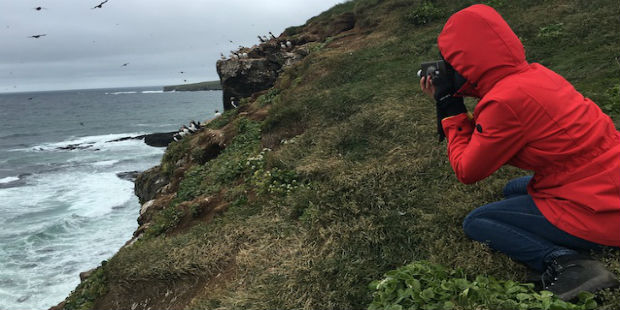 Meet the Filmmaker
Aimee Jennings — Writer/Director/Producer/Editor
Aimee discovered a love of storytelling at the UMBC. Don't Push So Hard, her first short film was a haunting statement about domestic violence. Her undergraduate thesis film These Women was a story about three generations of women from her own family living under one roof. Jennings continued her studies at The California Institute of the Arts, creating 2nd Grade premiering at the Ann Arbor Film Festival. She completed her graduate studies with Fragments of Existence, a complex and witty look at life and love in Los Angeles, screening at Bare Bones Film Festival and Sidewalk Moving Pictures Festival. In 2007 Jennings made So, the initial film in an experimental travel essay series inspired by Chris Marker's Sans Soleil. The film premiered at the Tribeca Film Festival. In 2010 Jennings continued the essay series with And. Now, Jennings has begun shooting the third and final installment of her essay film series, Thus.
Contact
For inquiries, please contact fiscalsponsorship@filmindependent.org.