Weeping Rocks

A film that reveals the urgency of maintaining the fragile connections between all living beings.
Film Independent's Fiscal Sponsorship program opens the door to nonprofit funding for independent filmmakers and media artists. Donate today and help bring Weeping Rocks to life.
Logline
As we near the "Sixth Extinction" of our planet, the evidence is clear: the insect population faces global obliteration, and humanity needs to be prepared. Weeping Rocks is a documentary that focuses on the critical role small organisms play in our fragile ecosystem and the frontline workers who have quietly dedicated their lives to tracing, studying, and cultivating these often overlooked creatures. "Love them or loathe them, we humans cannot survive without insects."
Synopsis
Weeping Rocks is a quiet but powerful feature-length documentary that strives to sound a silent alarm on the decimation of the insect population and its devastating effects on the future of humanity. By observing the lives of three scientists and their unshakeable commitment to researching the world's tiniest creatures, Weeping Rocks hopes to unearth the humanism behind the scientific community and prove one extraordinarily urgent theory of survival to be true: that a species willing to cooperate with other species is the one that survives in the long run.
Our subjects have spent decades working separately albeit steadfastly towards a uniform goal. From a scientist who has been counting butterflies for the past 48 years to a farmer-owned cooperative that grows millions of beneficial insects per day, Weeping Rocks is an investigation of both the macroscopic ramifications of climate change and the microscopic obsession, dedication, and borderline madness of the unsung heroes behind the fight. With the special access we have been granted, viewers will get a chance to follow their journeys as they navigate a present still pregnant with the myriad elements that have contributed to our turbulent world, one that is not easy to make sense of alone.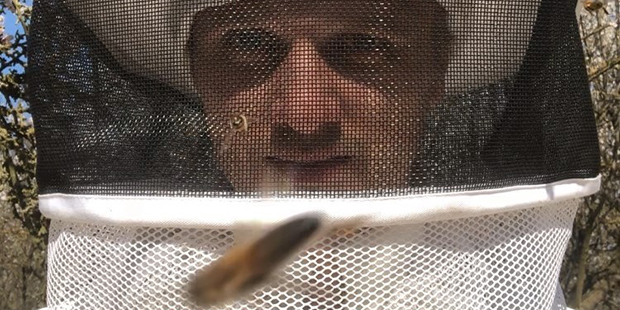 Meet the Filmmakers
Karlis Bergs — Director
Karlis Bergs is a Latvian born filmmaker based in Los Angeles, CA. He received an MFA in Photography & Media at California Institute of the Arts in 2020. Bergs is a recipient of the prestigious Allan Sekula Social Documentary grant in 2020. Previously, he spent a year studying at The School of Art Institute of Chicago, then transferred to Brighton University in the UK for his BFA. In his work, Karlis is focused on understanding small communities, including subjects ranging from a small fisherman village in Latvia to California's Central Valley beekeepers. These communities are often surrounded by notions of change, including changes in lifestyle or, more often than not, climate change. Bergs works to shed light on issues and subjects that may seem insignificant at first but, after further contemplation, are clearly crucial. In his recent short film, The Threshold, Bergs documents the almond pollination season in California and the often invisible labor of those who keep bees alive.
Jackii Chun — Producer
Jackii Chun was born in Seoul, South Korea and raised up and down the Pacific Coast. After obtaining her BA in Film Studies and Asian American Studies at UC Davis in 2010, she moved to the Bay Area and started cooking for Namu Gaji, a New Korean American restaurant located in the Mission District of San Francisco. She has always been involved in political activism, fundraising for civil rights attorney Dan Siegel's run for Oakland mayor with the late Tom Hayden and former Congressman and two-time presidential candidate, Dennis Kucinich. In 2015, Jackii decided to pack her knives and refocus on her first passion in life: filmmaking. She recently obtained an MFA in Film/Video at CalArts (2019) and has since cast and produced several projects including Hoosier, which premiered at NewFest, and music videos for The Dodos and The Dirty Knobs. Her film, Space Ètude, No. 1, was an Official Selection of the Blow-Up International Arthouse Filmfest Chicago in 2019. Currently, she is directing Brainwashed, a feature documentary. Executive Produced by Tim Disney, Brainwashed follows radical feminist filmmaker Nina Menkes as she presents her acclaimed talk, "Sex & Power: The Visual Language of Oppression", to show how the visual grammar of cinema contributes to conditions that create discriminatory hiring practice, pay inequity, and the pervasive environment of sexual harassment and assault that characterize the film industry and our culture at large.
Alexey Kurbatov — Cinematographer
Alexey Kurbatov was born in Vologda, Russia in 1986. He studied Computer Science in Vologda State Technical University and Documentary Photography in St. Petersburg and Danish School of Media and Journalism. In 2014 he was accepted to the Moscow School of New Cinema to study Cinematography. In December 2019, Alex received the Eurimages Lab Project Award from the Les Arcs Film Festival for his work in Figures in the Urban Landscape, directed by his creative partner and wife, Ekaterina Selenkina.
Alex worked on Weeping Rocks for almost a year. Tragically in January 2020, Alex passed away. This film would not have been what it is without him. Alex's energy, positivity, and curiosity was the driving force behind our shoots.
Contact
For inquiries, please contact fiscalsponsorship@filmindependent.org.