Wild About '88: The Rise of Arizona Basketball

Every town needs a team...
Project type: Documentary Feature
Project status: Post Production
Director/Producer: Sean P. Malone
Director/Producer: Brad Malone
Producer: Isaiah Leslie
Producer: Mustan Dawood

Website: www.wildabout88.com
Facebook: facebook.com/wildabout88
Twitter: @wildabout88

Help independent filmmakers tell their stories.
Make a donation to Wild About '88: The Rise of Arizona Basketball today.
Film Independent's Fiscal Sponsorship program opens the door to nonprofit funding for independent filmmakers and media artists. Donate today and help bring Wild About '88: The Rise of Arizona Basketball to life.
Logline
A legendary coach and a talented team of outsiders transform the sleepy desert city of Tucson, Arizona into a crazed college basketball mecca.
Synopsis
It's 1983 and TUCSON doesn't have much to boast about. The University of Arizona men's basketball team hasn't posted a winning season in four years. Desperate to compete, Arizona makes a bold play for rising coaching star LUTE OLSON.
At his first practice, Olson encounters a derelict squad. Undeterred, he preaches character and winning. Under the leadership of point guard STEVE KERR, the Wildcats listen and soon make the NCAA Tournament. Tucson takes notice, as does SEAN ELLIOTT, a local kid primed for superstardom. The future looks bright until Kerr wrecks his knee and is told he will never play again.
Kerr perseveres and miraculously returns for the 1987-88 season. Arizona faces off with college basketball's most elite programs, obliterating all comers. America takes notice and Tucson falls in love with every team member, from the starters to THE GUMBIES, Arizona's zany bench players. A rap song about the #1 team floods Tucson's airwaves.
Blitzing their first three opponents in the NCAA Tournament, the Wildcats must topple blue-blooded North Carolina to reach their first Final Four. Shocking "expert" naysayers, the Cats tar the Heels. The Wildcats are confident heading into the Final Four but Oklahoma surprises and subjugates the Cats.
The dejected team lands in Tucson and are whisked into cars for a parade. The festivities feel more like a funeral procession to the team until they arrive at their destination, Arizona (Football) Stadium.
The Wildcats look up to see 30,000 adoring fans cheering as if they'd won it all…
Make a donation to Wild About '88: The Rise of Arizona Basketball.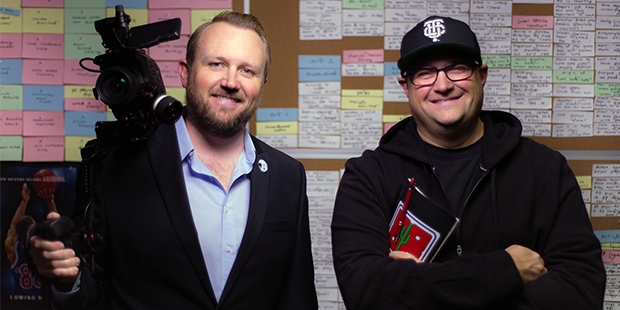 Meet the Filmmakers
Sean P. Malone — Director / Producer / Writer / Director of Photography
Sean P. Malone has captured light and emotion as director of photography on a diverse body of films, including narrative shorts, commercials, music videos, and a documentary feature. The latter, Wild About '88, he is also directing and producing.. His work on international pop star Ivo Mozart's video, "Se Namorar," has been seen over three million times on YouTube, and his cinematography has been awarded at film festivals from Los Angeles to Miami and recognized internationally. He is the co-founder of Waterfoot Films, an independent film company.
Brad Malone — Director / Producer / Writer
Brad Malone's intrigue of the Arizona Basketball Program started during the iconic 1987-88 season when he was a youngster living in Tucson, Arizona. It started a lifelong passion that inspired him to help make this film. He graduated with a degree in journalism from the University of Arizona. Brad was a contributor for Sports Illustrated's "Fansided" website Zona Zealots, and currently produces and runs Bear Down Bias, a podcast that focuses entirely on Arizona Wildcats Basketball. His research and interviews have been vital to the collective effort that has brought this film to its current state.
Isaiah Leslie — Producer
Isaiah Leslie is an entrepreneur with 12 years experience leading and managing companies from start-up to established brand. He is co-founder and President of the commercial film production company Regality Media, past Chairman of the Board of the Greater Irvine Chamber of Commerce, and Trustee on the World Affairs Council of Orange County. Isaiah has been instrumental in providing material support for Wild About '88, and is continuing his involvement by helping to raise funds, and making professional connections relevant to distribution. He has a
BA in Political Science from the University of Southern California.
Mustan Dawood — Producer
Mustan Dawood earned an MFA in Film Production from the University of Miami, and then headed West to pursue his dream of being a producer. After working as an assistant on award shows such as The Oscars and The Grammys, and as a coordinator, assistant cameraman, and script supervisor on numerous independent films, Mustan made the big jump. He recently produced the feature film The Next Big Thing, which is now streaming on Amazon Prime. Loving that experience, Mustan is continuing the process with Wild About '88: The Rise of Arizona Basketball.
Make a donation to Wild About '88: The Rise of Arizona Basketball.
Contact
For inquiries, please contact fiscalsponsorship@filmindependent.org.