You Don't Know My Name

The family separation crisis not making the headlines...
Film Independent's Fiscal Sponsorship program opens the door to nonprofit funding for independent filmmakers and media artists. Donate today and help bring You Don't Know My Name to life.
Logline
After being separated from his incarcerated mother at birth, Tommy Franklin searches for her identity while uncovering deep ancestral bloodlines. As he gets closer to this life-altering truth, he must navigate his way through systems designed to keep him in the dark.
Synopsis
Tommy Franklin is a formerly incarcerated filmmaker living in his imagination, dreaming of what his birth mother may be like. Erica Gerrity leads the search for Tommy's birth mom. Erica has worked with incarcerated mothers and their children for the past twenty years, devoting her time to creating better healthcare outcomes for people birthing behind bars and lobbying for anti-shackling legislation across the country. Tommy joins a community of formerly incarcerated mothers and prison doulas fighting to end prison birth in America.
In March 2023, Tommy discovered his biological father in New Orleans. Both of their worlds are rocked in complex ways as his guilt-ridden, emotionally-stricken father, after learning he has another son, joins the "search party" to solve the mystery of who he conceived with that fateful 1983 New Orleans summer.
What's left is the massive mystery of who gave birth to Tommy in the Federal Medical Center, Carswell prison in Ft. Worth, Texas in 1984. Tommy is a parent to two daughters. What guides him as a parent is self reflection and honesty with himself, and the acknowledgement of how hard parenting is, but he's curious to know what he could have learned from his birth mother, what could have been modeled for him, especially regarding love and culture.
Tommy is unsure how long he can endure his search if he runs into too many dead ends. Is Tommy's mother alive? Does she want to meet him? Do they finally meet? He thought he was ready for the truth, but fear and doubt seeped into the cracks of a treacherous emotional waiting game. But he never wants to live life as the version of himself that gives up the search. The miracle of finding out who his mother is could be the light emerging from his greatest shadow.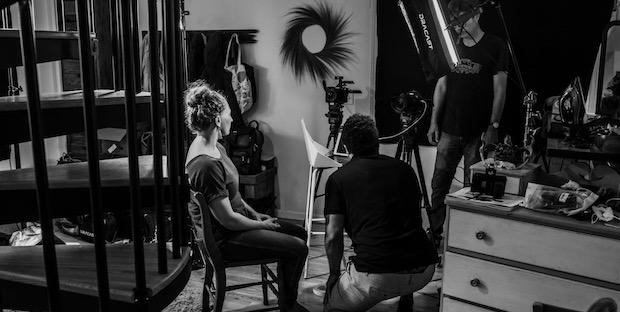 Meet the Filmmakers
Tommy Franklin – Director/Writer/Producer
Tommy Franklin is a filmmaker, writer, producer, creator of Weapon of Choice Podcast and Special Menu Productions. He was a founding board member of All Square, is a founding board member of the Ostara Initiative, and is a creative and communications consultant at the Black Alliance for Just Immigration (BAJI). His documentary work in progress You Don't Know My Name has been supported by Sundance, Kartemquin Films, Jerome Foundation, Film Independent, CNN, and True/False Film Fest. Tommy is a 2023 Big Sky Pitch participant.
His pilot Intrepid was a finalist for 2021's Sundance Episodic Lab, and he was a 2022 Sundance BIPOC Mentorship Program Mentee. Tommy made three off-the-wall narrative short films, and he collaborates in philanthropic and grassroots organizing communities to produce nonfiction content he believes in, indiscriminate in form or medium. A survivor of incarceration (born in prison and having served time in adulthood), Franklin works along creative culture lines to radically reimagine power structures, focusing on Black liberation. He is sure he wants to do this.
Justin Jones – Director of Photography
Justin Jones is a documentary filmmaker and cinematographer working and studying in Chicago. His award-winning shorts have screened at festivals worldwide, including the BEA Festival of Media Arts, Ethnografilm Paris, DePaul's Premiere Film Festival, the 41 North Film Festival and the Fresh Coast Film Festival. Justin has an MFA in Documentary from DePaul University. Originally from the Upper Peninsula of Michigan, his thesis work is focused on personal stories of the relationship between people and place in the rural Midwest. His most recent documentary short Totalité, with co-director and co-producer Laurie Little, is about the art and philosophy of rock and roll photographer Richard Bellia.
Renée Copeland – Composer and Sound Designer
Renée Copeland is a self-taught multi-instrumentalist, songwriter, and sound-score composer from Minnesota. With her decade-long career as a dancer and choreographer, she loves supporting dance and storytelling through her sound designs. She premiered her first 90-minute composition for Ananya Dance Theatre in 2019. In 2020, she produced a 16-minute experimental dance film titled Close with her performance duo, Hiponymous. Their second film, Back Up premiered in 2022. She is a founding member and sound collaborator for BRKFST Dance Company since 2014, with whom she is nationally touring in collaboration with symphony orchestras. Copeland is the recipient of the 2018 McKnight fellowship for Dance, 2020 Artist Initiative Grant for Music, and 2021 American Composer's Forum Create awardee. Copeland is a resident artist at the Space Upstairs in Pittsburgh and will premiere a live water-percussion performance with PJ Roduta titled Terra Bubo October, 2023.
Contact
For inquiries, please contact fiscalsponsorship@filmindependent.org.