3:35 to Boston

"The truth is of course that what one calls the interruptions are precisely one's real life"-C.S. Lewis
Film Independent's Fiscal Sponsorship program opens the door to nonprofit funding for independent filmmakers and media artists. Donate today and help bring 3:35 to Boston to life.


Logline
A military wife and mother struggling to balance all the pieces of her life breaks down when she realizes that the life she had planned for herself may not be possible.
Synopsis
We all know what it's like to worry you picked the wrong career path or waited too long to accomplish your dreams. But we can make a choice to start today! Just because an opportunity passed doesn't mean we can't create a different future.
This story begins with a hardworking wife and mother who must juggle her dreams against her family and work-life. Until she realizes, one day, that she may have waited too long. She always thought that there would be plenty of time, until there's a stunning realization that there isn't.
3:35 to Boston focuses on one day in the life of such a woman. Her work/life balance has been a struggle as long as there've been family dynamics. We wanted to show that even in families where there's love and respect, it's challenging for a woman to break out and accomplish goals that are outside of the family. Can someone, who was once the top of their game, get back out there and follow her dreams?
This short follows our protagonist, Lisa Benson (played by Lacy Camp), on one of the biggest race days of her life. It is a day in which she shows herself that it's not too late to accomplish her dreams. The film stays with her as she faces the ordinary family obstacles that conspire against her on race day, Even though her family believes they champion her efforts, they can also be a hindrance.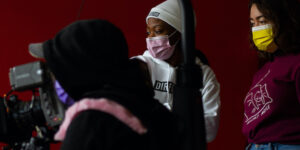 Meet the Filmmakers
Kay Barnes — Producer/Director/Actor
Kay brings a new perspective to the word diversity. She is a writer/director born in Alabama to a Georgia musician and an Alabama seamstress. After graduating high school, she joined the Army National Guard, which took her all over the U.S. as well as overseas. Simultaneously while serving her country, she graduated from the University of Alabama at Birmingham with a BA in Theatre before moving to Georgia. In Georgia, she completed a Production Assistant course through the Georgia Film Academy and immediately immersed herself into the Atlanta film industry. As far as a unique perspective is concerned, Kay frequently incorporates her experience as an actively licensed and practicing trauma nurse and her military experience as both a service member and military spouse into her work. Kay is a highly sought after indie filmmaker. When not on set working on the production side of the house, Kay can be found on the campus of North Carolina School of the Arts, completing her MFA in Screenwriting.
Barbara Autin — Producer
Barbara is a West Point graduate and former Army Engineer who served two tours in Iraq. During the first deployment, she served as a platoon leader whose missions included constructing the first dirt airstrip built-in combat since the Vietnam War, life support structures for a Combat Support Hospital, and road upgrades that were required due to the damage caused by IEDs. After the military, she earned her MBA. She moved to Los Angeles, where she began to volunteer with Veterans in Media & Entertainment (VME) and helped establish the Jobs & Internships Program, as well as be a part of the team that developed the AT&T Veterans Media Fellowship. In addition to her work with VME, she has worked on the television show Ballers, participated in the Lionsgate and Academy Gold internship programs, and served as a military consultant of projects such as Mary Jane Wells' one-woman play, Heroine.
Katie Mlinek – Cinematographer
Katie Mlinek is from Baltimore, MD. As the oldest of six wild girls, she is passionate about telling stories about the beauty of families and females. Her work has been featured in festivals such as The Independent Shorts Awards, The Newport Beach Film Festival, and the Tryon International Film Festival. She has been working on independent feature productions since she was 16 and is currently in her senior year at the University of North Carolina School of the Arts, where she expects to graduate in May 2021.
Kat Garrido – Production Designer
Kathryne "Kat" Garrido is a young Cuban visual storyteller who loves the art department and production design with all her heart. She grew up right outside Charlotte, North Carolina, and is currently in her 2nd year of college at UNC School of the Arts in Winston-Salem, North Carolina, where she is currently pursuing her BFA in Filmmaking with a concentration in production design. She has worked in many different areas of the art department on the east coast and has also designed many independent films as well as music videos. Her projects have gone on to screen at film festivals around the country, such as the Austin Film Festival, NFFTY, the Cucalorus Film Festival, the RiverRun International Film Festival, and the Newport Beach Film Festival in California. She looks forward to a future working in the art department.
Andi Ralph – Editor
Andi Ralph is a freelance film and video editor based in New York. She is a graduate of UNCSA's Picture Editing and Sound Design program as of 2019. Andi recently spent a year at the Google Creative Lab in NYC working on different films and ad campaigns. Her expertise and heart lie in narrative editing, and her experience includes both short and feature-length films. Her recent accolades include being nominated for the 69th Annual ACE Student Editing Award.
Contact
For inquiries, please contact fiscalsponsorship@filmindependent.org.