A Woman's Body

A gripping tale of love, faith, and the tender bonds of intimacy.
Project type: Fiction Short
Project status: Post Production
Writer/Director/Producer: Tiffany Tenille
Producer: Betsey Grupp
Producer: Dr. Trevor GrandPre
Executive Producers: Isabell Bernard, Zach Bernard
Director of Photography: Ruby Miller Paiva
Composer: Emily Rice
Editor: Mujtaba Mir
Cast: Tiffany Tenille, Doron JéPaul

Email: awomansbodyfilm@gmail.com
Website: awomansbodyfilm.com
Facebook: @AWomansBodyFilm
Instagram: @awomansbodyfilm
Twitter: @awomansbodyfilm

Help independent filmmakers tell their stories.
Make a donation to A Woman's Body today.
Film Independent's Fiscal Sponsorship program opens the door to nonprofit funding for independent filmmakers and media artists. Donate today and help bring A Woman's Body to life.

Logline
In the afterglow of their happy occasion, a newlywed couple encounters a painful truth on their wedding night that puts their future together in peril.
Synopsis
A Woman's Body is an intimate portrait that explores the resilience of love in the face of adversity. The film delves into the journey of young newlyweds Jolene and Clyde, who on their wedding night, joyously celebrate the beginning of their life together as husband and wife. However, their marital bliss is cut short by a distressing truth about Jolene's body that has been kept secret from Clyde. With the weight of this challenge upon them, the newlyweds are forced to confront their fears and insecurities, which are deeply rooted in the purity culture and the religious beliefs they were raised in.
Will Jolene and Clyde's love prove strong enough to weather the storm? Or will the truth prove too strong for their marriage to bear? Only time will tell, for the newlyweds must first learn the true meaning of love, and ultimately, find a way to move forward with trust and forgiveness as their guiding principles.
A Woman's Body is a timeless love story that is not only about a couple's struggles but also about the universal truth that every woman deserves to be in a loving and accepting relationship with her own body. Additionally, the film encourages audiences to question their own beliefs and values surrounding love, faith, and the sensitive issues surrounding women's sexual and reproductive health that may limit their own growth and happiness.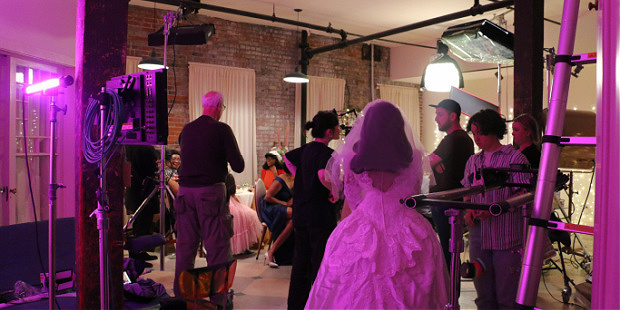 Meet the Filmmakers
Tiffany Tenille – Writer/Director/Producer
Tiffany Tenille is a storyteller who finds beauty in seemingly idyllic worlds with an undercurrent of darkness. Her work often delves into the coming-of-age journeys of young women teetering on the brink of mental collapse, a theme powerfully depicted in her directorial debut, Albion Rose. The short was awarded 'The Future of Film is Female' post-production grant, the Phenomenal Person in Film Award from Cinema Femme, and received high praise from RogerEbert.com, calling it "utterly mesmerizing". Notably, the film had its recent premiere at MoMA. Originally from Chicago, Tenille earned her BFA in Acting from The Theatre School at DePaul University. Her breakout performance in Jezebel, where she played the titular role, was met with critical acclaim during its world premiere at SXSW, ultimately leading to its acquisition by Ava DuVernay's Array. The film's subsequent screenings in select theaters and on Netflix cemented Tenille as a rising star in the industry. In addition to her accomplishments in front of the camera, Tenille's exceptional writing talent has also been recognized. Her upcoming film, A Woman's Body, has earned her the distinction of being a Quarterfinalist in ScreenCraft's Short Screenplay Competition and a Finalist in the Nashville Film Festival Screenwriting Competition.
Betsey Grupp – Producer
Betsey Grupp is a passionate creative producer and production designer with a love for storytelling since childhood. Before earning her MFA at Columbia University, she worked as a social worker, advocating for inner-city youths with mental health disorders and learning disabilities. Her recent film, Aleeya, has garnered acclaim as the Best LGBTQ Film at "The Color of Love International Queer Film Festival" and has been screened at festivals worldwide including Slamdance. Betsey's upcoming feature documentary, Transitions, highlights the story of a transgender woman in rural Maine and is set to debut at the Pride Aroostock Foundation of Maine's first-ever film festival. She is thrilled to partner with Tiffany Tenille, a talented filmmaker with a unique and cutting-edge style, in creating their latest project, A Woman's Body.
Dr. Trevor GrandPre – Producer
Dr. Trevor GrandPre is a physicist and proud producer, excited to venture into the world of filmmaking. He graduated from DePaul University and UC Berkeley with a bachelor's degree in Physics in 2014 and earned his Ph.D. in 2021. Currently, he is a scientist at the Center for the Physics of Biological Function (CPBF) at Princeton University. Along with his scientific pursuits, Dr. GrandPre has also co-produced two films, Albion Rose and A Woman's Body, which he takes great pride in.
Ruby Miller Paiva – Director of Photography
Ruby Miller Paiva is a Los Angeles-based director of photography with experience in narrative, documentary, music video, and web series production. Her work has been featured on platforms like MTV, Buzzfeed, and Snapchat, and her first feature film, Phantom Mary, premiered at the Ciudad del Este Independent Film Festival in Paraguay. Recently, Ruby served as 2nd-unit DoP on her first feature-length documentary for HBO Max. She believes in the power of authenticity and thoughtfulness in effective cinematography, and strives to imbue her work with care for the inner world of the characters and the story. Ruby was awarded the 2022-23 ASC Vision Mentorship and is a member of ICG Local 600 (1st Assistant Camera), Free the Work, and Women in Media.
Emily Rice – Composer
Emily Rice is an LA-based, British-born composer for film and TV, known for her dark, post-classical score to the Netflix series The I-Land (executive produced by and starring Kate Bosworth) and for creating an introspective, bluesy-cello based score for Miss Juneteenth starring Nicole Beharie (Sleepy Hollow, Black Mirror), which premiered to critical acclaim at the Sundance Film Festival and was nominated by the Satellite Awards, Independent Spirit Awards, Gotham Awards and Austin Film Critics Association among others; the soundtrack was released by Lakeshore Records. Emily's other recent projects include the Netflix action-adventure anime film Sol Levante and documentaries 100 Years From Home, For the Love of Rutland and No Ordinary Campaign, executive produced by Katie Couric and Phil Rosenthal and featuring Barack Obama. Armed with a degree and graduate certificate in film scoring from USC Scoring for Motion Picture and Television program, Emily's musical prowess knows no bounds. Her talent has been further honed through her time as an alumna of the prestigious Sundance Institute Film Music & Sound Design Lab, and as an artist-in-residence at the esteemed Ucross Foundation.
Contact
For inquiries, please contact fiscalsponsorship@filmindependent.org.