After, All

Sometimes the past and present live side by side.
Project type: Fiction Feature
Project status: Development
Writer/Director: Jennifer Berry
Producer: Mandi Reno
Director of Photography: Mike Berlucchi
Consulting Producer: Jane Charles

Email: jenniferberry1@mac.com
Website: afterallthefilm.com

Help independent filmmakers tell their stories.
Make a donation to After, All today.
Film Independent's Fiscal Sponsorship program opens the door to nonprofit funding for independent filmmakers and media artists. Donate today and help bring After, All to life.

Logline
An uninvited guest and a famous painter reunite on the eve of an art opening. After years of estrangement can two former friends rekindle their friendship without collateral damage?
Synopsis
Two women reunite on the eve of an art opening: one a successful artist, the other an uninvited guest. Are they old friends or just survivors of an unspeakable loss?
Meet Sue: an over-eager real estate agent with a burning question. And Marsha is a reclusive painter who keeps her life controlled and people at a distance.
Both these women have traveled the landscape of Los Angeles' broken dreams and golden-lit summer days but tonight the past and the present collide as we see them at their happiest, their point of devastation, and their most venerable.
The film is interlinked by the friendship's fragile history. Marsha has become a famous artist while Sue, who had that same desperate desire, never got her career off the ground.
As Marsha gets dressed for her party downstairs, Sue won't leave the room until she gets the answer to her question. How do you survive when everything is taken from you?
Marsha won't give Sue what she wants. She has a new husband, a blossoming art career, and the figure of a model—even in her forties.
Marsah has no desire to rekindle the friendship or help her old friend.
As these women fidget and fight; ponder and plan and ultimately say goodbye to the life they thought they deserved, they embrace a new unknown future.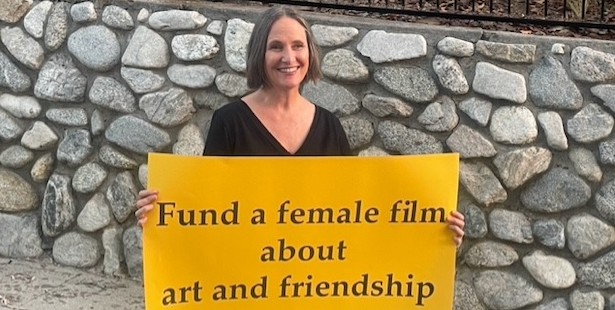 Meet the Filmmakers
Jennifer Berry – Writer/Director
Jennifer Berry is an award-winning, multi-hyphenate, writer and director. Berry is a nationally produced playwright. She has written fifteen plays, five screenplays and a children's book. Cutting her teeth as a playwright, opera director, and theater director, she crossed over to feature films. Her first feature "The Exchange" was the opening film at The International Madrid Film Festival in 2020. Her writing has been published in "Ms. Magazine", "Howl Round" and several other feminist publications. Also, a Women's Studies Professor at California State University, Northridge. Berry has dedicated her life as an artist, director, and writer to elevate stories about mothers, reproductive rights, and female empowerment.
Mandi Reno – Producer
Mandi Reno is a producer known for Fun Mom Dinner, Breaking, and If You Were the Last. Mandi was awarded the Lisa Runnerls-Shelton Artist Award for her documentary Saving Miss America.
Mike Berlucchi – Director of Photography
Mike Berlucchi is known for Mythic Quest (2020), Our Flag Means Death (2022) and You're the Worst (2014). He is the recipient of the American Society of Cinematographers Award for Outstanding Achievement in Cinematography in Half-hour Episodic Television Series.
Jane Charles – Consulting Producer
Jane Charles is an award-winning film and television producer, based in Seattle, WA and Vancouver, BC. Jane's feature film, Sold (based on the National Book Award finalist novel by Patricia McCormick) shot in India and Nepal with Oscar-winning Director Jeffrey D. Brown and Executive Producer Emma Thompson, won 4 audience awards and 3 jury awards.
Contact
For inquiries, please contact fiscalsponsorship@filmindependent.org.