Compton's '22

A riot erased from history.
Project type: Nonfiction Short
Project status: Post-Production
Director/Director of Photography/Editor: Drew de Pinto
Producer: Azza Cohen
Consulting Producer: Susan Stryker
Consulting Producer: Victor Silverman
Director of Photography: Jes Gallegos
Performer: Beni "Ali" Avalos
Performer: Mia Díosdado
Performer: Manny Mendoza (aka Pretty Plz)
Performer: Tory Teasley
Performer: Matta Zheng (aka Oblong Oriental)

Email: drewdepinto@gmail.com
Website: drewdepinto.com
Logline
Trans and gender nonconforming performance artists reimagine the historic Compton's Cafeteria Riot based on testimonies from the legendary "Compton's queens."
Synopsis
Three years before Stonewall, on an unknown date in 1966, trans women in San Francisco's Tenderloin district rioted against police violence at Gene Compton's Cafeteria. There was no news coverage, and the arrest records no longer exist. Decades later, trans historian Susan Stryker unearthed the history of the riot and interviewed the surviving "Compton's queens."
Compton's '22 creates an intergenerational conversation between these archival interviews and young trans and gender nonconforming artists today, using performance to imagine an interpretive archive that stands in for the absence of visual documentation. The film provides a rare opportunity for trans and gender nonconforming people to learn about their history, and reveals the powerful implications of intergenerational solidarity in the ongoing struggle for queer liberation.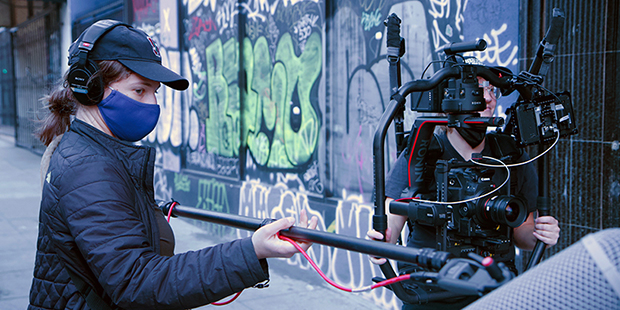 Meet the Filmmakers
Drew de Pinto – Director
Drew de Pinto is a director and editor based in Queens, NY. As a teenager, they were drawn to film as a way to process feelings of gender dysphoria. Their work explores how documentary and experimental modes of filmmaking can build alternative frameworks for gender and other social structures that allow us to imagine better worlds. Drew is a recent graduate of Stanford's MFA program in Documentary Film, and has worked on projects with the Democratic Socialists of America, Kartemquin Films, Truth & Documentary, Group Nine Media, and more.
Azza Cohen – Producer
Azza Cohen is a documentary filmmaker, producer, and historian from Highland Park, IL. She holds an MFA in Documentary Film & Video from Stanford University and a Master's in Culture & Colonialism from the National University of Ireland, Galway. She has worked on feature films and docuseries for outlets including Netflix, HBO, and National Geographic.
Susan Stryker – Consulting Producer
Susan Stryker is Professor Emerita of Gender and Women's Studies at the University of Arizona, and currently holds the Barbara Lee Professorship in Women's Leadership at Mills College, 2020-2022. Stryker is founding executive editor of TSQ: Transgender Studies Quarterly, author of Transgender History: The Roots of Today's Revolution, and co-director of the Emmy-winning documentary film Screaming Queens: The Riot at Compton's Cafeteria. She has worked as a consulting producer on titles including HBO's The Lady and the Dale and Netflix's Disclosure.
Contact
For inquiries, please contact fiscalsponsorship@filmindependent.org.