Lucia & The Invisible Wife

Lucia, an ambitious Colombian bride moves into her new husband's home only to discover that she - and only she - can see his invisible wife.
Project type: Fiction Short
Project status: Development
Writer/Director: Karine Benzaria
Producer: Julia Kennelly
Producer: Carlos Valdivia

Email: k.benzaria@gmail.com
Website: karinebenzaria.com

Help independent filmmakers tell their stories.
Make a donation to Lucia & The Invisible Wife today.
Film Independent's Fiscal Sponsorship program opens the door to nonprofit funding for independent filmmakers and media artists. Donate today and help bring Lucia & The Invisible Wife to life.

Logline
Lucia, an ambitious Colombian, bride moves into her new husband's home only to discover that she — and only she — can see his invisible wife.
Synopsis
Lucia & The Invisible Wife is a quirky dark comedy that explores what happens to a woman (Isabel) and her family when she inexplicably becomes invisible. Overwhelmed by grief, and trapped by the emotional limitations to express it, her husband (Tonio) resorts to replacing her with a new bride (Lucia). What no one foresees is that the woman brought in to replace his missing wife is the only person who can see her. The film explores how Isabel and Lucia connect, differ, and evolve. Tonally, it aims to explore the oft sacred and complicated relationships between women, using magical surrealism and dark humor. Influential films include Like Water for Chocolates, Volver, and The Lobster.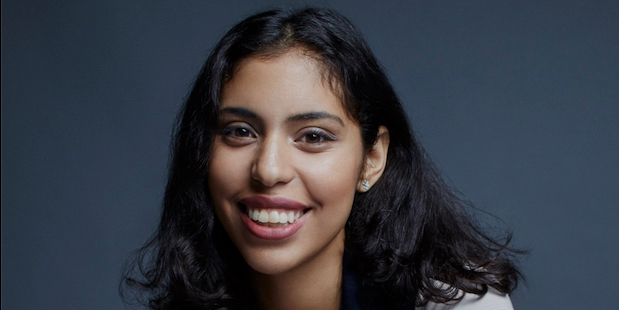 Meet the Filmmakers
Karine Benzaria – Writer/Director
Karine Benzaria is a filmmaker and producer. Influenced by her French-Colombian upbringing in white picket fence America, she is drawn to characters who defy their mundane worlds. Her production experience includes Apple TV's Hello Tomorrow, Amazon's Emmy-nominated Jack Ryan, and Netflix's The OA. As a producer, she's worked on film, editorial, and commercial projects, most recently the 2023 SXSW-nominated film Breaking Fast with a Coca-Cola and 2022 SXSW nominee, Clare. In 2017, she co-founded production company Dream City with Julia Kennelly and Daisy Zhou. There, she produced Marcy Learns Something New, the winner of 2020's Vimeo Staff Pick's Best of the Year Award. She is a 2023 Film Independent Project Involve Producing Fellow and recently won a 2023 Wavelength Grant. Between productions, she is developing a feature film and enjoys documenting fleeting moments through photography.
Julia Kennelly – Producer
Julia Kennelly is a filmmaker and producer based in Los Angeles. Her short film Marcy Learns Something New won a Special Jury Mention in Comedy at Aspen Shortsfest in 2020, and premiered online on Short of the Week. Her directorial debut, a short film called Chandler, premiered at the Atlanta Film Festival and went on to be featured by Vimeo upon its online release. With a passion for narrative film, Julia has produced numerous short films, including The Neighbors' Window (Marshall Curry), which won the Oscar for Best Live Action Short at the 2020 Academy Awards. Other films she's produced have been in competition at SXSW, Tribeca Film Festival, Outfest and Palm Springs Shortfest, among others. Julia is also a line producer, most notably on the HBO documentary series The Vow, directed by Oscar-nominated filmmakers Jehane Noujaim and Karim Amer. She is a co-founder of production company Dream City, with Karine Benzaria and Daisy Zhou. Julia was a finalist for the 2021 Sundance Creative Producing Lab.
Carlos Valdivia – Producer
Born and raised in Los Angeles, and named one of NYU Film School's New Latino Leaders by Indiewire in 2015, Carlos Valdivia is a Mexican-American filmmaker. Recent producing credits include Kimchi and Clare which premiered at the SXSW Film Festival; Artemis Falls, starring Adepero Oduye (12 Years A Slave), which premiered at the Atlanta Film Festival; and Codenation, starring Broad City's Arturo Castro. In 2019, he produced An Open Mind is the Best Look for Nordstrom, which won 3 Cannes Lions and was added to the permanent archives at MOMA. In 2018, the National Association of Latino Independent Producers awarded him a Latino Lens grant to direct his short film, Ni De Aquí, Ni De Allá. It was named Best LGBT Short at the Sene Film Festival and premiered on PBS in June 2019. He was a 2022 semi-finalist for the Netflix New Voices Filmmaker Grant and a 2022 semi-finalist for the Outfest Screenwriting Lab. He is a graduate of New York University's Tisch School of the Arts.
Make a donation to Lucia & The Invisible Wife.
Contact
For inquiries, please contact fiscalsponsorship@filmindependent.org.