Surrender

Breaking the harmful 'model minority' myth by centering on an Asian American female with a gambling addiction - one bet at a time. Starring Andrea Bang from Kim's Convenience.
Project type: Fiction Feature
Project status: Development
Writer/Director: Jess Dang
Producer: Jess Dang, Jessica Olthof, Darren Haruo Rae
Director of Photography: B. Rubén Mendoza
Editor: Faroukh Virani

Email: THEJESSDANG@GMAIL.COM
Website: surrenderfilm.com
Facebook: @SurrenderTheFilm

Help independent filmmakers tell their stories.
Make a donation to Surrender today.
Film Independent's Fiscal Sponsorship program opens the door to nonprofit funding for independent filmmakers and media artists. Donate today and help bring Surrender to life.
Logline
Triggered and wanting to escape her past trauma, Naomi, a young Asian American female, falls into the world of blackjack to regain a sense of control but finds herself addicted to the game.
By day, Naomi is successful at her job. By night, she is a high-limit blackjack player. Her compulsive gambling puts her in a secret cycle of shame as she suppresses her internal feelings to appear externally sound, impacting her mental health.
Synopsis
Surrender centers on a young Asian American female – Naomi – a perfectionist who wrestles with a gambling addiction, ultimately allowing it to ruin everything in her life.
At the start of the film, Naomi's life is intact. During the day, she's successful at her job. And at night, she's a high-limit blackjack player in secret. However, those closest to her, including her romantic partner, believe Naomi is recovering from her gambling addiction.
Naomi frequently visits her mother, the dutiful caretaker for her ailing grandmother with progressive dementia. Naomi realizes that her gambling profits can be used for good once she finds out about her mother's surmounting hidden debt through past-due bills. She justifies her need and desire to play blackjack to help her family.
Through a traumatic flashback scene and fragments, we get more insight into Naomi's past home life and how she was introduced to gambling at a young age. As an adult, Naomi suffers from episodes of PTSD, and the only way she knows how to cope is to drown out her feelings by playing blackjack. She goes on a rollercoaster ride of gambling sprints, and her life spirals out of control.
As Naomi continues to gamble obsessively, her body begins to betray her; she develops headaches, vomits up blood, and experiences serious physical health issues but chooses to suffer in silence. Naomi's life falls apart – her partner presses pause on their relationship, gets evicted from her home, and quits her job – all trigger her to continue gambling. Naomi continues to hide her gambling addiction struggle from her family and those closest to her, suppressing her internal shame.
Naomi finally reaches a breaking point where she must choose the path to destruction or self-love.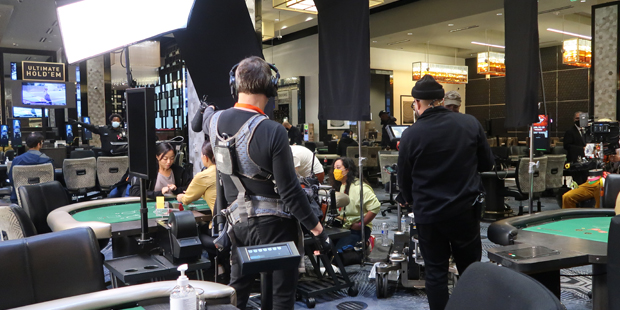 Meet the Filmmakers
Jess Dang – Writer/Director
Jess Dang is a Chinese-American writer and director based in Los Angeles. She values collaboration and hopes to continue telling stories that can work as visual conversations. Jess holds an MFA in Film & Television Production from USC's School of Cinematic Arts and a BFA in Communication Design from Parsons School of Design.
Her work has screened at The Santa Barbara International Film Festival, Cleveland International Film Festival, DOC NYC at the IFC Center, The New York Times, and Gaim TV, among others. Dang has also created content for brands such as Intel, Audible, Google, Snapchat, Target, MTV, Gold's Gym, I Love NY, the University of Pittsburgh, and The Islands of The Bahamas. Her work continues to reach multiple audiences due to her use of color and forms.
Jess is committed to amplifying Asian voices and centering underrepresented communities in her work – exploring narrative themes of social justice, moral & humanitarian progress, and mental health.
Dang is a Film Independent Fellow and has participated in Owning It – a program of The Gotham Film & Media Institute, supporting women, non-binary creators, and entrepreneurs who break down boundaries in the entertainment industry.
Surrender will be Dang's directorial debut feature film.
Jessica Olthof – Producer
Jessica Olthof, a versatile producer based in Los Angeles, began her career as a camera assistant before transitioning to the production space and ultimately producing. In the past five years, she has coordinated over ten feature films, including Palm Springs, starring Andy Samberg and JK Simmons, and The Starling, directed by Ted Melfi and featuring Melissa McCarthy, Chris O'Dowd, and Kevin Kline. Her portfolio also includes LA Units for Next Goal Wins, The Banker, Voyagers, Molly's Game, and Greenland.
In 2023, Olthof produced the award-winning short film Nisei, which claimed Best Drama & Audience Choice at the Poppy Jasper Film Festival and screened at Indy Shorts by Heartland Film, LA Shorts International Film Festival, HollyShorts Film Festival, and Cinequest Film Festival. She is currently producing her first feature film, Surrender, starring Andrea Bang from Kim's Convenience, with support from Film Independent and The Gotham Film & Media Institute. A passionate advocate for gender equality in the industry, Jessica is an active member of Women in Film.
Darren Haruo Rae – Producer
Darren Haruo Rae, a Japanese American producer/director based in Los Angeles, co-founded the boutique production company Roann Films. He has directed high-profile commercials and branded content for clients such as Western Digital, Airbnb, and Cisco.
Rae's directorial debut, Park Arcadia, garnered Best Screenplay at the 2014 International Film Festival Cinematic Arts in Los Angeles. His latest film, Nisei, inspired by his Japanese-American grandfather's WWII experiences in the 442nd Regimental Combat Team, earned Best Drama and Audience Choice at the 2023 Poppy Jasper Film Festival and continues it's festival circuit, screening at Indy Shorts by Heartland Film, LA Shorts International Film Festival, HollyShorts Film Festival, and Cinequest Film Festival.
Currently, Rae is the series producer for the MasterClass G.O.A.T. Original Series and is producing the feature film Surrender, starring Andrea Bang. Surrender was selected as one of Film Independent's Fast Track fellowship program's top 10 narrative fiction features and is slated for production in 2023.
B. Rubén Mendoza – Director of Photography
B. Rubén Mendoza is a Salvadoran-American cinematographer from Los Angeles. His work has screened and been awarded at film festivals internationally. Mendoza was selected as a mentee in the ASC Vision Mentorship Program and is a Film Independent Project Involve Fellow.
As a DoP, he enjoys producing images that evoke feelings and make space for empathy.
Faroukh Virani – Editor
Faroukh Virani is an LA-based editor who moves between narrative and documentary formats, and he finds one storytelling style informs the other in his work. Faroukh is currently editing on the CW series Walker, with additional post-production credits on the feature documentary Ottolenghi and the Cakes of Versailles, the Amazon series Hunters and CW's iZombie. Faroukh is interested in supporting diverse voices behind the camera and on screen, and has served as mentor for the Armed With A Camera fellowship, Senior Shorts Programmer for the Los Angeles Asian Pacific Film Festival and as a feature film programmer for the Indian Film Festival of Los Angeles. He has a background in Film Production at USC's School of Cinematic Arts and NYU's Tisch School of the Arts.
Contact
For inquiries, please contact fiscalsponsorship@filmindependent.org.