Balancing Social Justice and Immersive Entertainment
Since its development, film has been renowned for its remarkable ability to generate empathy, giving viewers an intimate window into struggles and experiences very different than their own. Multiply this sense of deep personal connection by a factor of 360 degrees and you have something approaching the empathetic powers of VR and immersive entertainment, which dispense with the "window" idea to instead place viewers directly inside the experience being depicted—frequently with emotionally intense results.
As with traditional "flat" cinema, VR/AR/MR can be used toward a variety of ends—ranging from fraught to frivolous. But as with any new medium, there's a burgeoning group of socially conscious artist-activists using MR to explore a wide variety of complex issues. But far from being dour or haranguing, these pieces are often colorful, playful and above all beautiful.
The intersection of art, activism and immersion was the subject of the "Dreams of the Future: Social Justice and Equality" panel at Film Independent's second-ever edition of its immersive showcase The Portal, September 20-22. Moderated by Portal curator and Film Independent Artistic Director Jacqueline Lyanga, the panel included directors Tamara Shogaolu (Another Dream), Paisley Smith (Unceded Territories) and Sutu (Future Dreaming), taking place at the LMU School of Film and Television's Playa Vista Campus. Watch the full panel below:
SOCIAL JUSTICE AND IMMERSIVE ENTERTAINMENT
Using tech to express, not oppress. Unceded Territories—which refers to the fact that British Columbia has never technically been ceded the Canadian government, and thus theoretically remains occupied territory—utilizes the new Unity 3-D development platform to transform the work of indigenous painter Lawrence Yuxweluptun into a colorful, interactive game that nevertheless comments on both environmental destruction and imperial oppression. Says Smith: "Technology has been used in the oppression of indigenous First Nations people. For [Lawrence] to use this technology to share his perspective with viewers is extremely generous"—praising Yuxeluptun as an early VR adopter.
Tradition meets computers. Australian artist-turned-filmmaker Sutu's tool of choice for his piece was the 3-D painting app Tilt Brush. Working with the same group of underprivileged Aboriginal youth he'd previously collaborated with on an acclaimed graphic novel project, Sutu was drawn to the application's "intuitive, super-simple interface," inspired by the technology to think about "a story we could create together." The result, Future Dreaming, asks his young subjects to envision their lives, projected at specific intervals, into the future—a play on the Aboriginal practice of "Dreamtime" meditation.
Troubleshooting new ways of storytelling. Shogaolu's Another Dream is the third installment her Queer in a Time of Forced Migration multi-media series, which takes a look at the stories of politically displaced LGBTQ+ people. Another Dream's subject is a lesbian couple, uprooted in the wake of the Egyptian revolution. Told through animation and first-person narration, Tilt Brush was again utilized, though the piece features a mix of animation styles.
Embodying ideas. "The idea behind [Unceded Territories] is that even if you don't think you have anything to do with colonization or climate change, you'd see that you were an active participant, whether you like it or not," said Smith, describing the mechanics of casting her viewers inside the role of Earth's "Super Predator"—Yuxweluptun's term—within the piece, cleverly disguising the destruction of a digital Earth as playfully innocuous digital paint-flinging.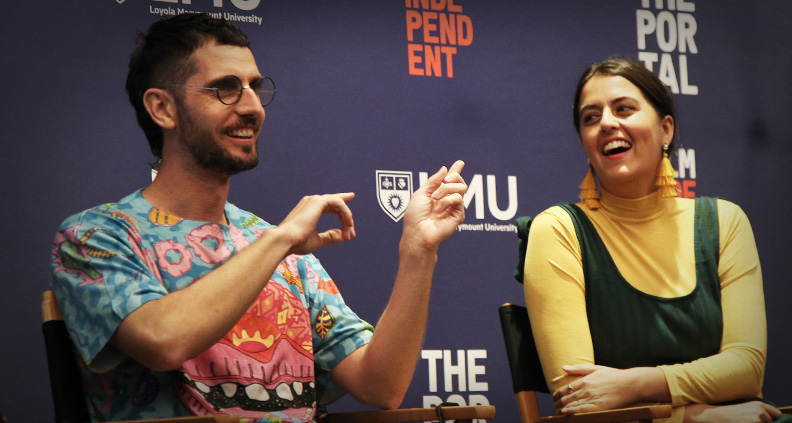 Animated conversation. For Shogaolu, part of the decision to do Another Dream as an animated piece was to conceal her subjects' identities; her two protagonists literally putting their lives on the line to share their story. "I would never imagine trying to tell someone else's story without them being part of it," said the director of the collaboration, which involved re-recording the couple telling their story in English, after it was determined subtitles wouldn't work in the VR format. Another Dream uses "mixes three different types of animation," which "allows for more flexibility to be surreal," she said.
Improvisation and experimentation. For Sutu and his teen collaborators, Future Dreaming was rooted in creative experimentation, not technical know-how. "All this stuff was DIY, we'd never done it before," he said. The team even ended up fabricating much of its own equipment, he says, including a makeshift mocap suit and iPhone rig to capture his collaborators' facial expressions. In the beginning, Sutu says he told Future Dreaming's subjects: "I'm going to teach you how to create your future using these painting tools," telling them, "You can be the first Aboriginal people in space, if you want."
Form follows function. For Smith, MR's interactivity was a big part of what appealed to her about the medium. "You can play with people's expectations. With an interactive project, you expect to be able to interact. The idea that you could take away these abilities is where I find it fun," she said, speaking to the gradual loss of agency that players of Unceded Territories experience as part of the game, meant to evoke—in a literal sense—a feeling of ecological loss.
Socially conscious immersion. In all three of the filmmakers' pieces, MR technology is used to produce fully immersive work that's both aesthetically appealing and entertainingly interactive, all while conveying important messages about past injustices and current challenges faced by marginalized people. And whether the viewer is cast in the role of hero, villain or third-party observer, the goal remains the same: to invite outsiders into new points of view.
A free event produced by Film Independent, and in partnership with Loyola Marymount University, The Portal, curated by Artistic Director Jacqueline Lyanga took place September 20-22 at LMU's Playa Vista Campus. To learn how to become a Film Independent Member, click here.
Follow Film Independent…