Female Directors and Showrunners Talk New Projects, Dismal Statistics and Barbie Dolls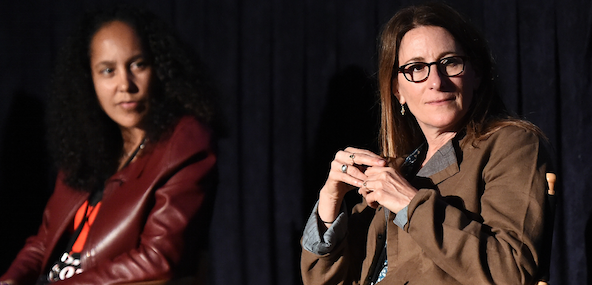 "I have a friend who's a costume designer, and she has a theory that if we were to all look back on what we did with our Barbie dolls, we would see our futures in that," said Marta Kauffman, co-creator and showrunner of the iconic sitcom Friends, at Saturday's "Women Who Call the Shots" panel at the Los Angeles Film Festival. "I don't know if it's true for everybody," she continued, "but I do know that when I was a little girl and my parents were doing whatever they were doing or my sister was busy not talking to me, I would put on shows for God. So maybe there's truth in that."
Joining Kauffman on the lively panel, moderated by Entertainment Weekly senior writer Nicole Sperling, were Nicole Holofcener, writer-director of Enough Said; Debra Granik, director of Winter's Bone and Stray Dog, a new documentary screening in competition at the Festival; and Love and Basketball writer-director Gina Prince-Bythewood, who shared a preview of her next film, Beyond the Lights, with the enthusiastic (and primarily female) audience.
Prince-Bythewood never had Barbies as a little girl. She played with Tonka trucks, which perhaps anticipated how she would blaze her own path and run down obstacles as an adult. She shared not one, but two stories in which she got rejected (first by film school, then by a job after college), but would not take no for an answer, and wrote letters and made calls until she won a spot at both. She was inspired with the story for Beyond the Lights at an Alicia Keys concert—it's about a young singer who finds her own voice and breaks away from her exploitative manager mom. Sony picked up the script, and it sat there for a year. "They wanted a certain cast," Prince-Bythewood explains, "Their choice would have been Beyoncé." But Prince-Bythewood found her star: Gugu Mbatha-Raw of this year's Belle was her choice, hands down. Sony said she wasn't a star, so Prince-Bythewood left Sony.
"With black actors, there's a very tiny list," she explained, "It's great to work with stars, but for me it's equally exciting to discover someone new. When you write a script, and there's a female black lead, the first thing they say is 'Halle Berry.' It is a nonstop mantra." Kauffman added, "We were just trying to get a film made, and we were basically told by a studio, if you don't get Sandra Bullock or Meryl Streep, it's not getting made."
Regarding the troubling statistics about women in the film industry, all of the panelists had something to say. "We're the lucky ones," Holofcener said, "I know when I open the Hollywood Reporter—which I don't ask for but it comes to my door every day just to torment me, to see the jobs I wasn't offered and all the parties I wasn't at—it's all white men. So many industries are just all white men." Granik said her experience within the industry doesn't seem to reflect the grim statistics: "my list of female directors that I really like starts to grow and that statistic stays there. So there's a disparity there."
"It makes no sense at all," Prince-Bythewood said, "talent has no gender." She cited the mentorship and guidance of the women she knew when she was just starting in the industry as having given her confidence. Kauffman replied, "When I was starting out, there weren't a lot of women who I could attach myself to and hope that they would help me along. And because I had a male writing partner, I was very often dismissed and he was the one that the men who might have been considered mentors, he was the one they glommed [onto]."

When asked about the moment in her career when Friends came to an end, Kauffman recalled, "There was a lot of panic… It was time to move on, it was time to do the next thing. Friends ended right around the same time that menopause happened, and it was awesome. It was this amazing opportunity to redefine myself." Now she's working on a Netflix series with Lily Tomlin and Jane Fonda. Kauffman said it's a completely different experience: "when I started doing television, you did a pilot, and then if you were lucky you did nine more, and then if you were lucky you got an additional order, and this is zero to sixty in no time at all because you have to go straight to thirteen."
Granik said what contributed to her commitment to filmmaking even more than film school was working in the field—she remembers "a huge, long decade of weddings," and having been inspired by the "glimpses into variety on the spectrum of humanity, just being able to go places that you weren't normally destined to go…in a town that you never would have gone to normally, people you wouldn't have a chance to meet." Granik spoke about her experience making Stray Dog, her first documentary, which follows biker and Vietnam vet Ron "Stray Dog" Hall, whom Granik initially met through the casting process for Winter's Bone. She said making a documentary is "both delightful and hellacious," in all its surprises and frustrations that don't come with making a scripted feature.
Holofcener said film school helped her, "not so much in my career, but getting to practice directing, and feeling free to make a lot of mistakes." She said the most important thing she did in the early stages of her career was "just writing, even if nobody was thinking that I was a good writer. I just kept trying"—and initially, she didn't plan to direct at all.
When an audience member asked how the women handled the challenges of funding their films, they all had different answers about what worked for them (and different horror stories about what didn't). "I take this line, and it's not for everybody, but I'm in the cheap school thing," Granik admitted, "it is interesting at least for me to hold that dream, that films can be made frugally, and it doesn't have to be rolling that boulder up a hill every time. It's not necessarily true, but at least it's a mentality that I use."
Granik and Prince-Bythewood both cited the support of the Sundance Institute as being a major factor in getting their films made. Holofcener said her first film, Walking and Talking, took six years to get funded, and finding a good producing partner made a huge difference. "I do think that finding the right partner is crucial—not just in making movies, but in lots of stuff," Kauffman added. "In Barbies!" cried Holofcener. "Yes," Kauffman agreed, "in Barbies."
Mary Sollosi / Festival Blogger