#FiForum19 Proves that it's 'Booksmart' with Olivia Wilde's Feature Debut
The 2019 Film Independent Forum finally kicked off last night–with a hefty dose of teen attitude—at Hollywood's Harmony Gold Theater. After a pre-show cocktail hour replete with free ice cream, margaritas, and soft pretzels, the lights went down and Sam Spiegel's "To Whom It May Concern" began to boom throughout the theater.
The film was Booksmart, the wildly fresh and original new high school comedy marking the feature directorial debut of actor-turned-filmmaker Olivia Wilde. The screening was followed by an in-depth Q&A with Wilde and co-screenwriter/producer Katie Silberman, moderated by Film Independent President Josh Welsh.
Booksmart is a witty, fast-talking exploration of ambition, youthful priorities and the powerful friendship between young protagonists Molly (Beanie Feldstein) and Amy (Kaitlyn Dever). The script—originally by Emily Halpern—first came to Hollywood's attention as part of the prestigous Black List in 2009, with Dever attached for a full two years before Wilde came onboard in 2016.
"The core of it was really great, but it needed a reimagining," said Wilde, of her first impression of the material. As a director, her first instinct was to bring on screenwriter Katie Silberman to collaborate on a rewrite. Four months later the two had reimagined a night of adventure that takes some tonal risks—including a high-speed car race to graduation day. "I wanted it to be the Training Day of high school films," said Wilde.
As Welsh pointed out, Booksmart features some chaotic, high-energy scenes populated with masses of teen performers. Wilde's secret to mantaining cohesion between takes and a consistency of tone under such wild circumstances? Music.
"I played a lot of hip-hop on set," Wilde grinned, saying she relished the gift of introducing young women to Lizzo. She noted that with all of Booksmart's nighttime shooting, it was important to keep everyone's energy high. Wilde also found that music helped establish mood. "Film sets are like construction sites, they're hectic and loud—which is not very conducive to improvisation and vulnerability," she said.
Silberman attested to Wilde's ability to create a party vibe on set, adding: "I Shazam'd so many songs on set I had to go to Premium!"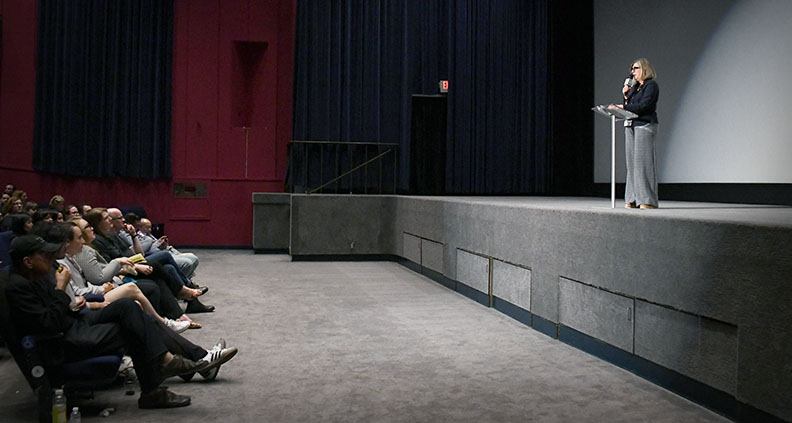 Wilde also demanded equality among cast and crew. "It's very hard to relax if it feels like this is not a true collaboration," she said. Wilde tried to foster a culture of mutual respect. "I gave everyone creative license and agency, involving everyone in every department. Asking the props master, 'What do you think the story is about?'" Wilde said she wanted true input beyond just the mere execution of her own ideas.
Reflecting on her experience as an actor, Wilde strove to keep her cast on set and engaged. "We asked the actors to continue participating, even when they weren't on film," she said, in an effort to avoid the cold and isolating trips back and forth to trailers. "When we had actors kind of hanging around on set, we wrote extra scenes for them. We said, 'You're here, let's shoot something in the corner, we might use it!'"
That level of enthusiasm and engagement "comes from the top down," added Silberman. "When your director and your leader is the most prepared and the most excited to be on set every day… it made it feel like a party the whole time." Wilde's preparation and joy in the work was apparent to everyone working with her—resulting in cast members coming to set even when they didn't have any scenes to shoot. "They just wanted to be around the vibe that she had created. That's something I have never experienced before."
Welsh praised Booksmart's inclusive representation of race, gender and sexual orientation. Wilde attributed it to a blend of scripting and casting: "When you see all actors and you actually hire the best people, you end up with a representative set. That's why [Casting Director] Allison Jones is just the best."
Inspired by her first gig in LA working in a casting office with Mali Finn (who discovered Brad Renfro) Wilde looked beyond normal acting résúmés to find supporting players like pro skateboarder Nico Haraga. His buoyancy and youthful confidence were perfect for the role of Tanner. "That irresistible confidence is so terrifying to young women in high school—I know it was to me," she added.
"We talked about how high school and film are the two places where you jump to archetype and stereotype most easily," said Silberman. But Booksmart's cast and underlying story inspired a much deeper look at the nuanced characters and how their complex relationships extededed far beyond normal teen movie cliches.
As a self-proclaimed 55-year-old grandfather and Air Force veteran said from the audience during audience Q&A: "I'm probably not the guy that you thought about when you made this movie. But I've not had so much fun watching a film since…"
…the end of his sentence was swallowed in applause, but it prompted Wilde to end the night with this: "So many people assume that a film about women is just for women. Stories that are authentic and honest are attractive to everyone."
Booksmart opens in theaters on May 24, released by Annapurna. The 2019 Film Independent Forum takes place April 26-28, 2019 at the new LMU Playa Vista campus in the heart of Silicon Beach—click here to learn more.
The 2019 Film Independent Forum is supported by Premier Sponsors SAGindie, Cast & Crew and University Partner Loyola Marymount University School of Film and Television.