How The Final Girls Uses a Slasher Film Premise to Tell a Personal Story About Loss
Director Todd Strauss-Schulson's meta-horror-comedy The Final Girls slashes its way into theaters this weekend after making its West Coast premiere at the LA Film Festival back in June. The film stars Taissa Farmiga (The Bling Ring, American Horror Story) as a teenager whose dead mother was the star of the classic 80s slasher film, "Camp Bloodbath." When she and her friends are sucked into the film-within-the-film, she must join forces with her mother and fight off the killer.
After the LA Film Festival screening, the stars of the show–Farmiga, Nina Dobrev, Tory Thompson, Angela Trimbur, co-writers Joshua John Miller and M.A. Fortin and Strauss-Schulson–took the stage to talk about making The Final Girls.
Miller said the film came from a very personal place. "The idea started because my dad played the priest in The Exorcist, so I grew up seeing my father being possessed by the devil and being thrown out a window and down the stairs. My mom was a final girl too, so I have gore in my blood. We wanted to do an homage to our favorite genre and my dad had just passed away and it was one of those things where you try to write about losing a parent and you realize that the way to get closer to the truth is to write a piece of fiction."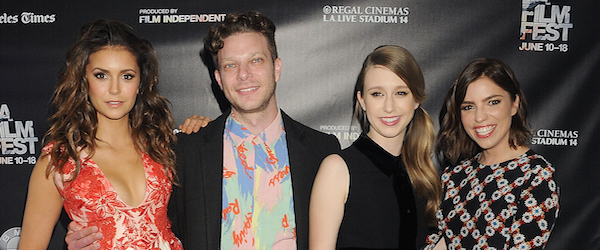 Strauss-Schulson heard about the story when his college friend pitched it to him nearly a decade ago. "They sent me a draft just to read as a friend and I thought, 'There is something so great about this.' It was a funny and crazy movie but behind that there were two sad broken boys trying to tell a story about their grief in a genre that doesn't take grief seriously at all. We used to pitch it as Terms of Endearment meets Friday the 13th and people looked at us like we were crazy."
The film has two casts, the cast of The Final Girls and the cast of "Camp Bloodbath." On-set, the actors actually divided into the two camps, the "reals" and the "fictionals." Thompson said the experience of shooting the film was as insane and fun as the film itself. "It was kind of like going to an 80s-themed party everyday. I just had to go there, wear my tiny shorts and hang out with an incredible cast and crew and have fun."
For Dobrev, the hardest part was playing drama in such an enjoyable environment. "It was problematic because the best and most challenging part about making this movie was that everyone was so funny. We laughed so much that we couldn't get through a single take."
"I always feel like Josh and I are onto something good when we are writing a script and someone says, 'No one's ever going to make this; it's too nutty and weird,'" said Fortin, "So seeing this movie for the first time was kind of like an out-of-body experience because it was a synthesis of all of our obsessions and also came from a very personal place."
Lorena Alvarado / Film Independent Blogger