Documentary Feature
Director-Writer/Director: Jeff Malmberg
Producers: Jeff Malmberg, Chris Shellen, Tom Putnam, Matt Radecki, Kevin W. Walsh
Budget: Under $100,000
Financing: Filmmaker
Production: Every three months for four years
Shooting Format: DV Cam and Super 8
Screening Format: HD Cam
World Premiere: 2010 SXSW Film Festival
Awards: SXSW – Grand Jury Prize; Cleveland International Film Festival – Grand Jury Prize; IFFBoston – Special Jury; Hot Docs – HBO Emerging Artist Award; Seattle International Film Festival – Grand Jury Award, Best Documentary;  Silverdocs – Cinematic Vision Award; Comic-Con – Best Documentary; Comic-Con – Judges' Choice Award (Best Overall Film); Fantasia International Film Festival – Best Documentary; Woodstock Film Festival – Maverick Award, Best Documentary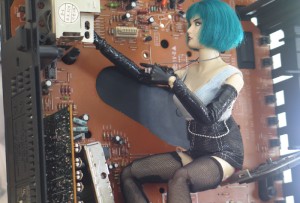 Development and Financing
An established editor, Jeff Malmberg wanted to try his hand at directing. In early 2006, he looked through an issue of ESOPUS Magazine in search of a subject for a short documentary project. When he came across a piece about Mark Hogancamp – the victim of a vicious attack that left him brain-damaged – Jeff thought his story would make a "wonderful weekend shoot." He contacted Hogancamp and then flew to upstate New York to meet with him.  The two really clicked and Hogancamp agreed to the project; Jeff started shooting "ten minutes later."
Jeff's original plan was to make a documentary short, but after six months of shooting went by, including filming a sequence at an art exhibition of Hogancamp's, he realized he had a feature film in the works.
"Marwencol" is the name of a 1/6th scale World War II-era town that Mark built in his backyard after recovering from his attack and subsequent coma. Populated by dolls that represent his friends and family, the town of Marwencol offers Hogancamp the ability to heal both emotionally and physically.
"It became my mission to find out the 'why' behind what happened," says Jeff. He established a strong relationship with Hogancamp early on, arriving by himself for interviews and shoots without a crew. "He started to realize pretty quickly that my intentions were pure," says Jeff. "…I think he let me in because of that."
Jeff continued to work as an editor during the four years it took him to shoot Marwencol. He and his wife, producer Chris Shellen, saved their money and used that to finance the film, and about every three months, Jeff would visit Hogancamp in upstate New York for filming and interviews.
Festival Preparation and Strategy
Jeff wrapped shooting near the end of 2009 with the goal of submitting to Sundance. He heard early on from the festival's programmers that there was a strong chance Marwencol would be accepted. As a result, he moved quickly to finish the sound and complete the film. In the end, however, Marwencol was not selected.
In January 2010, while on their honeymoon, Jeff and Chris heard that the film had been accepted into the 2010 SXSW Film Festival, where it ultimately had its world premiere.
In preparation for the festival, Jeff hired Andrew Hurwitz as the film's sales rep for a standard rate (undisclosed) for two years, as well as Jim Dobson from Indie PR for $3000. "I was kind of weary of publicists. I had been in situations where people hire them and it felt like they didn't get what they wanted," says Jeff. "I really think Jim did an amazing job. He positioned the film well and got us rolling."
Dobson promised Jeff a few days of interviews and reviews. He assisted him through two solid days of publicity and helped him begin talking about the film publicly for the first time. Never having had to pitch the film to anyone, Jeff found preparing a routine and consistently speaking about the film to be an invaluable experience.
During the first SXSW screening, Jeff was pleasantly surprised by the film's reception. "We were happy with the film but had no idea if it was going to play," he says. "Sitting with an audience for the first time was nerve-wracking but really exciting. The audience responded more strongly than I had ever imagined."
Despite the initial heartbreak of not getting into Sundance, Jeff is happy that everything worked out the way it did as his experience at SXSW was extremely positive.
Sale and Release
The day after the first SXSW screening, Marwencol started receiving offers from distributors. They ended up going with The Cinema Guild for theatrical and DVD U.S. rights (for 7 years). Jeff received an up-front fee in the low five figures, as well as a percentage of profits after costs.
PBS Independent Lens purchased the television rights for three years and paid in the high five figures. Canadian theatrical rights were sold to KinoSmith after Marwencol played at Hot Docs in Toronto. No other foreign territories have been sold, but interest is expected to grow once the film begins the international festival circuit; Andrew Hurwitz continues to rep the film internationally.
Jeff received numerous invitations from other festivals after SXSW without ever filling out another application. Due to a tip he learned in the 2009 Film Independent Forum Case Study of Ondi Timoner's We Live in Public, Jeff charged screening fees for a number of festivals. So far, these fees have totaled over $5000, with each ranging from about $300 to $500 per festival.
Marwencol has been a huge festival hit across North America (including Cleveland, Seattle, Hawaii, Silverdocs, Comic-Con, and Philadelphia) garnering many jury and audience awards.  It has also played a few foreign festivals: Leipzig, Zurich, Moscow 2-in-1 Festival, Karlovy Vary, Sheffield Doc Fest, Vienna, Stockholm.  Sometimes festivals have paid Jeff to fly out and support the film, though these expenses are usually in lieu of a screening fee.
Marwencol was released theatrically on October 8, 2010 in New York, and opened November 12 in Los Angeles. Through the end of the year, the film played in Toronto, Philadelphia, Seattle, San Francisco, Berkeley, Minneapolis, Boston, Washington D.C., Atlanta, St. Louis and more.  It will play primarily in the Landmark chain on the DCP system (playing off of a hard drive).
The DVD strategy involved timing the release after the film's theatrical run in early 2011, but before it debuted on PBS in April 2011, hoping to get a bump from the TV debut.
Jeff and his wife are about to break even with their costs of making the film, and look to the upcoming foreign sales as a marker for whether it will turn a profit. "I feel like we're one sale away from making that happen," he says.
Advice from the Filmmaker
"If you're looking to make a doc, you have to be doing it for the right reasons – that you're fulfilling something you want to figure out, that you're on a quest to solve or understand. The market is really hard right now," says Jeff. "It's interesting to me that people will say I'm a success story for documentaries when we're kind of close to breaking even. Do it for the right reasons, not because you're planning on making a lot of money."
2011 Update
Final box office for Marwencol's theatrical release was $112,000.  At the 2011 Spirit Awards Jeff Malmberg won two awards including the Truer Than Fiction award. The film was released on DVD in April 2011 and is available from Jeff's website, Marwencol.com. Jeff is now working on his next documentary, Sense.