Dramatic Feature
Director: Azazel Jacobs
Producers: Alex Orlovsky and Hunter Gray
Budget: Under $500,000
Financing: Artists Public Domain
Production: 18 days in New York, 3 days in LA
Shooting Format: Super 16mm
Screening Format: 35mm
World Premiere: 2008 Sundance Film Festival
Development and Financing
Azazel Jacobs wrote the first draft of the script early on and was writing the second draft when he went to the Sundance Film Festival in 2006 and saw Half Nelson. "I really loved the film," Azazel says.  "And I knew that whoever was involved as producers would be someone I'd want to talk to."  Azazel met producer Alex Orlovsky through his friends (the filmmakers behind Wristcutters) and later sent him the script and a previous film that he had done.  Orlovsky helped Azazel develop Momma's Man from there.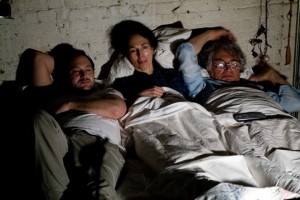 Their collaboration continued for nearly seven months and at a certain point, they considered a larger budget.  But once it became clear to Azazel that he wanted to cast his parents instead of actors, Orlovsky proposed a not-for-profit group that he was part of – Artists Public Domain.  The purpose of the organization is to look for films that cannot get made otherwise.  Orlovsky showed APD's Board Members Paul Mezey, Hunter Gray, and Tyler Brodie the script and Azazel's previous work, and they signed on immediately.  Six weeks later, shooting commenced.
Artists Public Domain purchased the script, taking ownership of the film.  They paid Azazel as a writer/director with fees totaling approximately $4,000. Azazel is not a WGA or DGA member.
Production Highlights
Azazel and his small crew of under ten shot seventeen hours of Super 16 film for eighteen days in New York and three days in LA.  Everyone, including Azazel, was paid $100 a day.
"I didn't see a single piece of paperwork the entire time on this film.  That was the best part," Azazel says.  "I saw everything with the $10,000 film that I did before, so this experience was a wonderful break.  I got to focus on directing.  This was a highly personal story so this experience has been a wonderful way to let it go."
Festival Preparation and Strategy
Azazel applied to the 2008 Sundance Film Festival with a rough cut on DVD.  The film was selected to screen in the Spectrum section of the Festival. Once Azazel heard that they were accepted, it became much easier to have Artists Public Domain make a print of the film (because that would give the film the best chance possible for selling it and finding an audience).  They had Cinetic represent the film for a flat percentage, without an upfront payment or deferment. Susan Norget was hired as publicist for a standard fee ($5K-$10K).  Azazel was very pleased with their work.
Norget scheduled some interviews prior to Sundance, but more were confirmed once the favorable critical response started coming in. Amy Taubin and Manohla Dargis wrote positive reviews. Each screening had more and more press and buyers, and finally, Owen Gleiberman at Entertainment Weekly did a very positive piece online which helped the film a great deal.
Release and Sale
After Sundance, Azazel went straight to Rotterdam.  By the time he returned home, there were offers on the table.  Initial negotiations happened with THINKFilm.  However, despite the fact that THINKFilm clearly loved the film, their instability alarmed Cinetic, and so they eventually went with Kino instead.  Kino paid a minimum guarantee of $50,000.
Momma's Man was released in one New York theater on August 22nd and opened in two more on August 29th.  It will expand to four more the week after and continue from there.  On September 5th it opened in two LA theaters and later, more cities around the country.  Opening weekend held the top per screen average with a total box office of $11,200.
Marketing
There are posters of the film in New York City and minimal advertising in newspapers.  The major marketing has been done through positive press and word-of-mouth which began with a front-page article in The New York Times Art Section.
Advice from the Filmmaker
Azazel: "Every film that I've done has been essential to get to the next step in my career.  The GoodTimesKid, a $10,000 feature that I did before Momma's Man, was shot in 13 (15 hour) days.  We had to ask for favors all over town since we had no money, and no one rejected us — they listened to us and realized that there wasn't much in it for them, but they were attracted to our enthusiasm so they wanted to help.  Now, the success of Momma's Man has helped my previous films.  Some festivals are now even taking Momma's Man and The GoodTimesKid simultaneously."