Pip-Pip-Hooray! This Was the 2019 Film Independent Spirit Awards
In the penultimate (and best, in our opinion) event of the 2019 awards season, Film Independent's 7,000+ Members honored 2018's most boundary-pushing filmmakers and their films, those produced for less than $20 million, at Saturday's 34th annual Film Independent Spirit Awards, airing live on IFC.
Held once again inside its signature big white tent adjacent to the Santa Monica Pier, it was clear from the opening moments of the show that host Aubrey Plaza had few qualms about taking jabs at this year's embattled and host-less Oscars ceremony. "Welcome to the Spirit Awards," the Ingrid Goes West alum (and Spirit Award winner) began. "The network's first choice to host was no one, but they were already booked for tomorrow."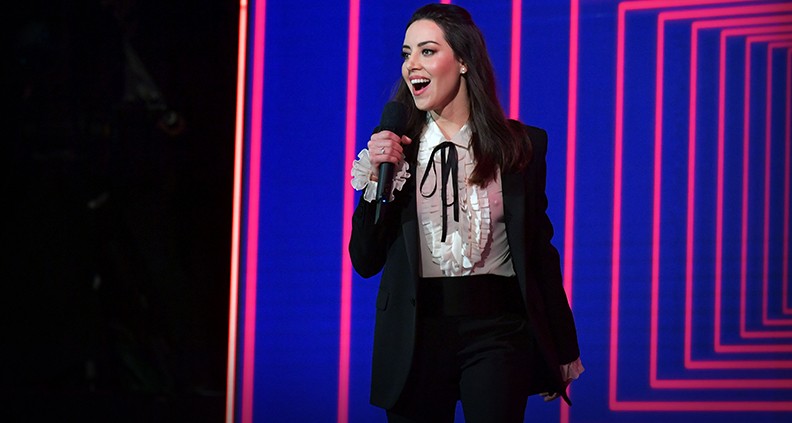 "We're here at a party on the beach in a tent full of entitled hot rich people," Plaza continued with her acerbic humor: "We're one Ja Rule away from the Fyre Festival," referring to the catastrophic music festival—which has garnered not one but two documentaries in recent months, the Netflix version of which the show ably parodied.
Juxtaposed against the Academy's all-male slate of director nominees, Plaza proudly declared: "Sixty-percent of our director nominees are women!" only to rain on the parade with a smack of reality. "Don't get too excited. In this case, 60% just means three women. But calling it '60%' makes it seem way scarier to your uncles."
Another target of Plaza's roast: Netflix. "I do love movies. I truly believe that people should see them how they're meant to be seen—in the theaters," as the audience cheered and camera panned to Netflix exec Ted Sarandos in the audience. And was there a Marie Kondo joke? Oh, you better believe there was a Marie Kondo joke.
The first prize of the evening—Best Supporting Male—went to veteran English actor Richard E. Grant for his charismatic portrayal of real-life grifter and HIV-positive alcoholic Jack Hock in Can You Ever Forgive Me? Visibly elated and emotional with his first Spirit Award nomination and win, Grant paid homage to those who perished during the AIDS crisis of the 1980s. "This movie more than anything is an homage to that generation of men that were wiped out by that disease," he said.
The John Cassavetes Award—which rewards the best feature made for under $500,000—went to the makers of En El Séptimo Día, a film chronicling the plight of undocumented immigrants in Brooklyn. Director Jim McKay's first feature in 12 years, the story is a "true neighborhood film" as producer Lindsay Cordero explained in her speech. "This is a film that started in the church basement of Sunset Park, Brooklyn… Church leaders, soccer teams, panadería (bakery) owners—they all formed part of the cast and crew. We are very happy to share this film with the immigrant community who deserves to see their stories and the beauties of their lives more and more."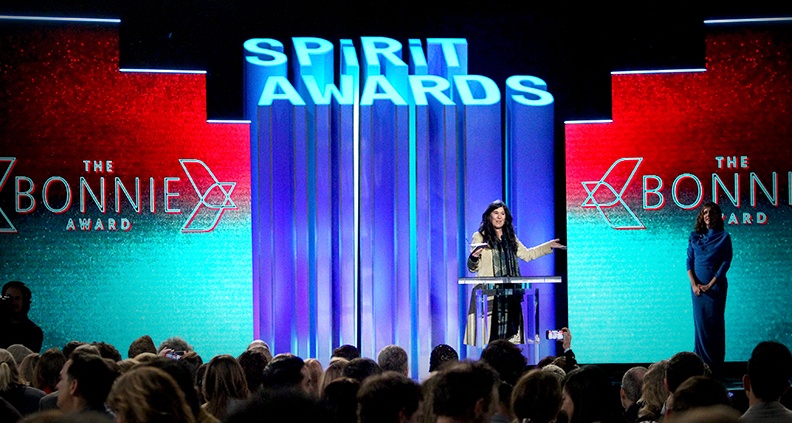 Molly Shannon presented the second-ever Bonnie Award—which comes with a $50,000 grant, in recognition of a mid-career female director—to Debra Granik, also nominated as director for Leave No Trace. In a pre-recorded segment about her reaction to winning the award, the Winter's Bone auteur had this to say: "Finding out I was winning the Bonnie Award, I thought about soaring, flying, ascending and pushing forward. Stories are how we figure out how to navigate life, how to understand life."
When receiving her award on stage to a standing ovation, Granik added with genuine gratitude and emotion, "I'm so elevated and encouraged to be in a tent with people who like to fly with women. It's a great feeling. Although change can happen in other tents, venues, arenas, it's happening really thoroughly and robustly under the auspices of Film Independent… It is in this tent, the support that is given, that allows me and all the other women pilots here today to soar. So it's hugely appreciated."
An alum from last year's Spirit Award nominees—Luca Guadagnino's Call Me By Your Name—Armie Hammer introduced the recipient of the Robert Altman Award, Suspiria, Guadagnino's remake of Dario Argento's iconic 1977 Italian horror classic. Accepting, casting director and award co-winner Stella Savino said: "As a casting director, I can't imagine anything more exciting than casting so many female roles to play the great metaphor of witchcraft, which is the greatest metaphor on the feminine."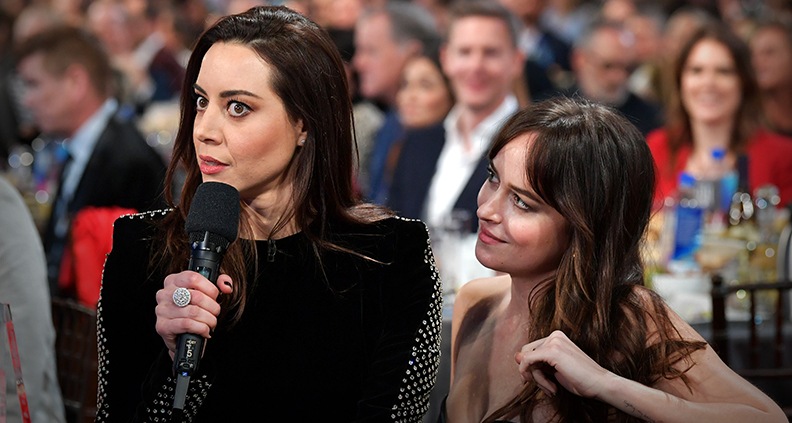 Midshow, RuPaul's Drag Race alum and A Star Is Born costar Shangela kicked things up a notch, when her drag-tastic Best Feature dance medley at once delighted and perplexed the audience. Eighth Grade director and writer Bo Burnham—a winner for Best First Screenplay—looked amused as the scene-stealing performer belted "Eighth grade, baby/the grade between seven and nine, hey!" and proceeded to eat a chicken nugget presented to her (with a flourish) by her backup dancers. "Chicken nugget dinner/if you want more sauce, you can have mine!"
Accepting his first prize of the evening for Best Director of If Beale Street Could Talk—which would also nab Best Feature—director Barry Jenkins appealed to the industry to embrace the #4PercentChallenge launched by the Time's Up movement. "If even just 30% of us agree with Regina King [winner of Best Supporting Female] within the next 18 months to produce or finance a film directed by a woman, the 4% would become 8% and then 16%." Visibly moved, King jumped to her feet in applause.
But even in an awards show featuring Shangela, the one character who really stole the show was Glenn Close' adorable dog Pippin—the Havanese she brought as her "date," bringing the canine onstage to help accept her Best Female Lead prize for The Wife. And so, we will leave you with her words of wisdom from the top of the show…
"All of us here are independent spirits, who have learned to depend on each other to create movies worthy of our time and passion. What's better than that?"
Missed the show on TV? Relive some of the best highlights below or on Film Independent's YouTube channel and catch up with the entire broadcast in its entirety via the Film Independent Spirit Awards page on Facebook Watch.
Thanks for hanging out with us at the beach! Stay tuned to this blog for additional Spirit Awards recaps and exclusive content throughout the week.
Learn more about Film Independent on our website. Learn how to become a Film Independent Member by clicking here. Only Members vote, so if you want a hand in deciding who will be on this list in 2020, this is your chance!
The 2019 Spirit Awards is sponsored by Premier Sponsors American Airlines, AT&T, IFC and Subaru of America, Inc. Rocket Mortgage® by Quicken Loans® is the Official Sponsor of the Voting Process. FIJI Water is the Official Water. Hangar One Vodka and Maestro Dobel Tequila are the Official Spirits. JNSQ Wines is the Official Wine. Getty Images is the Official Photographer. Town & Country Event Rentals is the Exclusive Rental Company.
(Header:Alfonso Cuarón accepting the Spirit Award for Best International Film for Roma)