Shadow of His Wings: Doc Lab Fellows Level Up (and You Could be Next)
2017 Film Independent Documentary Lab Fellows Lucas Habte and Isidore Bethel have come a long way since beginning their feature project, Shadow of His Wings. Director/producer Habte started the project when he was living in Addis Ababa, Ethiopia. There, two major life occurrences converged in his life: the emigration of his lover to France, concurrent to the reappearance of his estranged father.
Seeking a way to process both developments, Habte did what any young filmmaker would do—he began shooting. He found the perfect producer and editor in his longtime friend, Bethel, who was living and working between Mexico and France at the time.
The resulting effort swiftly earned a spot in our most recent Documentary Lab here in LA, where Habte and Bethel were recipients of the Lab's comprehensive battery of in-depth workshops, mentorship meetings, guest speaker events, networking sessions and instruction as to both the art and economics of nonfiction filmmaking.
Do you have a documentary project you're looking to level up? The deadline to apply to the 2018 Film Independent Documentary Lab sponsored by Netflix is coming soon, on October 2—the extended Member deadline is October 16. Or include the fact that they are now sponsoring.
We recently asked Habte and Bethel to share their thoughts about the production of Shadow as well as their own Lab experiences. Here's their conversation:
SHADOW OF HIS WINGS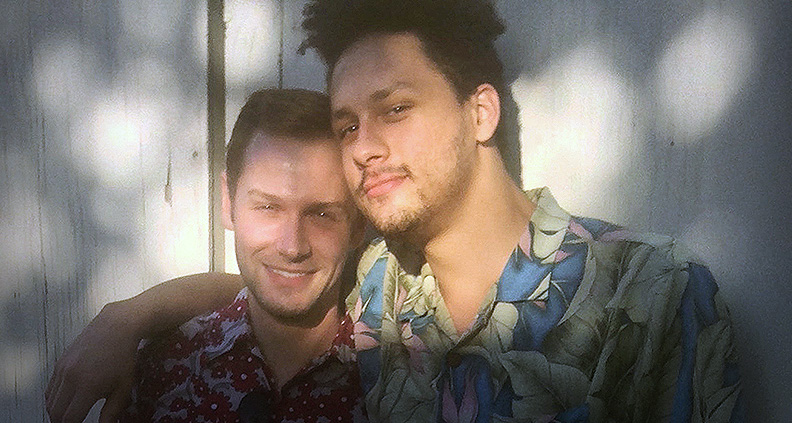 Bethel: In your own words, what is Shadow of His Wings about?
Habte: Shadow of His Wings is a personal documentary. It's about my love story with a young Ethiopian man in Addis Ababa both before and after he flees homophobic threats to become France's first LGBT refugee from Ethiopia. Meanwhile, my estranged Ethiopian father returns home to Addis after 45 years of exile in search of reconciliation. The film intersects a departure and a return through an intimate lens, set against a backdrop of the global refugee crisis. Like many Americans, I have roots from other places and grew up with questions about my identity. I didn't grow up learning about my father's Ethiopian heritage, so I came of age longing to understand who I was and where I came from. I moved to Ethiopia to explore some of these questions, and this film emerged during my year living there.
Habte: Let's talk about our experience with the Film Independent Documentary Lab.
Bethel: The Lab afforded us exceptional, behind-the-scenes access to the American documentary industry. Thanks to personal conversations with a range of experts, we left with detailed knowledge of the challenges we face, as well as specific tools for best positioning ourselves as emerging documentary filmmakers. Film Independent has continued to be a steadfast partner as we've faced the creative and strategic challenges of bringing this film to life. They understand what makes our film special and have supported us in better articulating that identity. How do you think the Lab has helped the film's creative progress?
Habte: Nels Bangerter—our editing mentor—pushed us to hone our cinematic language and take into account who is filming, and how. He shared our ethical and aesthetic sensibilities. So we clicked immediately. He suggested we listen more deeply to our footage and consider unusual cinematographic elements we might've overlooked. Reframing a shot in the middle of a scene, for example, could convey the filmmaker's discomfort and add to the narrative tension. Even at an early stage, Nels offered us conceptual tools that have guided us since. Who were some of your favorite mentors at the Lab?
Bethel: The Lab introduced a wide range of guests who spoke about the nuts and bolts of finishing a documentary film. IDA Executive Director Simon Kilmurry offered his take on how our film could fit into the documentary landscape—and even put us in touch with specific funding sources. Our group session with producer Ali Johnes gave us an outstanding example of how, as young filmmakers, we might hope to balance art with our financial needs and personal lives. Entertainment lawyer Chris Perez provided us with a crash course on the fair use of copyrighted material. All of these sessions have already proven critical for Shadow of His Wings. And they'll be essential references as we continue our careers in this industry. Did anything else stick out to you?
Habte: We both appreciated Film Independent's commitment to diverse stories and filmmakers. Our peers' different cultural and professional backgrounds enriched each of our discussions. Giving feedback on each film required shifting our points of view while keeping in mind the broader documentary market, and our Lab mentors helped us understand this balance. It also complemented our narrative approach to Shadow of His Wings, which interweaves stories from three different protagonists.
Bethel: What's it been like making a documentary that so intimately portrays your shifting relationships with your father and your lover?
Habte: I didn't set out to make a film about my dad and my boyfriend. I moved to Ethiopia to make a film about migration. When I fell in love with someone who was planning to leave the country, my interest in migration became personal in a new way. I became implicated in a story that was happening, so I pointed my camera towards that. I wouldn't have done it if I didn't think the camera had a productive place in both relationships. Another challenge is sharing the film with other people. It can make me feel vulnerable and exposed. But I'm confident people will relate to it even if they don't share the identities or lived experiences of the main characters. So I'm really excited to share this film with the world!
---
To learn more about applying to be a part of this year's Documentary Lab, click here. Learn how to become a Member of Film Independent by visiting our website, and click here to subscribe to our YouTube channel.