Sofia Coppola Brings 'The Beguiled' and 'Lost in Translation' Double-Feature to LACMA
Day Two of the 2017 LA Film Festival continued on a sweltering Thursday night earlier this week at LACMA's Bing Theater with a double-feature of Sofia Coppola's new film The Beguiled, to be distributed by Focus Features on June 23—Lost in Translation followed to commemorate distributor Focus Features' 15th anniversary. For The Beguiled—Coppola's debut into the Southern-Gothic genre—the Oscar-winning writer/director (The Virgin Suicides, Marie Antoinette) embarked on an ambitious undertaking, remaking Don Siegel's 1971 original of the same name.
The slow-moving, atmospheric thriller (which won Coppola the Best Director award at Cannes last month) begins three years after secession during the Civil War, when one of the students in an all-girls boarding school comes across a severely wounded soldier, Corporal John McBurney (Colin Farrell), and brings him to the school to tend to his wounds before turning him over to the soldiers.
Austere and icy cold, headmistress Miss Martha (Nicole Kidman) leads the schoolhouse along with a single teacher (Kirsten Dunst), overseeing the education of several teenaged girls left in the school's care during the war. The girls' daily lifestyle is limited to chores, conjugating French verbs, practicing the piano and/or violin and mending clothes. With the absence of male presence in the schoolhouse, an immense hunger for male interaction and sexual repression permeates, as each girl schemes her way to get the corporal's attention—ultimately (spoilers!) resulting in tragic consequences.
Immediately after the Beguiled screening, Ms. Coppola joined Film Independent at LACMA Curator Elvis Mitchell on stage for a conversation about the making of the film.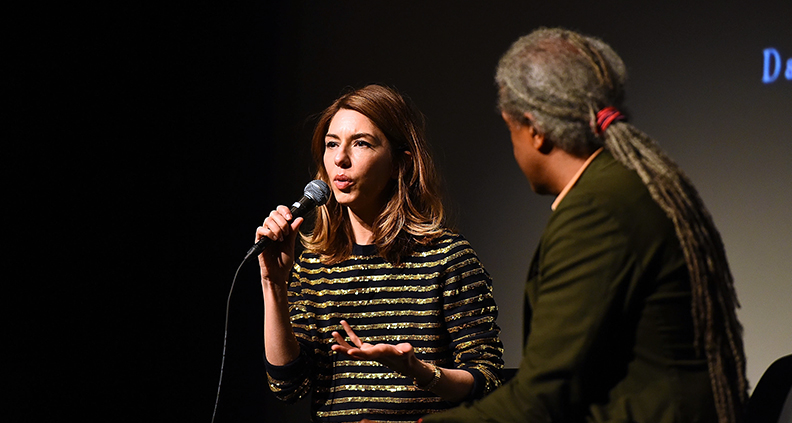 IT ALL BEGAN WITH PHOTOGRAPHY
Mitchell started by asking Coppola how she developed her visual aesthetic. Since her father is well-renowned director Francis Ford Coppola, it's no surprise that the camera was always a part of her life growing up. When Coppola first went to art school her goal was to become a painter, though her art teacher didn't see that happening. She credited her training in still photography when it came to her ease in tackling directing projects: a "starting place to talk to the cinematographer about the color, mood and tone."
"I'm very thankful they told me I wasn't a painter so I didn't waste more time, and I found my way into Paul Jasmin's photography class," Coppola said. She's grateful for Jasmin's encouragement during those early years, who told her that her perspective was worth pursuing and developing.
REMAKES
The director's longtime collaborator and friend Anne Ross has been the production designer on many of Coppola's films, up to and including The Beguiled. And it was Ross who first brought the 1971 original, starring Clint Eastwood, to Coppola's attention.
Coppola had never contemplated redoing someone else's work, but after watching the original film her own vision of how to portray the story stayed in her mind. It was important for her to be able to shoot the film in Louisiana, with the oak trees and Spanish moss around the expansive plantation houses —a location she felt was important to the story. "The idea of these Southern ladies and the sexual repression and the heat of the South seem to really get into that," Coppola said.
CASTING
When it came to the cast, Coppola thought of Nicole Kidman in To Die For when writing Miss Martha's part. Coppola said that seeing Kidman on set exactly how she had imagined her was gratifying—especially since the actress brought so much more to the role than expected.
By contrast, she didn't have an actor in mind when writing the role that Farrell ultimately inhabited. "In the book, the character was an Irish immigrant. So him speaking in his real accent I thought brought more to it," Coppola said.
The filmmaker also revealed that the sequence where the corporal was doing yard work clearing brush in the garden felt like a romance novel, a portrayal of the character Farrell was a good sport about. The scene where Farrell squeezes a drenched rag over his head to cool off after hours working under the hot sun was a reference to a 1963 photograph by John Dominis ("Steve McQueen Cooling Off with a Water Hose").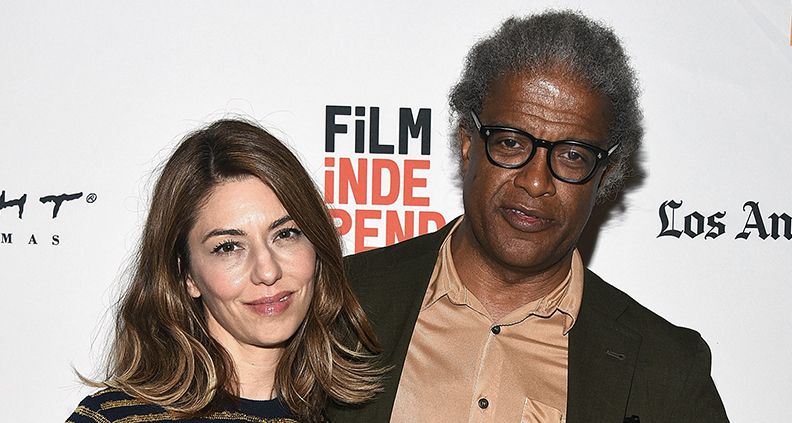 As the Q&A drew to a close, Coppola said that because she was on location with her dad a lot she was always the new kid in school—kind of an "Army brat"—so she had to quickly figure out each new situation's hierarchy and how to fit into it all.
"I probably learned all the codes of the tribes and how to assimilate," she said. "And so much of this [film] is this group of women and how they communicate in a nonverbal way with a glance or the tone." The Beguiled is scheduled for release on June 23 from Focus Features.
The 2017 LA Film Festival is currently underway, June 14—22, headquartered at the ArcLight Cinemas Culver City, with additional screenings at ArcLight Hollywood, ArcLight Santa Monica, LACMA and The Theatre at Ace Hotel. Check out the Festival Guide here.
Stay tuned to our Twitter, Facebook and Instagram for the latest new additions and updates. And don't forget to subscribe to our YouTube channel for more exciting announcements. Tickets and passes are on sale now.
Sold out screenings? Get in with a Festival pass. In addition to screenings and special events (even when sold out) Festival passes provide entry to our super-fun Festival Lounge, featuring a 21+ hosted bar and the opportunity to rub shoulders with Festival filmmakers and other film industry professionals. Buy yours. Film Independent Members save up to 25%.