The Film Independent Forum Returns October 24-27, In Person and Online
The leaves don't really change color in Los Angeles. Or on the internet. Therefore, we irascible creatures of Hollywood—the Hollywood of the map or simply of the mind—must look elsewhere for tangible markers of seasonal transition. But forget pumpkin-spice soylent and the proliferation of cableknit adventurewear. For us, this time of year means only one thing: the return of Film Independent's Filmmaker Forum, a four-day hybrid in-person/virtual conference for indie filmmakers and content creators, beginning Monday, October 24, 2022.
As always, the Filmmaker Forum seeks to inspire and empower filmmakers with the information, tools and connections to get their projects made and seen. You want topics? Oh, we've got topics. Financing. Production. Distribution. Narrative. Nonfiction. Episodic. Plus industry networking and pitching workshops.
The official Forum schedule can be found here—though we can guarantee another great year of wide-ranging and inclusive conversation about the tricky (increasingly so!) business of independent film and the thrift, creativity and support needed to sustain a career in cinema.
So save the dates: October 24-October 27. In the meantime, here's some info about three big marquee sessions you won't want to miss, as well as what to expect day-by-day.
DANIELS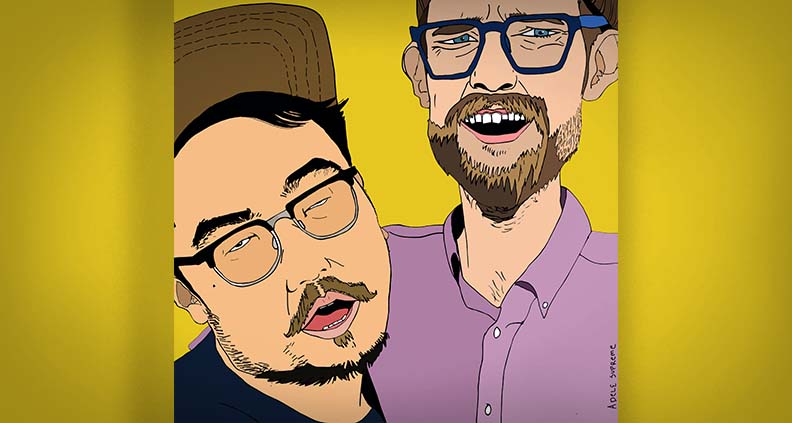 Who: Daniel Kwan and Daniel Scheinert, collectively known as DANIELS—the two-headed filmmaking dynamo responsible for this year's Michelle Yeoh-starring multiverse megahit Everything Everywhere All at Once, which made history as prestige indie shingle A24's first $100 million (worldwide gross) release.
What: From their phallocentric, viral and ultimately Grammy-nominated music video for the DJ Snake/Li'l Jon hit "Turn Down for What" to their heartbreaking farting-corpse feature debut Swiss Army Man, the Daniel 2x collabo has flourished, thanks to its odd mix of earnest humanism, sharp (often raunchy) humor and inventive visual flourish. Part Michel Gondry, part Adult Swim, DANIELS will deliver the 2022 Forum's Filmmaker Keynote, delving deep into their career, collaboration and creative inspiration. A must-catch session, no matter what reality you happen to be occupying at the time.
Where: Daniel Kwan and Daniel Scheinert's Filmmaker Keynote will kick-off the 2022 Film Independent Forum at the Directors Guild of America Theater in Los Angeles on Monday, October 24 and will be subsequently available to watch in full on Forum online platform for Virtual Forum attendees.
THE INSPECTION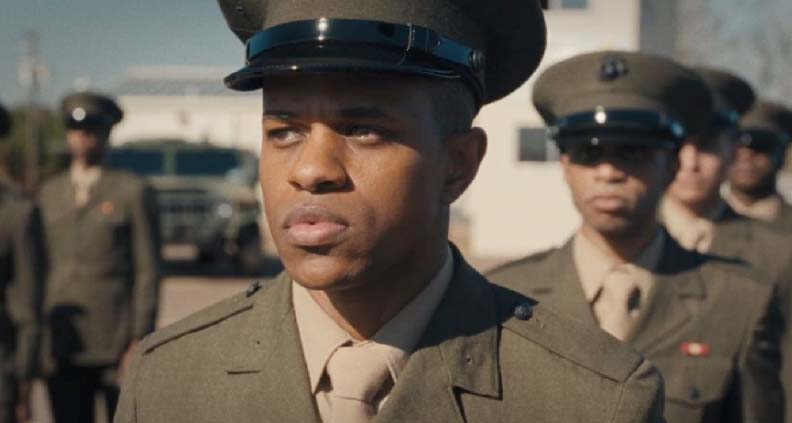 Who: Our Truer Than Fiction Award winner at the 2021 Film Independent Spirit Awards, filmmaker Elegance Bratton's semi-autobiographical narrative feature debut is the story of young gay man who, rejected by his mother, finds unexpected strength, camaraderie and support after he joins the marines.
What: The Inspection will screen as the Forum's Opening Night Film, in advance of its November 18 release from A24. After the credits roll, attendees will be treated to an in-depth Q&A with Bratton and producers Effie T. Brown (CEO, Gamechanger) and Chester Algernal Gordon. Brown is of course already a Film Independent Forum veteran (not to mention Project Involve Fellow), first as an attendee way back in the early days of her career, then, memorably, as a marquee keynote speaker in 2016. The Inspection is also a product of Film Independent's own Artist Development Labs, with producer Chester Algernal Gordon taking the project through both the Producing Lab and Fi Fast Track.
Where: The Inspection Opening Night Screening, Directors Guild of America Theater in Los Angeles, Monday, October 24. The Q&A will subsequently available to watch in full on YouTube.
EMERGENCY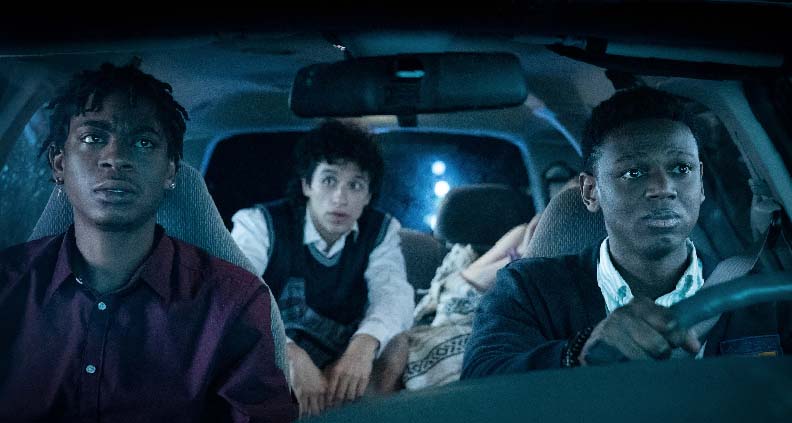 Who: Director Carey Williams, writer KD Davila and producer John Fischer, of the critically acclaimed Sundance hit and eventual Amazon original campus comedy-drama Emergency, a project first developed between Williams and Davila as 2017 Project Involve Fellows at Film Independent.
What: After an epic night of partying, three college students of color return home to find an unconscious white girl in their apartment. Worried that the police might suspect them of wrongdoing, they try to get the woman to safety without drawing suspicion. As a featured Fi Forum Case Study, Williams, Davila and Fischer will go deep on the film's unlikely success story—from its humble start as a short hatched within the walls of Film Independent, to an award-winning Sundance short, to buzzy festival feature, to tidy thumbnail sitting alongside The Rings of Power on the Amazon Originals carousel.
Where: As a virtual session available to Forum pass holders happening live online Tuesday, October 25 and available on demand afterwards.
The Forum's kickoff IRL on Monday, October 24 at the DGA will also include our popular Industry Connect networking sessions beginning at 2:oopm, as well as a session focused on social impact campaigns featuring Brian Walker of Picture Motion. From 2-4pm, prior to DANIELS taking the stage, attendees can rub elbows outdoors over drinks and hors d'oeuvres on the DGA patio.
Starting Tuesday, the action moves online with virtual sessions including Pitching & Financing Clinic, the aforementioned Emergency Case Study and Sustainability on a Budget Global Case Studies.
Wednesday, October 26, remains online with virtual sessions including Stray Documentary Case Study with filmmakers Elizabeth Lo and Shane Boris, a Pachinko Series Case Study with Creator Soo Hugh, and a session focusing on Inclusivity on Set. In addition we will be streaming live at 5:30 pm a panel spotlighting the career paths of a group of Film Independent Fellows making waves today—an advance celebration of next year's 30th anniversary milestone of the launch of Film Independent's Artist Development program.
Thursday, October 27, wraps up the 2022 Film Independent Forum with virtual sessions on the Global Marketplace, a Case Study of Cassavetes Award winner Shiva Baby, and our signature Producers at the Table session, which will stream live at 5:30 pm.
Confirmed 2022 Forum panelists and speakers include:
Aitch Alberto, Director, Aristotle and Dante Discover the Secrets of the Universe
Miranda Bailey, Producer, God's Country
Shane Boris, Producer, Stray
Miguel Angel Caballero, Writer/Director, Angel in Retrograde
Sarah Calderón, Founder/CEO, The Film Agency
Linda Yvette Chavez, Creator, Gente-fied
Stephanie Dawson, Producer, Eclection Media
Soo Hugh, Creator, Pachinko
Ornella Jaramillo, Producer, Angel in Retrograde
Elizabeth Lo, Director, Stray
Billy Luther, Writer/Director, Frybread Face and Me
Paula Manzanedo, Film Finances
Joseph Marconi, Writer/Director, Wild Animal
Jhane Myers, Producer, Prey
Diego Najera, Director of Narrative Films, Participant
Shari Page, Program Director, Half Initiative
Myriam Sassine, Producer Costa Brava
Lizzie Shapiro, Producer, Shiva Baby
Valerie Stadler, Producer, Aristotle and Dante Discover the Secrets of the Universe
Lysette Urus, Producer, Wild Animal
Brian Walker, CEO, Picture Motion
Angel Kristi Williams, Director, Really Love
Full Access passes are $189 for the general public and $149 for Film Independent Members (Oct 24: In-person at DGA; Oct 25 – 27: Online)
Virtual Only passes are $99 for the general public and $79 for Film Independent Members (Oct 25 – 27: Online, includes access to recordings from DGA sessions)
Passes are FREE for Arts Circle Members; Filmmaker Pro and Arts Circle Members receive priority at one-on-one Industry Connect sessions.
The 2022 Film Independent Forum is sponsored by the Directors Guild of America, SAGindie and the Mississippi Film Office.
Film Independent promotes unique independent voices, providing a wide variety of resources to help filmmakers create and advance new work. Become a Member of Film Independent here.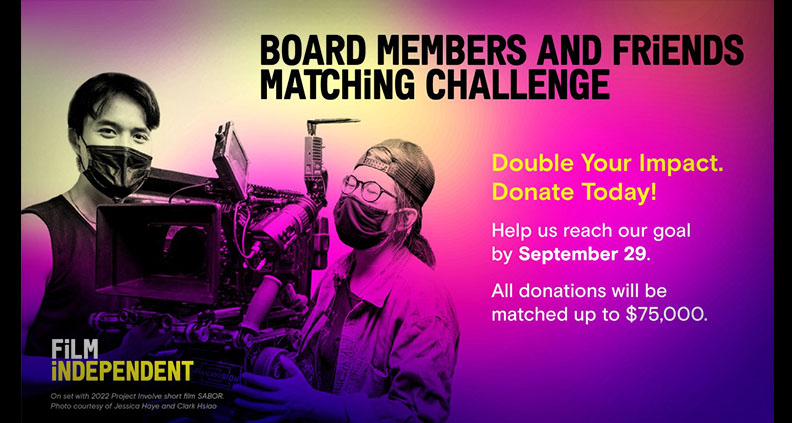 Film Independent promotes unique independent voices by helping filmmakers create and advance new work. To become a Member of Film Independent, just click here. To support us with a donation, click here. Your donation–and impact–will be doubled through our Board Members and Friends Matching Challenge, available through September 29.
Keep up with Film Independent…
Header picture credits: Daniels (Image: Adele "Supreme" Williams), Elegance Bratton (Photo: Josiah Rundles), Effie T. Brown (Courtesy of Effie T. Brown) and Chester Algernal Gordon (Photo: Mary Evangelista)