VIDEO: We The People Discusses Life Beyond Diversity Programs
The bad news? Hollywood's diversity problem (or, more accurately, its lack-of-diversity problem) still isn't anywhere close to being definitively solved. But one positive is this: over the past decade, studios and production companies have made great efforts to address issues of inclusion from within, offering an ever-expanding array of institutional diversity programs—filmmaker labs, mentorship programs, etc.—for underrepresented creators.
Diversity programs can undoubtedly be a great way for writers, directors, performers, producers and other talent hailing from underrepresented backgrounds to get their foot in the door. But how do participants prepare to navigate these programs in order to maximize their chances of future success? And just what happens to these fellows, exactly, once their programs are over?
This was the subject of Film Independent's We The People panel "Mind the Gap: Life Beyond Diversity Program" at the 2018 LA Film Festival, September 23. Moderated by Los Angeles Times film reporter Tre'vell Anderson, panelists included: Russell Boat, President of the Casting Society of America; author Krista Suh (DIY Rules for a WTF World); Jeanne Mau, VP of Entertainment Diversity at CBS Entertainment; and writer Teresa Huan (SEAL Team). Full panel and key takeaways below:
LIFE BEYOND DIVERSITY PROGRAMS
Making the most out of it. For her part, Suh won a spot in the prestigious Fox Writers Lab at age 22, off the strength of her very first TV spec script. "It was a really great way to meet people who were in the same boat as me," she said of the program. But though prestigious, the lab wasn't—she said—an instant pathway to success. "The mistake I made was that I didn't know how to make the most of the access I was getting," adding, "I don't want to be a drag, but it takes so much more than just 'Oh, I got in [to this one program].'"
Use programs as a jumping off point. Mau stressed that studio diversity programs are where the real work begins—not ends. "It's not my job to launch your career," she said. "It's your job to launch your career. We provide you with access, we provide you mentorship," adding, "it's who you know and who you continue to know that ultimately will get you your first big break."
Set your expectations. "I'm a cynic and critic when it comes to diversity programs, even though I am the product of one," said moderator Anderson, adding that, "there are so many other forms of training and experience that we need." Huan cautioned, "Know that no one program is going to change your life," while Suh advised: "Put your all into that workshop, but also have another life, because that's how opportunities come up. It's not just this pipeline through the workshop."
What the studios want. For studios, developing talent from within is a primary benefit of diversity programs. "We've been able to cultivate writers who are now running shows," said Mau—citing SWAT's Aaron Rahsaan Thomas, an alumnus of the CBS Writers Mentoring Program. Thomas, in turn, ended up hiring even more products of the program. Said Mau, "[It's] come full circle."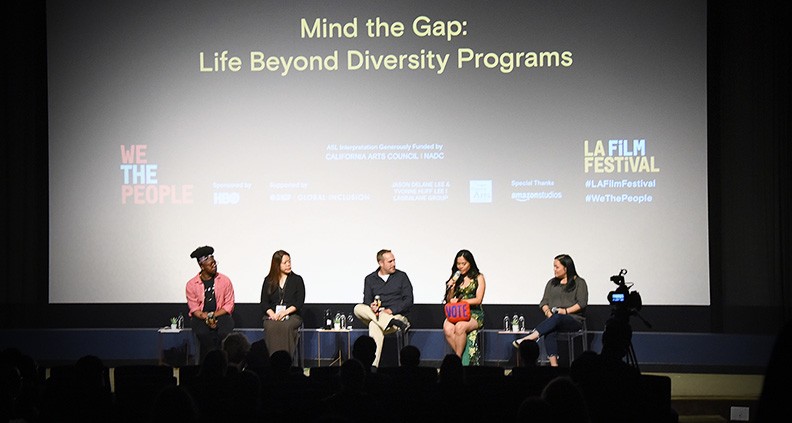 Getting into the right program. "Apply to all of them," Mau said. "You have to. Apply to every screenwriting competition you can get to, read blogs, look at Twitter. As a writer of color you have to do all of it." For Mau, the aim or her programs is simple: "How do we ensure your success knowing that you're walking into a room with predominantly white men?"
Pursuing multiple opportunities. Despite some drawbacks, inclusion programs do help creators from underrepresented backgrounds to get started. Huan actually participated in three such programs. "I happened to get into three [programs] in the same year, which is why I did as many as I did," she said. She saw the programs as a chance to "get access to people [to] teach me what it was like on the inside."
Top-to-bottom efforts. It's critical to address inequality both up as well as down the Hollywood ladder, the panelists agreed. "We try to solve the diversity problem in the middle," said Russell of The Casting Society of America. Speaking from the point of view of how Hollywood usually works, he said, "We hire our friends, we hire people who look like us. Hiring someone who doesn't look like you requires extra work and extra training." Relying on diversity programs alone to solve the problem from the bottom up isn't a sustainable strategy, he said.
Know that you're the best! The panelists agreed that graduates of such programs shouldn't let their workplace identities become defined by the program. "One of the biggest things I took from CBS is the training for a long career," said Huan. Mau added, "You have to think about ways to add value to the room in spite of the way [the job] came to you."
---
For more information about upcoming Film Independent events, click here. To learn more about our Film Education programs, click here. To learn about Film Independent's own Artist Develop labs, click here. Learn how to become a Member of Film Independent by visiting our website.