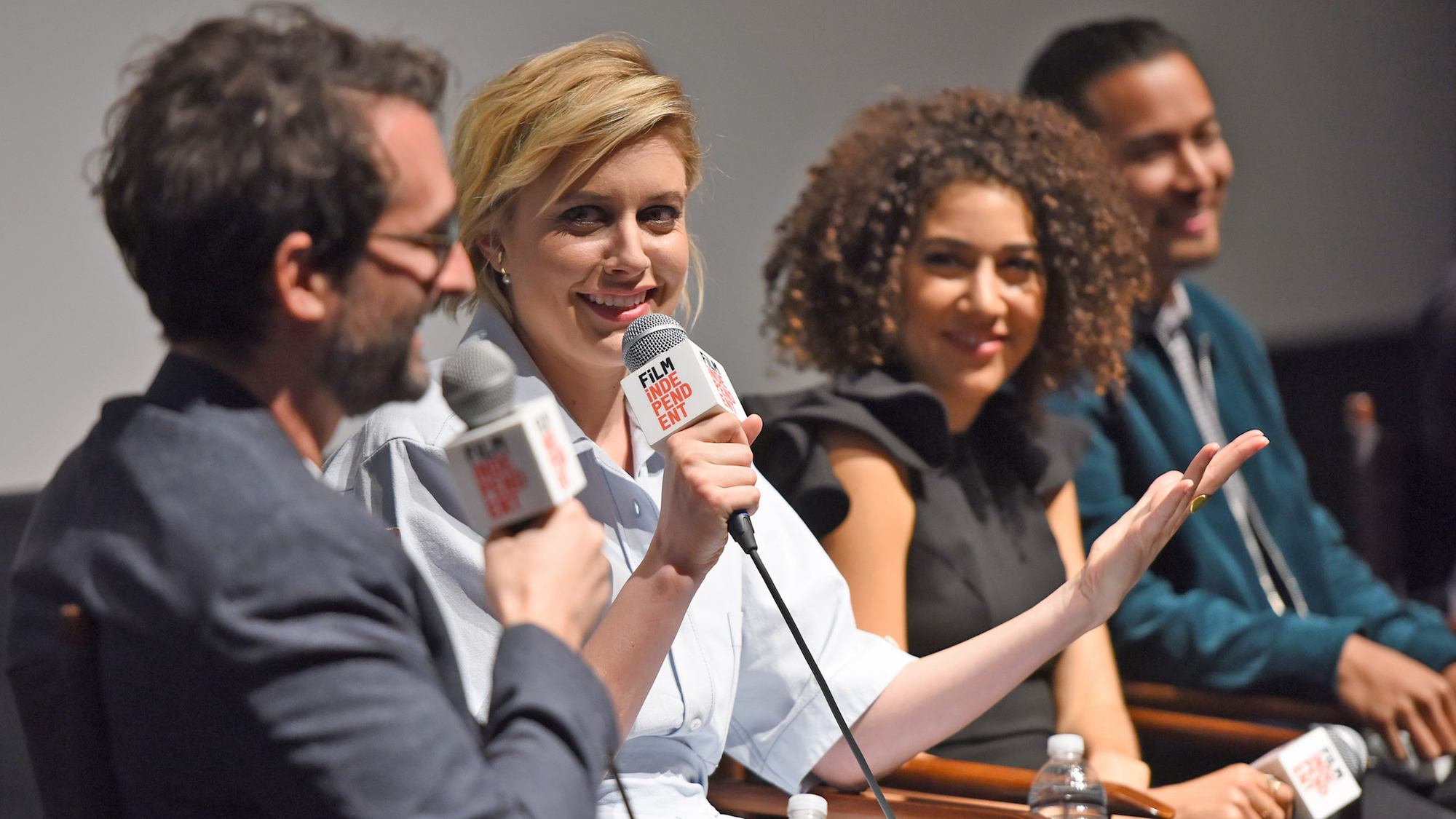 Please note: Directors Close-Up series passes are SOLD OUT. A limited number of single night tickets will be made available via this event page, the Thursday prior to each individual DCU event. Click the button above to purchase.
Single night ticket prices: $20 for Filmmaker Pro Members, $30 for general Film Independent Members, $40 for non-Members
The Directors Close-Up consists of five unique events which take place every Wednesday from January 30 through February 27. Over the past decade, Film Independent's Directors Close-Up has featured some of today's most acclaimed and accomplished filmmakers discussing their craft in fascinating detail.
Each night focuses on a different aspect of filmmaking craft and concludes with a hosted reception, giving attendees the opportunity to meet their peers and forge new relationships with like-minded people.
Directors Close-Up series passes sell out quickly each year – Film Independent Members enjoy a significant discount and an exclusive pre-sale period.
Not a Member? Join today.
This year's series will feature incredible talent, including:
Fede Alvarez (Don't Breathe)
Bo Burnham (Eighth Grade)
Debra Granik (Leave No Trace)
Nicole Holofcener (The Land of Steady Habits)
Barry Jenkins (If Beale Street Could Talk)
Tamara Jenkins (Private Life)
Boots Riley (Sorry to Bother You)
Paul Schrader (First Reformed)
Daniel Stamm (The Last Exorcism)
Check back often for additional announcements regarding guests and moderators participating in this year's DCU.
PLEASE NOTE: Schedule, content, speakers and moderators are subject to change at any time.
WEEK 1 — Wednesday, January 30
Nicole Holofcener: The Land of Stellar Performances

We're excited to kick off this year's series with one of our favorite indie auteurs, Nicole Holofcener. It is often said that a director's job is 90% complete in the casting room. Hear from both sides of the camera as Nicole, her long-time casting director Jeanne McCarthy and actor Thomas Mann discuss the art of casting and directing actors, and what it takes to bring memorable and believable characters to life.
Nicole Holofcener (writer/director; The Land of Steady Habits, Enough Said)
Jeanne McCarthy (casting director; The Land of Steady Habits, Private Life)
Thomas Mann (actor; The Land of Steady Habits, Me and Earl and the Dying Girl)
Moderated by Karyn Kusama (director; Destroyer, The Invitation)
WEEK 2 — Wednesday, February 6
The Storytellers: Writers and Directors*
It all starts with a good story. Writers and writer/directors discuss their craft and role as storytellers, while they explore the ways in which they collaborate to successfully bring a script from page to screen.
Jane Anderson (writer; The Wife, Olive Kitteridge)
Billy Ray (writer, Captain Phillips; co-writer, The Hunger Games)
Robin Swicord (writer/director, Wakefield; writer, The Curious Case of Benjamin Button)
* Due to unforeseen circumstances, our previously announced programming for February 6 has changed. Thank you for your understanding.
WEEK 3 — Wednesday, February 13
Another Type of Narrative: The Truth of Docs
This has been a stellar year for documentary film. From fresh new voices telling compelling personal stories to veterans who continue to push the boundaries of storytelling, the form continues to evolve and grow into an exciting canvas for filmmakers to represent the world we live in. Join us as we discuss many of the questions and challenges inherent to nonfiction films, with the directors behind some of the most acclaimed documentaries of the year. They'll explore how they go beyond letting reality unspool on screen to carefully crafting narratives that bring us closer to the truth.
Alexandria Bombach (director; On Her Shoulders, Frame by Frame)
Talal Derki (director; Of Fathers and Sons, The Return to Homs)
Bing Liu (director, Minding the Gap)
Morgan Neville (director; Won't You Be My Neighbor?, 20 Feet from Stardom)
Sandi Tan (writer/director, Shirkers)
Moderated by Lisa Leeman (director; One Lucky Elephant, Out of Faith)
WEEK 4 — Wednesday, February 20
The Independent Spirit: A Directors Roundtable
At this year's perennial favorite, 2019 Spirit Award-nominated directors discuss their craft, their journeys as artists and the ways in which they have been able to balance their artistic integrity while making movies that resonate with audiences.
Bo Burnham (writer/director, Eighth Grade)
Debra Granik (writer/director; Leave No Trace, Winter's Bone)
Barry Jenkins (writer/director; If Beale Street Could Talk, Moonlight)
Tamara Jenkins (writer/director; Private Life, The Savages)
Boots Riley (writer/director, Sorry to Bother You)
Paul Schrader (writer/director; First Reformed, Mishima: A Life in Four Chapters)
Moderated by Josh Welsh (President, Film Independent)
WEEK 5 — Wednesday, February 27
Thrill Seekers: Directing Dynamic Genre
With a new generation of critically acclaimed genre films making big bucks and becoming indispensable internet memes, ever wondered why certain movies just seem to keep you on the edge of your seat more than others? The final night of the 2019 DCU features a crack team of cutting-edge midnight movie mavericks, whose collected works have shocked and thrilled millions of audience members the world over.
Fede Alvarez (writer/director, The Girl in the Spider's Web, Don't Breathe)
Drew Dowdle (writer/producer, Waco, Quarantine)
John Erick Dowdle (writer/director, Waco, Quarantine)
Aaron Katz (writer/director, Gemini, Land Ho!)
Daniel Stamm (director, Fear the Walking Dead, The Last Exorcism)
Moderated by Scott Mantz (film critic, Collider)