Free Members-Only Screening: Netflix's Short Documentary Films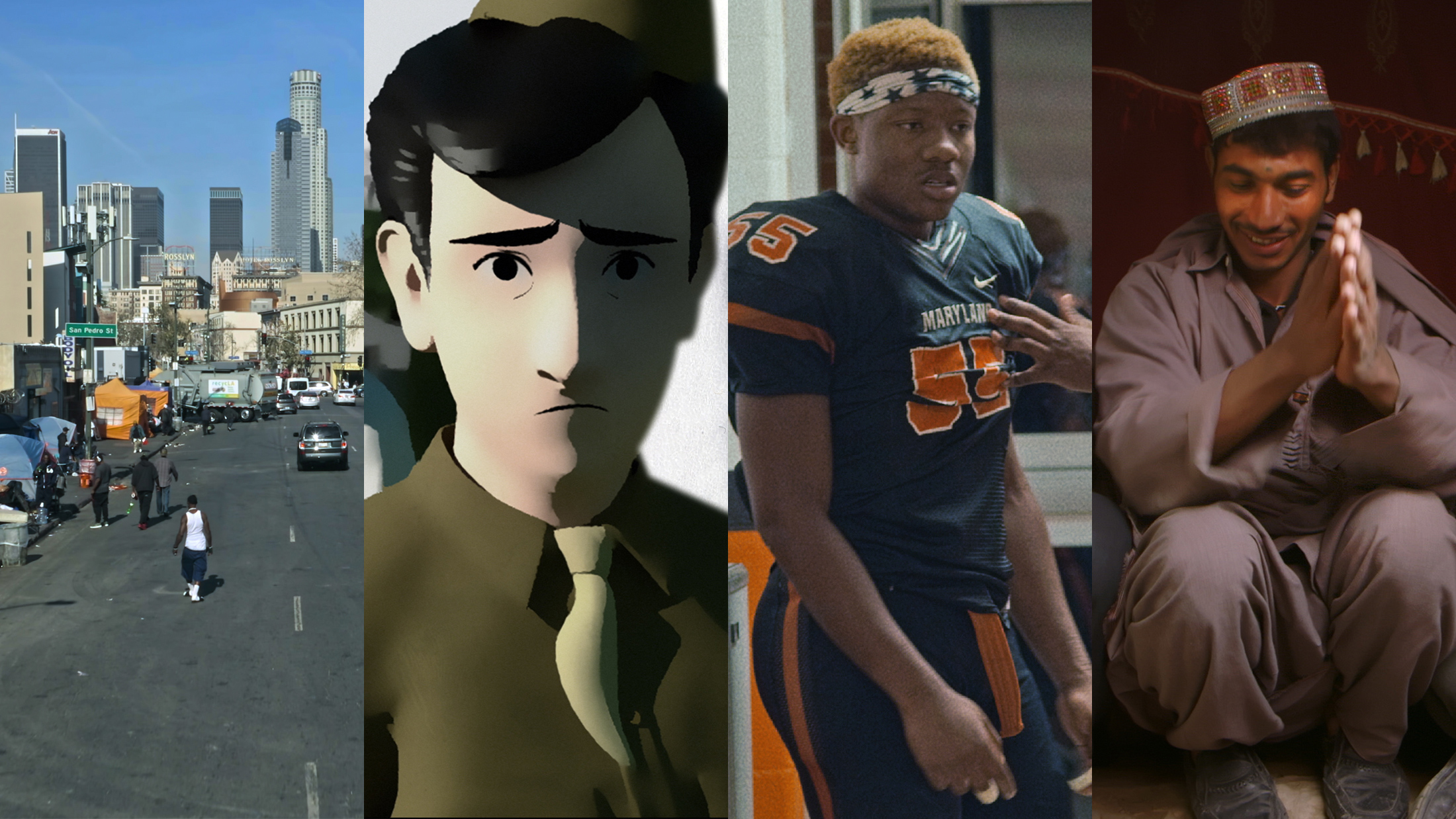 Free Members-Only Screening: Netflix's Short Documentary Films

Film Independent Members, you and a guest are invited to watch Netflix's short documentary films Audible, Camp Confidential: America's Secret Nazis, Lead Me Home and Three Songs for Benazir in our Film Independent Presents Online Screening Room, powered by Vision Media. Special pre-recorded conversations with Audible director Matt Ogens; Camp Confidential: America's Secret Nazis directors/producers Daniel Sivan and Mor Loushy; Lead Me Home directors Pedro Kos and Jon Shenk and Three Songs for Benazir directors/producers Elizabeth Mirzaei (Film Independent Fellow, Documentary Lab 2020) and Gulistan Mirzaei, and producer Omar Mullick – all moderated by Jenn Wilson (Senior Programmer, Film Independent) – are included as part of this screening experience.
Audible is a cinematic and immersive coming of age documentary following Maryland School for the Deaf high school athlete Amaree McKenstry and his close friends as they face the pressures of senior year and grappling with the realities of venturing off into the hearing world. Amaree and his teammates take out their frustrations on the football field as they battle to protect an unprecedented winning streak, while coming to terms with the tragic loss of a close friend. This is a story about kids who stand up to adversity. They face conflict, but approach the future with hope – shouting to the world that they exist and they matter.

2021, 38 minutes, color | Directed by Matt Ogens | Produced by Geoff McLean | Executive Produced by Peter Berg, Matthew Goldberg, Brandon Carroll, Matt Ogens, Nyle DiMarco

Camp Confidential: America's Secret Nazis, a documentary short featuring animation, directed by Daniel Sivan (The Devil Next Door) and Mor Loushy (The Oslo Diaries), focuses on the story of a top secret POW camp that was classified for over five decades. In the midst of World War II, a group of young Jewish refugees are assigned to guard a top secret POW camp near Washington D.C. The Jewish soldiers soon discover that their prisoners are none other than Hitler's top scientists… What starts out as an intelligence mission to gather information from the Nazis soon gets a shocking twist, when the Jewish soldiers are tasked with a very different mission altogether. A mission that would question their moral values – exposing a dark secret from America's past.

2021, 35 minutes, color | Directed by Daniel Sivan and Mor Loushy | Produced by Benji Bergmann, Jono Bergmann, Daniel Sivan, Mor Loushy

500,000 Americans experience homelessness every night. Lead Me Home is a documentary short by Jon Shenk and Pedro Kos that captures the experience from multiple perspectives. This immersive, cinematic film personalizes the overwhelming issue by telling the real-life stories of those going through it as a first step toward challenging uninformed attitudes and outmoded policies and gives the audience a rare, in-depth look at the scale, scope and diversity of unsheltered America today.

2021, 40 minutes, color | Directed by Pedro Kos and Jon Shenk | Produced by Bonni Cohen, Serin Marshall, Richard Berge| | Executive Produced by Jannat Gargi, Jody Allen, Ruth Johnston, Rocky Collins

Three Songs for Benazir is the story of Shaista, a young man who – newly married to Benazir and living in a displacement camp in Kabul – struggles to balance his dream of being the first from his tribe to join the Afghan National Army with the responsibilities of starting a family. Gulistan and Elizabeth Mirzaei's remarkable access sheds light on the experience of modern-day Afghans who live, love and seek space for themselves amid constant instability.
2021, 22 minutes, color | Directed by Gulistan Mirzaei and Elizabeth Mirzaei | Produced by Gulistan Mirzaei, Elizabeth Mirzaei, Omar Mullick, Hamayoun Noori, Jamil Rezaei

Registration Information
All Film Independent Members can register for this online screening starting at 5:00 pm on Wednesday, January 12. | Registration is free; one registration per Membership. | Proof of Member status is required to complete registration.
Arts Circle and Film Lover Members are guaranteed access to this event; email membership@filmindependent.org for more information.
How to Watch
On the first day of screening availability, registered Members (and guests, when applicable) will be emailed a secure link by our partner Vision Media to watch this title in the Film Independent Presents Online Screening Room.
Online Screening Policies
Availability window and registration capacity may vary; always register as early as possible to ensure access. Links are watermarked, nontransferable and may only be used by the Member who completed the registration. Limit one link per Membership, per event.
Members are required to follow all rules and guidelines as laid out by Film Independent and/or its partners. If a guest has been registered for an event by a Member, these policies shall apply to that guest. Violation of policies may result in suspension or termination of Membership.
Event details and guest participation are subject to change or cancellation without prior notice.