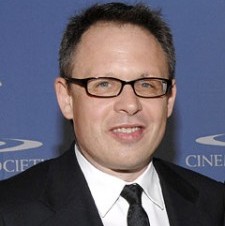 Bill Condon is a celebrated film director and screenwriter known for directing actors to critically-acclaimed and award winning performances.
Condon wrote and directed Gods and Monsters starring Ian McKellen and Lynn Redgrave, which garnered Oscar® nominations for both its stars and earned Condon an Academy Award® for Best Adapted Screenplay. He also wrote and directed Kinsey, starring Liam Neeson and Laura Linney and wrote the screenplay for the big-screen version of the musical Chicago, for which he received a second Oscar® nomination.  His adaptation of the Broadway smash Dreamgirls featured memorable performances from Beyoncé Knowles, Eddie Murphy and Jamie Foxx and won Jennifer Hudson an Academy Award® for Best Supporting Actress.  Condon also directed the two-part finale of the blockbuster Twilight film series, Breaking Dawn, and the journalistic thriller The Fifth Estate, featuring Benedict Cumberbatch and Daniel Brühl. Most recently, he directed Mr. Holmes, a poetic meditation on the later life of Sherlock Holmes, starring Ian McKellen as Holmes, and Laura Linney as his caretaker.
In 2014, Condon made his theatrical directing debut with the critically acclaimed revival of Side Show, which played engagements at the La Jolla Playhouse and at the Kennedy Center in Washington D.C., prior to its celebrated return to Broadway. Condon serves on the board of Film Independent as well as on the Board of Governors of the Academy of Motion Picture Arts and Sciences. He is currently directing a new live-action film of Disney's Beauty and the Beast, starring Emma Watson and Dan Stevens.