A Bus to the Stars

Project type: Narrative Short
Project status: Development
Director/Writer/Executive Producer: Coxy Chiara Rodoni
Producer: Gabe Godoi
Cinematographer: Andrès Garzas
1st AD: Adam Hahn
VFX: Dan Punshon Smith

Website: coxy.agency
Facebook: facebook.com/abustothestars/
Twitter: @abustothestars

Help independent filmmakers tell their stories.
Make a donation to A Bus to the Stars today.
Film Independent's Fiscal Sponsorship program opens the door to nonprofit funding for independent filmmakers and media artists. Donate today and help bring A Bus to the Stars to life.
Logline
Three homeless friends who live on a bench, are waiting for a bus that will take them to the city of Angels, where dreams come true.
Synopsis
Gilda, Nelly, and Bepop are three homeless friends that live at a bus stop. Their life is the same every day: they wake up, perform their daily rituals and try to interact with the life that comes and goes before their eyes. The bus stop is a shelter they never dared to abandon. One day Hawk, an older and wise fellow homeless, tells them about the existence of a magic bus that takes people to the "City of Angels" where dreams come true. The news disrupts our trio's ordinary life and triggers the desire to change destiny and depart towards the promised land. They question every person that passes by their bench, but no one seems to know about the existence of "the bus to the stars". Days and seasons elapse, yet our trio hasn't gone anywhere and feels doomed. Until one evening, "the Lady " reveals them where the magic bus stops.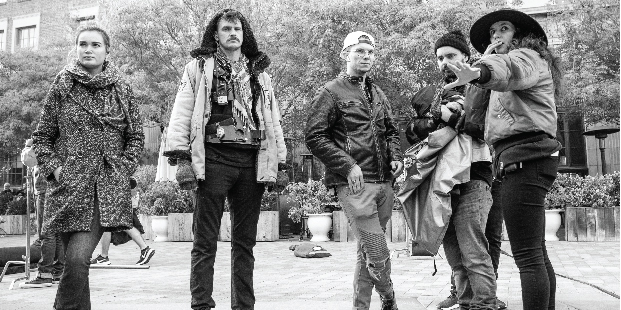 Meet the Filmmakers
Coxy Chiara Rodoni – Director/Writer/Executive Producer
Coxy Chiara Rodoni was born in Italy and raised between Milan and Paris. She's been in love with cinema since she was a child, and started dreaming about becoming a filmmaker after watching Federico Fellini's 8 ½ and French New Wave films. She started her professional path working as a creative for international luxury brands, including Gucci, Dolce & Gabbana, Prada among others, where she designed collections as well as produced and creative directed Ads, Videos, Campaigns, and Look Books. Meanwhile, she kept pursuing her passion for Cinema. In 2013 she moved to Los Angeles, launched a creative agency, and began creating, producing & directing Short Films, Fashion Films, and Branded Content videos. Her work has been featured on Vogue, Marie Claire, L'Officiel among other international magazines as well as within the exhibition "The New Vocabulary of Italian Fashion" at the Triennale Museum of Design in Milan. Her fashion films have been featured at international film festivals and won awards. Coxy is currently based in Los Angeles although her free spirit and her love for traveling always take her around the world to work on new projects and explore new stories to tell.
Gabe Godoi – Producer
Gabe Godoi is a native Californian, a proud Latinx Jew, and a seasoned producer. Gabe has managed the logistics, scheduling, and budgeting of narrative, branded, and documentary films since 2017. Gabe's films have received many accolades from Emmy nominations, to Webby awards, to Vimeo Staff Picks, to Tribeca selection. Gabe has produced films for a wide variety of corporate clients including Charles Schwab Corporation, Amazon, Lululemon Athletica, Unity Software Inc., and Kelly Services Inc.. He works closely with key creative team members to see projects through from pre production to delivery. When Gabe isn't putting the pedal to the metal on productions, he's writing and performing comedy.
Andres Garzas – Director of Photography
Andres is originally from Madrid, Spain. He fell in love with films after watching E.T. when he was 4 years old. He studied at Global Cinematography Institute (US), Escuela San Antonio de Los Baños (Cuba), Maine Media Film School (US), Budapest Cinematography Masterclass (Hungary), and has a MA in Communication Science at Universidad Complutense of Madrid (Spain). Andres started his career working as an AC with directors such as Pedro Almodóvar, Milos Forman, José Luis Garci, and Pancho Lombardi while focusing on independent projects in order to develop his career as a cinematographer. His work includes Films and short films (Cuddle Toys, Echo, Through the Breaking Glass, Alterations) commercials (Coca Cola, Google, Toyota, Samsung) documentaries (Kings of Cuba, Sweet Home Havana), tv-shows and music videos (C Canela, Lil Wayne, Ray J, Miguel Bosé…)
http://andresgarzas.net/
Donal Rafferty – Composer
Dónal Rafferty was born in Dublin Ireland and has been obsessed with music ever since hearing Beethoven's Fifth Symphony on his grandfather's stereo when he was 6 years old! His earliest formal musical education was singing with The Palestrina Choir from age 7, at which time he also commenced studying piano, clarinet, and music theory at The College of Music Dublin. Dónal has a Music Degree at the National University of Ireland Maynooth and a Master's Degree at King's College London. He is an alumnus of the IMRO Irish Composition Summer School (2007) and holds diplomas in piano performance and music theory from London College of Music and Trinity College London respectively. His string + wind quintet Aquastrata (2005) was awarded the 2010 IMRO Award for Chamber Ensemble composition. His music has been performed by ensembles such as Lontano, Concorde, The Penbridge Trio, the Taylor Festival Choir, and the Charleston Symphony Orchestra both in Europe and the USA and used in film and commercial content. In 2020, Dónal was a featured composer at Film Independent and SAGIndie's joint 'IndieLink' workshop. He is an award-winner of the 2020 Indie Film Music Contest. Dónal is a member of ASCAP and The SCL. He has a special interest in collaborating with visual storytellers in the environmental activism and social justice fields.
https://www.donalrafferty.net/
Adam Hahn – 1st AD
Adam is a director, producer, cinematographer, and camera operator from Baltimore, MD with a BFA in Film Production from Chapman University. In 2017 he started Omada Cinema, and currently acts as co-founder and operator of the company. Since then he's worked with clients such as Warner Music Group, C2O Coconut Water, Def Jam Recordings, Gucci, Mariu De Sica, ISKO, and GrandArmy as well as various other commercial companies, agencies, and musical artists. His notable work includes viral music videos such as "Good To Know" by Ciscero feat. Masego, which has received over 2.2M views.
http://omada.work
Dan Punshon Smith – VFX Artist
Dan Punshon-Smith is a Producer, Editor, VFX artist, from Baltimore MD, and co-founder and operator of Omada Cinema LLC. Since moving to LA in 2017, he has thrown himself in the deep end of the production world, working on any project he could get his hands on. In the span of two short years, he has worked with a wide variety of talented directors, agencies, and artists. Though his time in LA has been short and he's still got a lot to learn. He's found that there is a difference between doing something well and doing something perfectly. Simply put, he's never learned from perfection, he learned from his mistakes. Learning to embrace these imperfections, these human errors, is what makes his work unique and what has propelled his career.
http://omada.work
Contact
For inquiries, please contact fiscalsponsorship@filmindependent.org.