Bad Egg

A thirty-something preschool teacher discovers she was adopted and, desperate to belong, fights frantically to build a family of her own before her biological clock runs out.
Project type: Fiction Feature
Project status: Development
Writer/Director: Izzy Shill
Producer: Lysette Urus
Producer: Diana Irvine

Help independent filmmakers tell their stories.
Make a donation to Bad Egg today.
Film Independent's Fiscal Sponsorship program opens the door to nonprofit funding for independent filmmakers and media artists. Donate today and help bring Bad Egg to life.

Logline
A thirty-something preschool teacher discovers she was adopted and, desperate to belong, fights frantically to build a family of her own before her biological clock runs out.
Synopsis
In the wake of her father's death, STEPH (early 30s) discovers she was adopted as a child. At a gala celebrating her father's architectural legacy, Steph speaks about his greatest work, their family home, much to the embarrassment of her image-obsessed brother JOSH (30s). Steph's estranged mother, TERI (60s), finds comfort in confrontation and reveals the house is actually up for sale.
Desperate to build a family of her own, Steph soon sees a fertility doctor, DR. BRADLEY (50s, old-school lesbian), who warns that Steph's biological clock is ticking prematurely and she might want to freeze her eggs. Steph visits the affluent couple she's been sleeping with: PHILIPPE and ONDINE (40s) and basks in the glow of their perfect, bohemian family.
Steph rushes to work at a pre-school with her ebullient work-husband, GERARD (30s, Black), who doesn't know the details of Steph's affair: Philippe and Ondine's daughter is a student in their class. During school pickups one parent, KATE (late 40s, high-powered divorce lawyer), is strangely familiar with Steph.
That night Philippe visits Steph without Ondine. He assists her with a hormonal injection and the intimacy of the moment overwhelms them both. Steph collects Philippe's sperm and hides it in her freezer. The next morning, Steph rushes to the doctor's office with the specimen only to discover it's not viable. At last, Steph visits Teri at their family home. For the first time Teri illuminates the delicate nuances of Steph's adoption.
The next day, Steph undergoes the procedure to extract her eggs. Before she goes into pre-op, Steph is served with papers from Ondine and Phillipe – they're suing her for sperm theft. When Steph awakens from the procedure, Kate is by her side. Steph realizes that Kate is her biological mother as the three women head inside.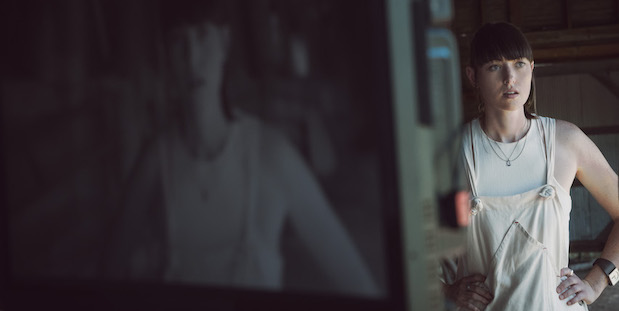 Meet the Filmmakers
Izzy Shill – Writer/Director
Izzy Shill is a British writer, director and actor based in Los Angeles. She starred in the short film, The Rat (Sundance 2019) and made her directorial debut with Face to Face Time, a short form sex comedy (SXSW 2020, Amazon, Vimeo Staff Pick). She is the recipient of SFFILM's Sloan Development Fund 2019 for the television series, Sort You Out. Going Nowhere, a mockumentary following a group of wannabe filmmakers attempting to shoot an apocalypse film, is Izzy's first feature film. Gravitas Ventures has signed on to distribute.
She is a jazz enthusiast as well as an etymology nut.
Lysette Urus – Producer
Lysette just completed two labs with Film Independent, the Producing Lab and Fast Track, with another narrative feature. She has many substantial connections with industry players from talent agencies, production and distribution companies and financiers from that experience. Lysette has worked as a Unit Production Manager and Line Producer on many shoots, most recently a documentary feature for AMC in the US. She is Turkish-American.
Diana Irvine – Producer
Diana Irvine produced my first feature, Going Nowhere. We are long time collaborators and have a beautiful and symbiotic working relationship. She is about to shoot a different narrative feature with another writer/ director. She attended NYU's Tisch program and studied acting. She works with Peter Spears, producer of Nomadland and Call Me By Your Name, at his production company Cor Cordium that has an overall deal with Fox Searchlight Pictures. She is 5th generation Californian.
Contact
For inquiries, please contact fiscalsponsorship@filmindependent.org.