Bee Stings

Project type: Narrative Short
Project status: Development
Director/Writer/Producer: Kali Davis
Writer: Nadine Nonn
Cinematographer: Haley Min Young Kreofsky
Production Designer: Rebecca Muench

Help independent filmmakers tell their stories.
Make a donation to Bee Stings today.
Film Independent's Fiscal Sponsorship program opens the door to nonprofit funding for independent filmmakers and media artists. Donate today and help bring Bee Stings to life.
Logline
A shopping spree turns into an anxiety-ridden nightmare when a prepubescent Arab American girl struggles to tell her father that she wants a bra.
Synopsis
Safia Mahmoud(11), uncomfortable with her newly forming breasts, is embarrassed about everything about herself, including her heritage. While shopping with her father, worlds collide, and anxiety strikes when she tries to tell him that she wants a bra.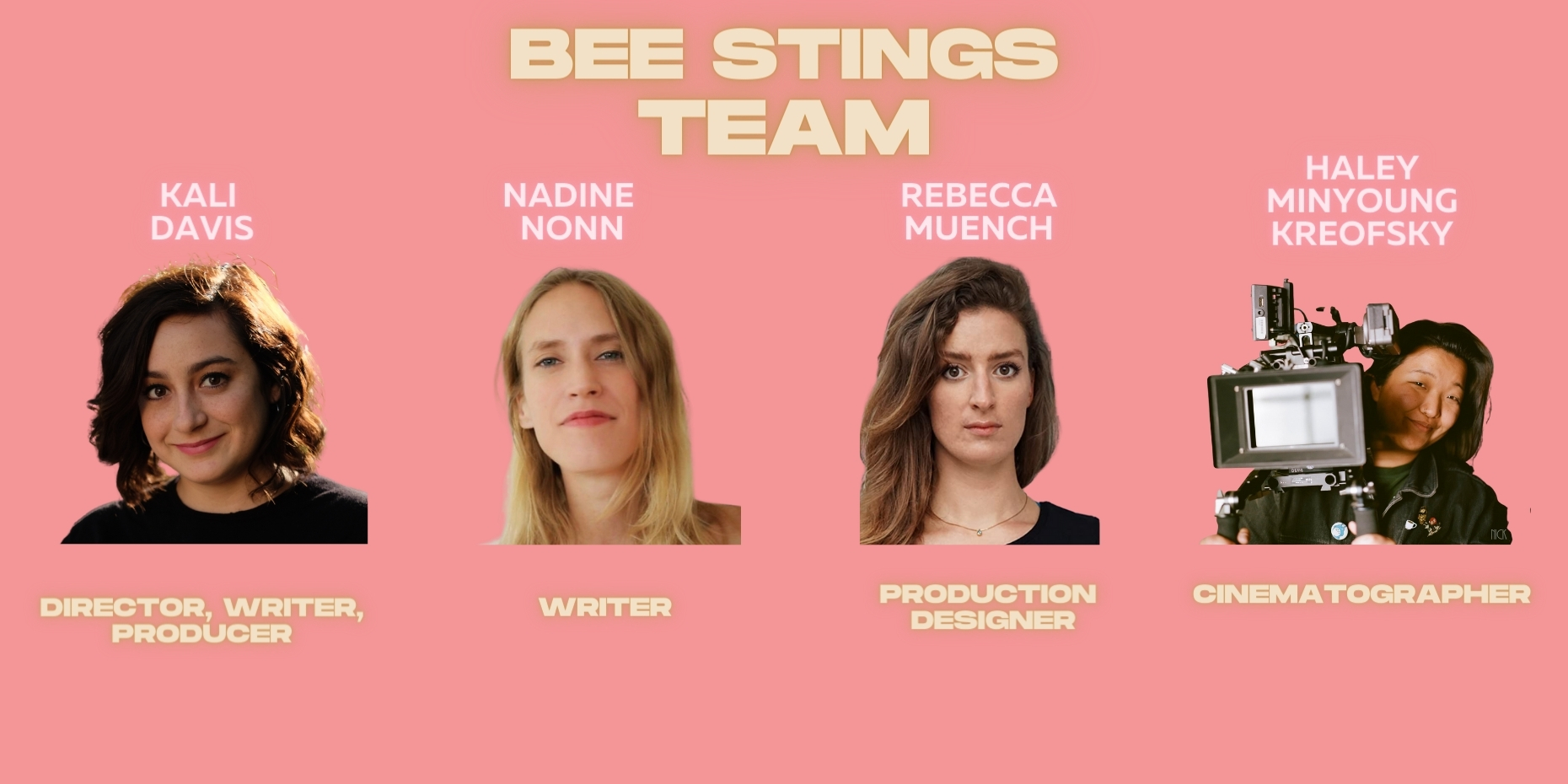 Meet the Filmmakers
Kali Davis – Director/Writer/Producer
Growing up in a multicultural family made Kali Davis aware that the world contains multitudes and fed her curiosity. Davis studied filmmaking abroad in Paris and Prague and made an effort to travel throughout her twenties. She directed short films in French, even though she didn't speak it fluently. Her familiarity with the culture enabled her to tell the story authentically. She believes that filmmakers can tell stories that span worlds with the right amount of empathy, research, and time.
Although Davis's time in Europe influenced her as a storyteller, she also recognized how extraordinarily American her sensibility is. Therefore, the American Film Institute Conservatory was the right move for her. Davis's two years at the Conservatory helped her develop her creative voice and craft and build relationships with like-minded filmmakers.
Before the AFI, Davis co-wrote, directed, and produced her own comedic musical, which had its world premiere at the Fringe Theater Festival in 2017. Davis has always been a lover of comedy. She studied various forms of comedy, sketch writing at The Upright Citizens Brigade, and Improv at Comedy Sportz.
After winning first place at AGBO FILMS 48-hour film competition, "No Sleep Til' Film Fest," Davis was humbled by the outreach of women expressing their appreciation that a team of women had come in first place. Davis aspires to continue to tell stories from the female lens and perspective.
Nadine Nonn – Writer
Born and raised in the fairytale country of Switzerland, Nadine Nonn moved to the USA at the age of twenty to study acting at the American Academy of Dramatic Arts. Later she completed her Masters in Writing for Film and Television at the MET Film School in London, where she wrote the Festival placing Short Film "Trust Me", which was nominated for multiple awards. Since graduating she's had the chance to work for the CBBC, is currently in development on an animated children's feature, which just went through the CineKid Scriptlab, and recently developed two concepts for European Television. On top of that, her pilot "R." was a Second Rounder at the Austin Film Festival, as well as the C21 Drama Script Competition, among others. She currently lives in Switzerland and is represented by THE AGENCY in London.
Haley Min Young Kreofsky – Cinematographer
Haley Min Young Kreofsky is a Korean American director of photography. She recently graduated from American Film Institute with an MFA in Cinematography. She began her film career in the grip and electric departments, she has since enjoyed stirring up the boy's club while wearing her floral boots. In college, a thesis film she shot won the Cream City College Award at a small film festival. Kreofsky has an extensive background in film photography and has shot on motion picture film (super 8, 16mm, and 35mm). Kreofsky values collaboration and staying true to the director's vision while using her skills to amplify the story being told.
Rebecca Muench – Production Designer
Rebecca is a multi-hyphenate designer. She's worked in production design on multiple short films, commercials, and music videos. Rebecca is also a professional graphic designer. She's created directors' commercial and music video treatments for brands including Nestle, Pfizer, and Columbia Records. Rebecca works as a designer for The Hollywood Reporter. She holds a Master of Fine Arts in Film Production from The American Film Institute Conservatory. Rebecca's recent project won top prize at AGBO's No Sleep til Film Fest.
Contact
For inquiries, please contact fiscalsponsorship@filmindependent.org.